Your world at 9am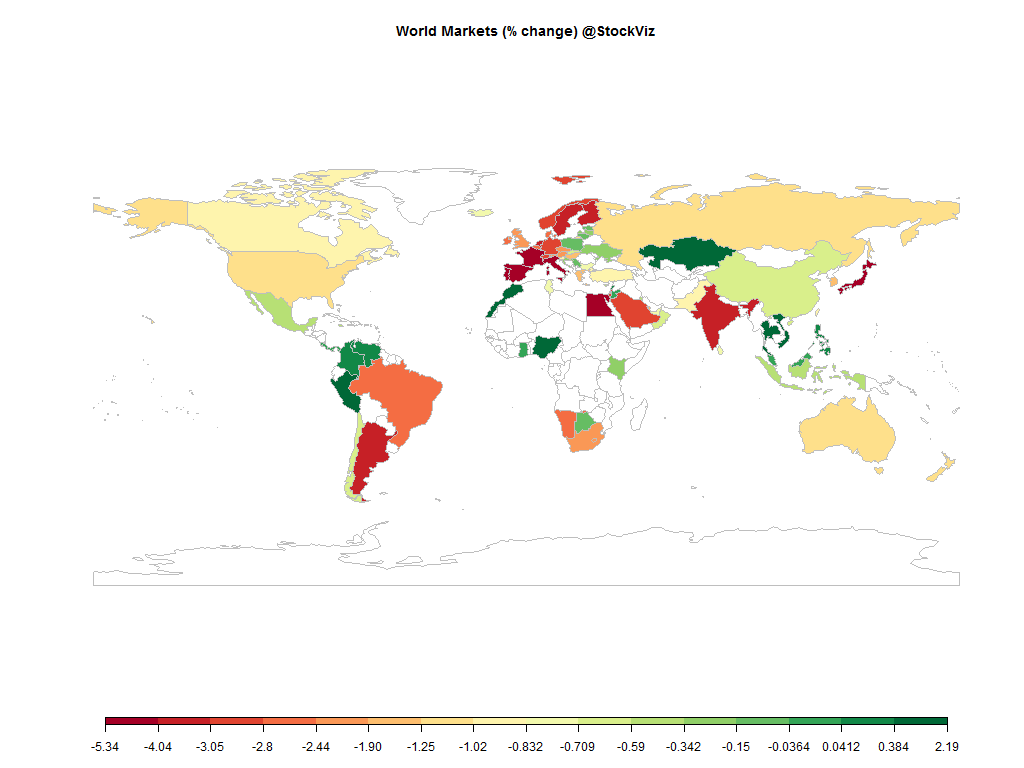 Equities
Commodities
Energy
WTI Crude Oil

+5.15%

Brent Crude Oil

+4.56%

Heating Oil

+3.94%

RBOB Gasoline

+4.19%

Ethanol

+0.00%

Natural Gas

+0.05%
Metals
Platinum

-0.90%

Silver 5000oz

+0.00%

Copper

+0.00%

Gold 100oz

-0.95%

Palladium

-0.64%
Agricultural
Cotton

-0.39%

Orange Juice

+0.00%

Soybean Meal

+0.04%

White Sugar

+0.00%

Feeder Cattle

+0.00%

Lumber

+0.00%

Sugar #11

+0.00%

Cocoa

+0.00%

Coffee (Arabica)

+0.00%

Coffee (Robusta)

+0.00%

Corn

+0.14%

Soybeans

+0.17%

Wheat

+0.33%

Cattle

+0.00%

Lean Hogs

+0.00%
Credit Indices
| Index | Change |
| --- | --- |
| Markit CDX EM | -0.43% |
| Markit CDX NA HY | -0.17% |
| Markit CDX NA IG | +1.89% |
| Markit iTraxx Asia ex-Japan IG | +0.00% |
| Markit iTraxx Australia | -0.59% |
| Markit iTraxx Europe | -2.48% |
| Markit iTraxx Europe Crossover | -6.92% |
| Markit iTraxx Japan | -2.41% |
| Markit MCDX (Municipal CDS) | -1.67% |
Out of 42 world ETFs listed in NYSE that we track, only 5 are trading above their 10-day and 50-day SMAs.
Must reads
UAE: India has market, gulf has funds. But given the state of oil, for how long? (ET)
Former FSA chief Lord Adair Turner on UK peer-to-peer lending industry: "the losses which will emerge from peer-to-peer lending over the next five to 10 years will make the worst bankers look like lending geniuses." (FT)
Kyle Bass: "Similar to the U.S. banking system in its approach to the Global Financial Crisis (GFC), China's banking system has increasingly pursued excessive leverage, regulatory arbitrage, and irresponsible risk taking. Banking system losses – which could exceed 400 percent of the U.S. banking losses incurred during the subprime crisis – are starting to accelerate." (CNBC)
Rakesh Jhunjhunwala: I will believe in e-commerce model when they sell at an economical price. (LiveMint)
It is high time the government comes out of the denial mode and, instead of celebrating dubious data, works towards a credible solution. (FE, #economy)
Good luck!