Your world at 9am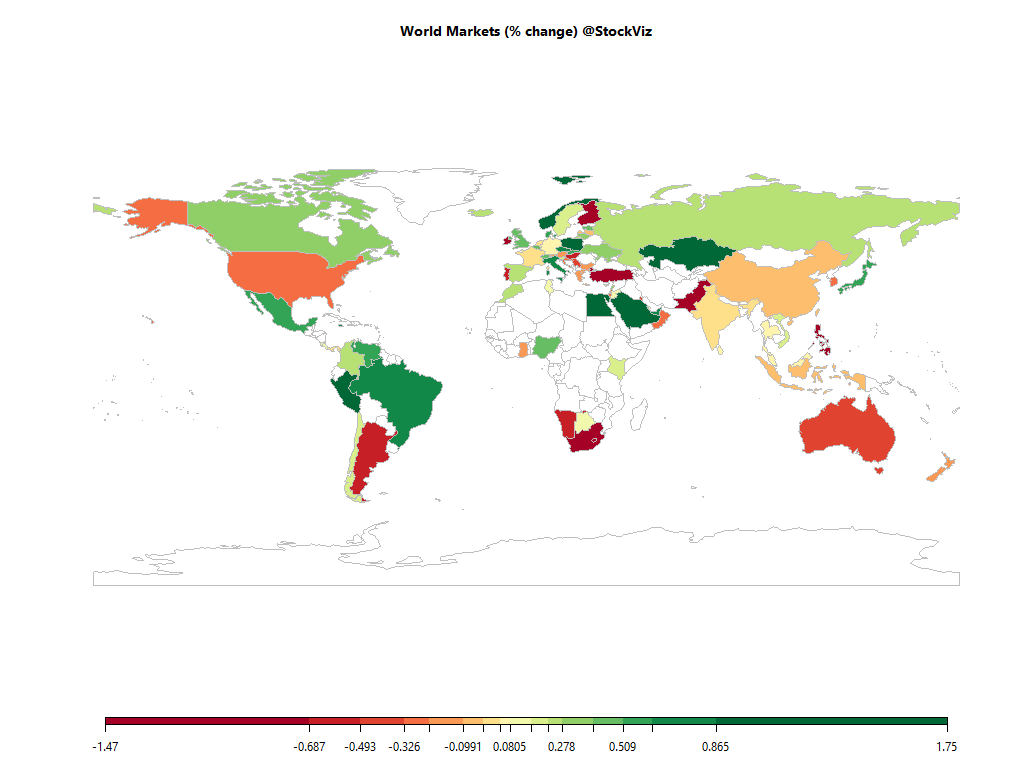 Equities
Commodities
Energy
Brent Crude Oil

+0.06%

Heating Oil

-0.22%

Natural Gas

+0.85%

WTI Crude Oil

+0.10%

Ethanol

+0.00%

RBOB Gasoline

+0.08%
Metals
Gold 100oz

+0.00%

Palladium

+0.43%

Platinum

+0.52%

Silver 5000oz

+0.16%

Copper

+0.00%
Agricultural
Coffee (Robusta)

+0.00%

Corn

-0.07%

Feeder Cattle

+0.00%

Soybean Meal

-0.40%

Soybeans

-0.02%

Wheat

+0.48%

Cattle

+0.00%

Coffee (Arabica)

+0.00%

Cotton

-0.09%

Orange Juice

+0.00%

Lean Hogs

+0.00%

Cocoa

+0.00%

Lumber

+0.00%

Sugar #11

+0.00%

White Sugar

+0.00%
Out of 42 world ETFs listed in NYSE that we track, 12 are trading above their 10-day SMA and 12 are trading above their 50-day SMA.
Must Reads
An uncertain community
FOR a community of 172m, almost 15% of the population, Muslims at first glance appear oddly absent from the pages of India's newspapers. In fact, they crop up a lot, but not by name. Instead, reporters coyly refer to "a certain community".
15,000 victims, $300 million scam! US charges 61 over India-based IRS impersonation scam
WASHINGTON: The US Justice Department charged 61 people and entities on Thursday with taking part in a scam involving India-based call centers where agents impersonated Internal Revenue Service, immigration and other federal officials and demanded payments for non-existent debts.
Cyrus Mistry has damaged the group's image in the eyes of 6 lakh-plus employees: Tata
MUMBAI: Tata Sons hit back at allegations made by former chairman Cyrus Mistry, saying they were not based on facts or the true state of affairs and said he was replaced because he had lost the confidence of the board.
Goldman's Multifactor Robots: A Post-Human Investing Guide
For its next act, the $3.5 trillion ETF industry wants to sell you the steady income of a dividend, the upside of a small cap and the good night's sleep of a low-volatility stock. All at once. And they really hope you buy it. Just about every big fund provider, from Goldman Sachs Group Inc.
Check out our Global Macro Dashboard for currency, commodity, bonds and credit charts.
Good luck!