Your world at 9am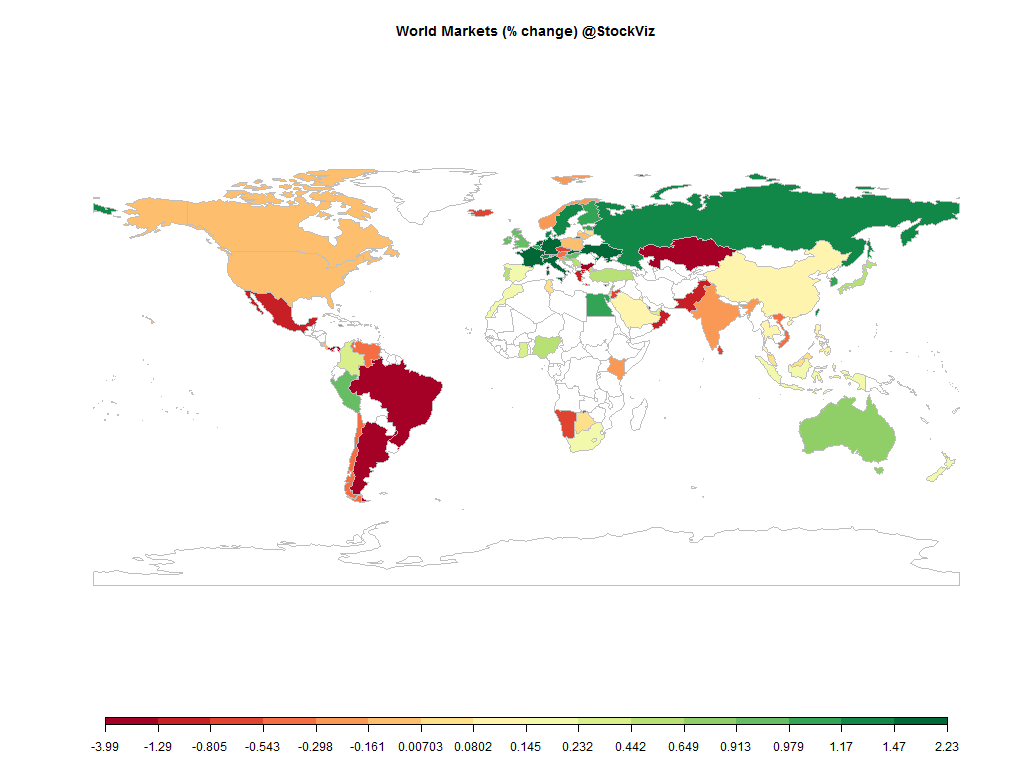 Equities
Commodities
Energy
Ethanol

+0.00%

Heating Oil

+0.02%

Brent Crude Oil

+0.06%

Natural Gas

-0.48%

RBOB Gasoline

+0.25%

WTI Crude Oil

+0.26%
Metals
Copper

+1.08%

Palladium

+1.46%

Silver 5000oz

-0.20%

Gold 100oz

+0.15%

Platinum

+0.60%
Agricultural
Cattle

+0.69%

Sugar #11

-0.20%

Coffee (Robusta)

+0.00%

Cotton

+2.87%

Soybeans

+0.00%

White Sugar

+0.00%

Cocoa

+0.00%

Coffee (Arabica)

-1.51%

Feeder Cattle

+0.24%

Lean Hogs

+2.23%

Orange Juice

-1.64%

Soybean Meal

+0.00%

Wheat

+0.00%

Corn

+0.00%

Lumber

+0.32%
Credit Indices
| Index | Change |
| --- | --- |
| Markit CDX EM | -0.21% |
| Markit CDX NA HY | -0.04% |
| Markit CDX NA IG | +0.72% |
| Markit iTraxx Asia ex-Japan IG | +5.73% |
| Markit iTraxx Australia | +4.54% |
| Markit iTraxx Europe | +1.70% |
| Markit iTraxx Europe Crossover | +7.40% |
| Markit iTraxx Japan | +0.31% |
| Markit iTraxx SovX Western Europe | -0.67% |
| Markit LCDX (Loan CDS) | -0.06% |
| Markit MCDX (Municipal CDS) | +0.00% |
Risk ON/OFF?
Must reads
EPFO: invest in haste, repent at leisure? They bought NIFTY ETFs worth Rs 6,000 crores three months ago. And they are now wondering why returns came in at just 1.52% (ET)
Corruption and bribery were the biggest drivers of frauds in India, with 25% companies being affected. About 15% companies were guilty of regulatory compliance breach and 20% were hit by intellectual-property theft. And 7.5% companies were involved in money-laundering activities. (DNA)
Is Dr. Reddy's Labs Ranbaxy 2.0? USFDA warns DRL over serious data integrity violations, placing all its new applications or supplements under a cloud. (FE) DRREDDY 3,101.85 -285.85 (-8.44%)
New startup policy to focus on manufacturing. Will offer tax sops to small unlisted start-ups. (LiveMint)
China's millions of farmers are notorious for pumping their livestock full of antibiotics – roughly three times more, pound for pound, than counterparts in the U.S.; agriculture accounts for perhaps half of antibiotic use in China. Brace yourself for the post-antibiotic apocalypse. (Bloomberg)
Good luck!