Your world at 9am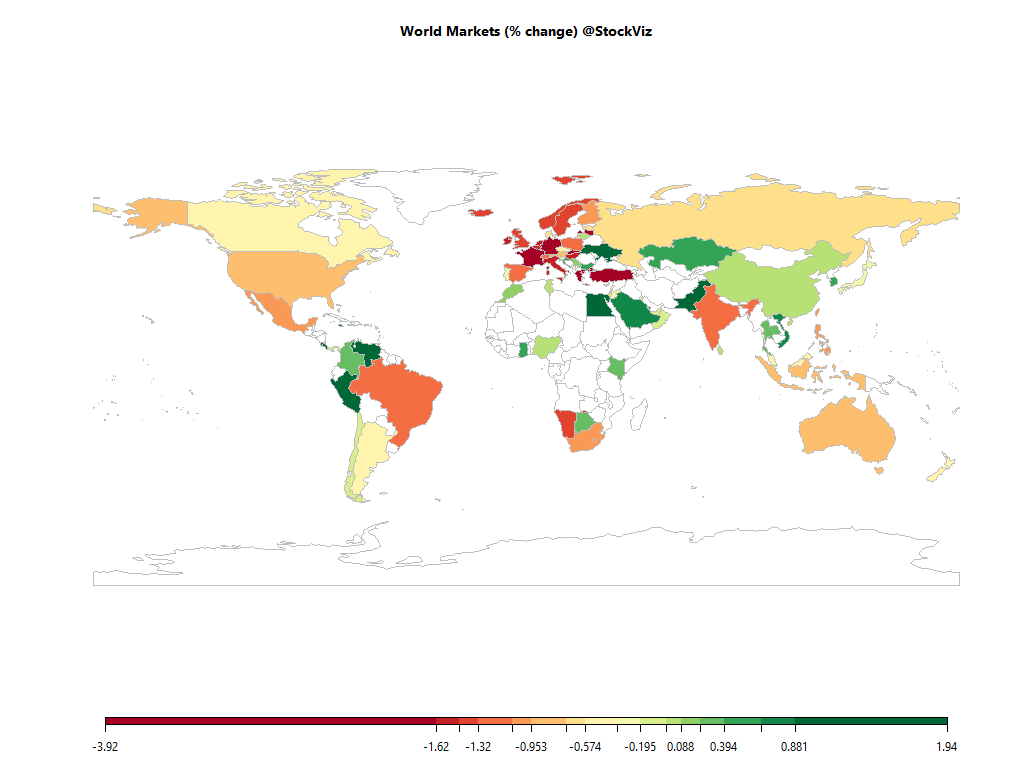 Equities
Commodities
Energy
Ethanol

+0.00%

Heating Oil

-0.25%

RBOB Gasoline

-0.21%

WTI Crude Oil

-0.13%

Brent Crude Oil

-0.32%

Natural Gas

+0.57%
Metals
Gold 100oz

+0.00%

Palladium

+0.04%

Platinum

-0.04%

Silver 5000oz

+0.00%

Copper

-0.73%
Agricultural
Cocoa

+0.00%

Corn

+0.00%

Orange Juice

+0.00%

Soybean Meal

+0.47%

Soybeans

+0.29%

Sugar #11

+0.00%

Wheat

+0.25%

White Sugar

+0.00%

Cattle

+0.00%

Coffee (Arabica)

+0.00%

Cotton

+0.00%

Coffee (Robusta)

+0.00%

Feeder Cattle

+0.00%

Lean Hogs

+0.00%

Lumber

+0.00%
Out of 42 world ETFs listed in NYSE that we track, 28 are trading above their 10-day SMA and 18 are trading above their 50-day SMA.
Must Reads
Indus Water Treaty explained
The Indus Water Treaty (IWT) is a water sharing arrangement, signed in Karachi on September 19, 1960, by then Prime Minster Jawaharlal Nehru and Pakistan's President General Ayub Khan.
Walmart, Flipkart may gang up on Amazon
NEW DELHI: The world's biggest retailer Walmart Stores Inc is exploring an equity partnership with Flipkart to take on common rival Amazon in India, two persons directly aware of the development said.
Comments on investment philosophy – part one of hopefully a few…
This is the first of several investment think pieces I have in my head dealing with investment philosophy, where markets are now and maybe even a stock or two… They are surprisingly hard to write so these posts might come slowly…
Check out our Global Macro Dashboard for currency, commodity, bonds and credit charts.
Good luck!