Your world at 9am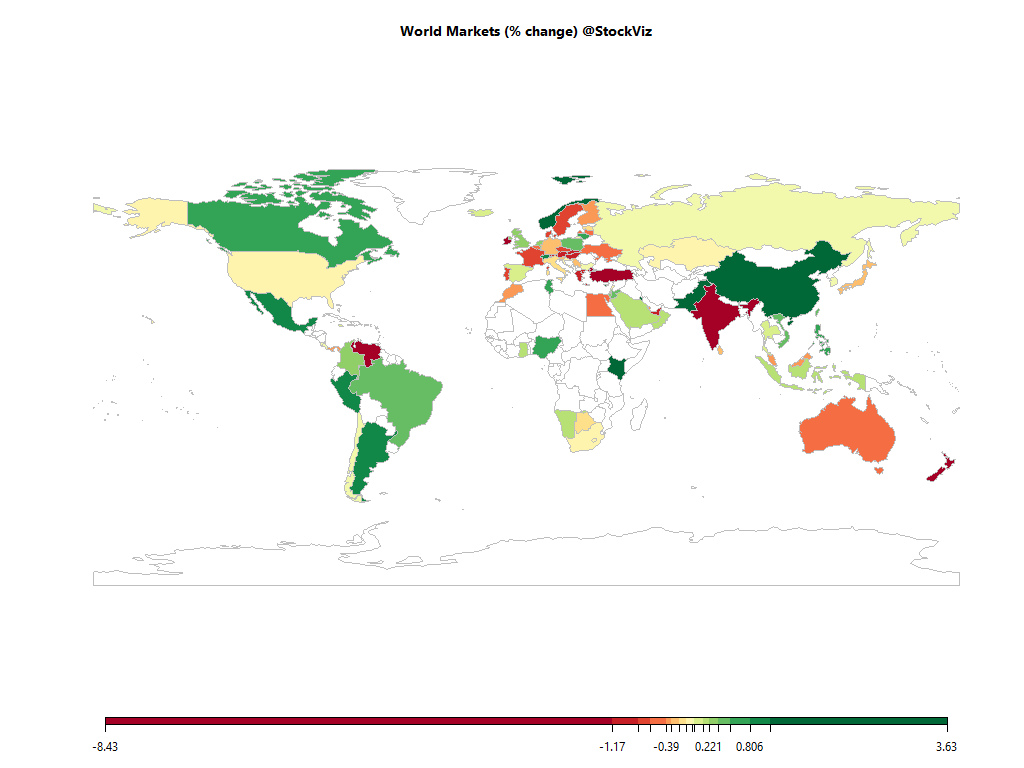 Equities
Commodities
Energy
Brent Crude Oil

+0.16%

Natural Gas

-1.38%

Ethanol

-0.94%

Heating Oil

+0.16%

RBOB Gasoline

-0.07%

WTI Crude Oil

+0.29%
Metals
Copper

+0.49%

Platinum

+0.17%

Palladium

+0.90%

Silver 5000oz

+0.00%

Gold 100oz

+0.00%
Agricultural
Sugar #11

+0.43%

Cocoa

+0.00%

Corn

-0.14%

Feeder Cattle

-0.37%

Lean Hogs

-0.82%

Lumber

+0.93%

Orange Juice

-2.56%

Soybean Meal

-0.98%

Cattle

-0.58%

Cotton

+0.60%

Soybeans

+0.09%

Coffee (Arabica)

-0.25%

Coffee (Robusta)

+0.00%

Wheat

-0.53%

White Sugar

+0.00%
Out of 43 world ETFs listed in NYSE that we track, 9 are trading above their 10-day SMA and 5 are trading above their 50-day SMA.
Must Reads
Haste Makes Waste
I'm going to try to explain what's going on in VC. First, a story about fish. Take two groups of identical baby fish. Put one in abnormally cold water; the other, abnormally warm water.
Hype and facts on free trade
from C. P. Chandrasekhar Voices questioning the claim that nations and the majority of their people stand to gain from global trade are growing louder.
Opinion | There are no viable alternatives to inflation targeting
Those who do not like inflation targeting may well say good riddance if that were to happen.
A Lost Decade of Dollar Cost Averaging
Investors who dutifully put money into the stock market on a periodic basis over the decade ended in 2009 would have felt dejected when looking at their statements.
The big challenge of shadow banking in India
The overall NPA ratio of NBFCs has worsened in recent years and capital adequacy has been hit.
Investors sitting on $40 billion capital reserves for India
The levels of investible capital available with private investors are at a record high. Graphic: Mint Mumbai: Dry powder, or the collective pile of investible capital available with private investors, in India is at about $40 billion, according to an analysis by audit and consulting firm EY.
Everything You Know about Cross-Country Convergence Is (Now) Wrong
A quarter-century after the empirical growth literature set out to explain why poor countries aren't catching up with rich ones, cross-country regressions have mercifully gone out of fashion. But in the interim, the core facts have changed.
How Manhattan Became a Rich Ghost Town
These days, walking through parts of Manhattan feels like occupying two worlds at the same time. In a theoretical universe, you are standing in the nation's capital of business, commerce, and culture.
Check out our Global Macro Dashboard for currency, commodity, bonds and credit charts.
Good luck!