Your world at 9am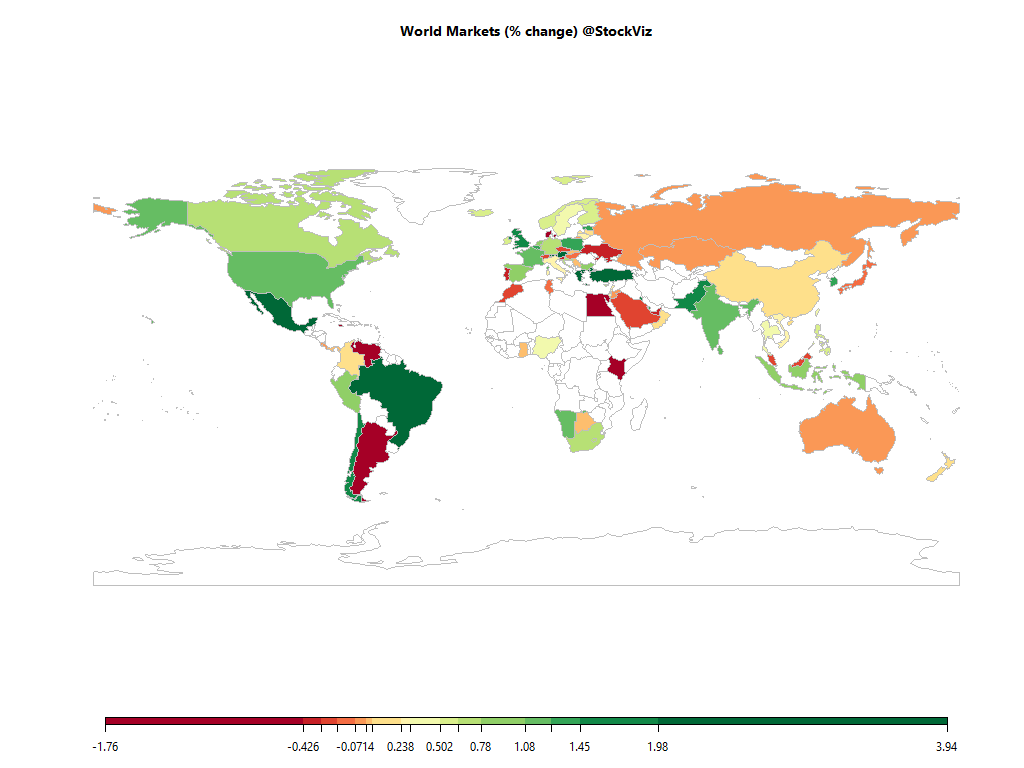 Equities
Commodities
Energy
Natural Gas

+0.30%

Ethanol

+0.00%

RBOB Gasoline

+0.41%

Brent Crude Oil

-0.13%

Heating Oil

+0.30%

WTI Crude Oil

-0.03%
Metals
Copper

+0.74%

Gold 100oz

+0.00%

Palladium

+1.16%

Silver 5000oz

+0.84%

Platinum

+1.19%
Agricultural
Cotton

+1.14%

Lumber

+0.00%

Wheat

+0.20%

Cattle

+0.00%

Lean Hogs

+0.00%

Orange Juice

+0.00%

Soybean Meal

+0.21%

White Sugar

+0.00%

Feeder Cattle

+0.00%

Cocoa

+0.00%

Coffee (Arabica)

+0.00%

Coffee (Robusta)

+0.00%

Corn

+0.99%

Soybeans

+0.43%

Sugar #11

+0.00%
Out of 43 world ETFs listed in NYSE that we track, 23 are trading above their 10-day SMA and 43 are trading above their 50-day SMA.
Must Reads
Tata nears deal to buy BigBasket for $1.3 bn
The Tata group is in advanced talks to buy around 80% in BigBasket for around $1.3 billion, valuing India's largest online grocer at around $1.6 billion, three people with direct knowledge of the development said.
To avoid tech's anti-trust troubles, India tries a hard 30% cap
From Washington to Beijing, governments are trying to strike the right balance between enabling technology innovation and preventing giants like Google and Facebook Inc. from suffocating rivals.
India can't make up its mind on PSUs, 30 years after liberalisation
30 years after liberalization, India's muddled thinking on PSUs continues. This year, things may only get worse. The tension is only likely to increase further in 2020-21 because of the pandemic.
Traders Flee From Treasuries in One of Biggest 2020 Yield Spikes
Investors dumped Treasuries amid a glimmer of hope that the U.S. Congress will reach an economic-stimulus compromise, driving one of the year's biggest increases in long-term yields.
Rich As I Say, Not As I Do
There's a bit of an issue I have noticed among personal finance experts. Many of them have gotten wealthy by selling advice to others rather than by using their own advice.
The Match Tycoon Ivar Kreuger: Genius or Crook?
It was Saturday the 12th of March 1932, a sunny but chilly early spring day.
Brexit is a necessary crisis – it reveals Britain's true place in the world
Who backs Brexit? Agriculture is against it; industry is against it; services are against it. None of them, needless to say, support a no-deal Brexit.
A Quant Pioneer Fights to Save Trend Following in Dismal Decade
Martin Lueck has already watched one systematic trading program reach the end of its shelf life when he was building a pioneering quant hedge fund in the 1980s.
Debenhams set to close putting 12,000 jobs at risk
Debenhams stores are set to close after the failure of last-ditch efforts to rescue the ailing store chain. It means all 12,000 employees are likely to lose their jobs when the chain's 124 shops cease trading.
Myth of safeguards for corporate banks
9 min read .
Why inflation stands in the way of India's growth recovery
4 min read . Updated: 30 Nov 2020, 12:47 PM IST Even as growth risks recede, risks to inflation remain.
Investors take a shine to India's banks, but peer comparison doesn't flatter
When compared with other emerging market peers, Indian banks may not shine when it comes to key metrics such as capital and asset quality. Moody's Investor Services Ltd expects Indian banks to report large erosions in capital in calendar 2021.
Why active will continue to underperform
Twice a year, every year, the SPIVA (S&P Indices Versus Active Funds) scorecards across the world show the same long-term results: most active equity managers under-perform, most of the time. For example, the most recent mid-year scorecard for the UK, showed that 69.
How property-hungry Chinese millennials and shadow banking could fuel a financial crisis
China's household debt has surged again after the Covid-10 pandemic was brought under control in May, driven by bets on property prices rising. By the end of 2020, household debt could reach 150 per cent of disposable income. Moreover, the debt seems to be concentrated among millennials.
The Best Case Scenario For Bitcoin
When I first learned about bitcoin in 2015-ish it made my head hurt. It didn't make sense and there was no one in the space with the ability to explain it in a way that made sense.
Check out our Global Macro Dashboard for currency, commodity, bonds and credit charts.
Good luck!