Your world at 9am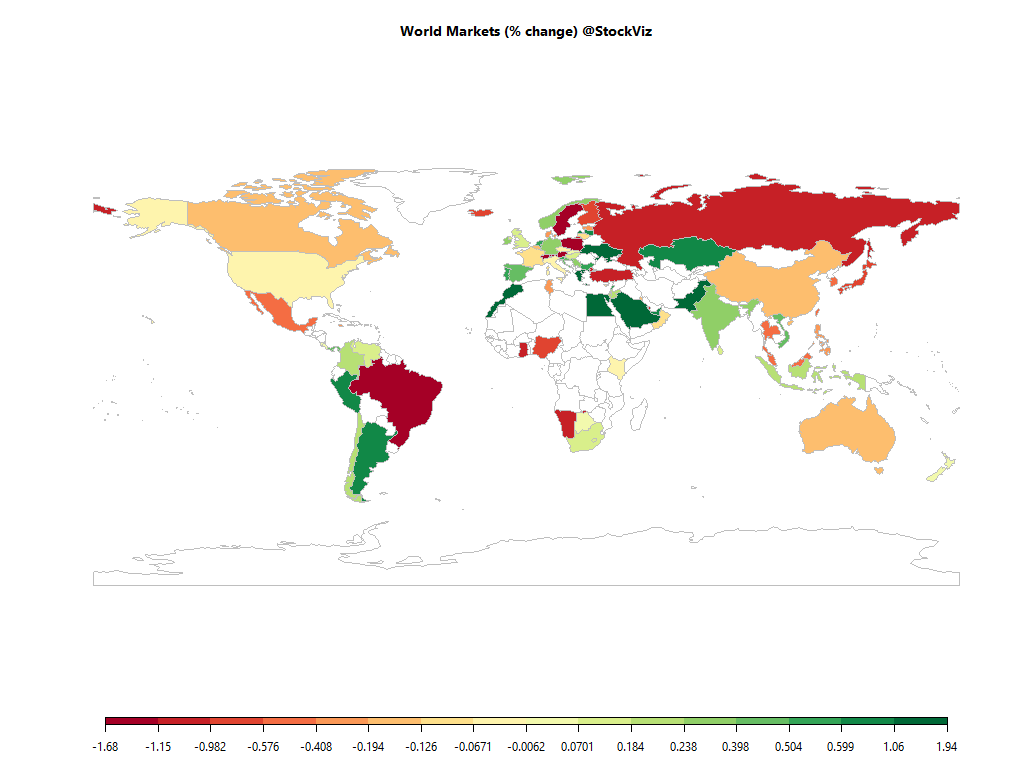 Equities
Commodities
Energy
Heating Oil

-0.33%

Brent Crude Oil

-0.49%

Ethanol

+0.00%

RBOB Gasoline

-0.25%

Natural Gas

+0.39%

WTI Crude Oil

-0.47%
Metals
Platinum

+0.33%

Copper

-0.05%

Gold 100oz

+0.46%

Palladium

+0.23%

Silver 5000oz

+0.00%
Agricultural
Wheat

+0.11%

Coffee (Arabica)

+0.00%

Coffee (Robusta)

+0.00%

Feeder Cattle

+0.00%

Lean Hogs

+0.00%

Soybean Meal

+0.00%

White Sugar

+0.00%

Cattle

+0.00%

Corn

+0.34%

Lumber

+0.00%

Orange Juice

+0.00%

Soybeans

+0.20%

Sugar #11

+0.00%

Cocoa

+0.00%

Cotton

+0.00%
Credit Indices
| Index | Change |
| --- | --- |
| Markit CDX EM | -0.24% |
| Markit CDX NA HY | -0.35% |
| Markit CDX NA IG | +2.04% |
| Markit iTraxx Asia ex-Japan IG | +2.49% |
| Markit iTraxx Australia | +1.92% |
| Markit iTraxx Europe | +2.51% |
| Markit iTraxx Europe Crossover | +7.77% |
| Markit iTraxx Japan | +0.00% |
| Markit MCDX (Municipal CDS) | -1.83% |
Out of 42 world ETFs listed in NYSE that we track, 4 are trading above their 10-day SMA and 22 are trading above their 50-day SMA. Also, there were 17 sigma events over the last 24 hours. Details
here
.
Must reads
Bank licenses to be available on-tap. (LiveMint, #regulation)
Bankruptcy code bill passed in LS. (FP, DNA)
Ranbaxy's Singh brothers told to pay Rs 2,562 crore fine to Daiichi. (BS)
Weekly Options contracts on BANKNIFTY Index shall be made available for trading from May 27, 2016. (NSE)
Sentient Technologies, an artificial intelligence company, plans to open its experimental hedge fund using "evolutionary" algorithmic trading to outside investors as early as this year. (FT)
Good luck and have a nice weekend!