Your world at 9am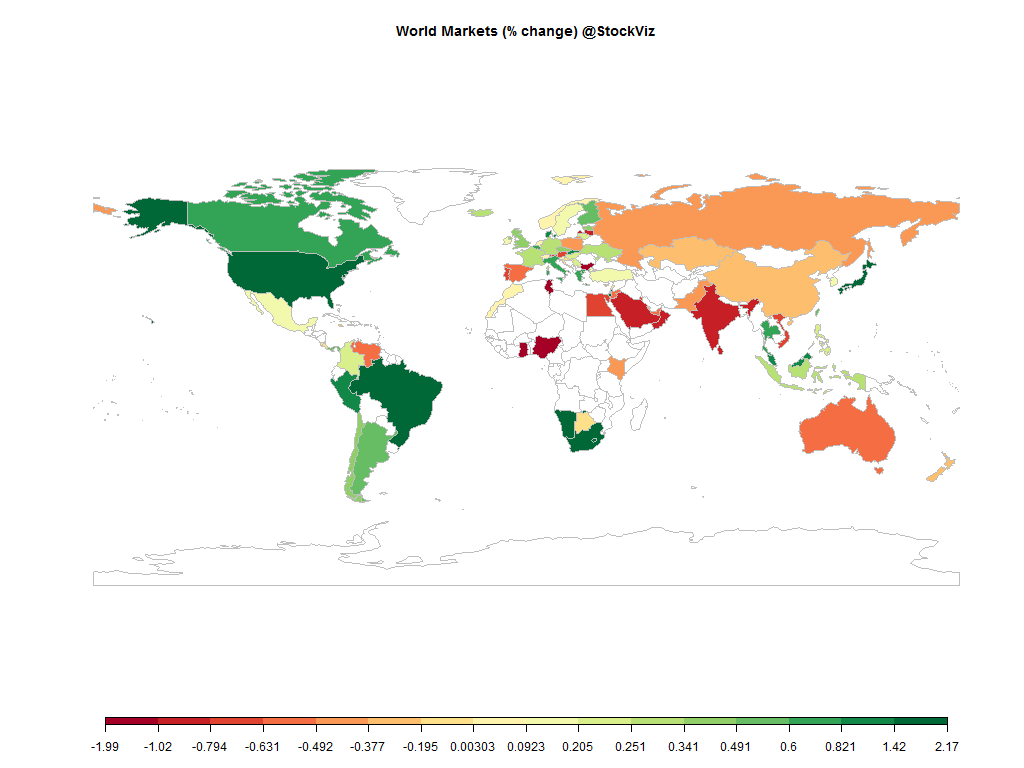 Equities
Commodities
Energy
Ethanol

+0.00%

Natural Gas

-0.19%

RBOB Gasoline

-0.46%

Brent Crude Oil

-0.65%

Heating Oil

-0.59%

WTI Crude Oil

-0.86%
Metals
Copper

+0.13%

Platinum

-0.23%

Silver 5000oz

+0.00%

Gold 100oz

-0.19%

Palladium

-0.80%
Agricultural
Corn

-0.42%

Cotton

+0.00%

Lumber

+0.47%

Soybeans

-0.06%

Cattle

+0.00%

Coffee (Robusta)

+0.00%

Sugar #11

+0.37%

Wheat

-1.16%

Cocoa

+0.00%

Feeder Cattle

+0.00%

Lean Hogs

+0.00%

Orange Juice

+0.00%

White Sugar

+0.00%

Coffee (Arabica)

-1.41%

Soybean Meal

-0.35%
Credit Indices
| Index | Change |
| --- | --- |
| Markit CDX EM | -0.76% |
| Markit CDX NA HY | -0.61% |
| Markit CDX NA IG | +2.77% |
| Markit iTraxx Asia ex-Japan IG | +5.78% |
| Markit iTraxx Australia | +3.76% |
| Markit iTraxx Europe | +2.86% |
| Markit iTraxx Europe Crossover | +14.66% |
| Markit iTraxx Japan | +1.76% |
| Markit iTraxx SovX Western Europe | +0.12% |
| Markit LCDX (Loan CDS) | +0.00% |
| Markit MCDX (Municipal CDS) | +1.47% |
So… Risk ON?
Must reads
Jim Rogers stops smoking the hopium – exits India. (LiveMint)
Meanwhile, Morgan Stanley issues 'full house' buy alert for stocks. All five of the bank's key timing indicators are flashing a green light for the first time since early 2009, suggesting the worst may be over for global equities. (Telegraph)
Feeling the brunt of the commodity swing: Canada, Australia, New Zealand and Norway. (WSJ, FT)
The world economy is bearing the brunt of a third deflationary wave in less than a decade. The first was the US-led housing and financial crisis of 2008-9, the second wave was the eurozone crisis of 2011-12, and now a third, an emerging markets crisis. (FT)
David Dunning: "…incompetent people do not recognize—scratch that, cannot recognize—just how incompetent they are. What's curious is that, in many cases, incompetence does not leave people disoriented, perplexed, or cautious. Instead, the incompetent are often blessed with an inappropriate confidence, buoyed by something that feels to them like knowledge." (TheNess)
Good luck!