Your world at 9am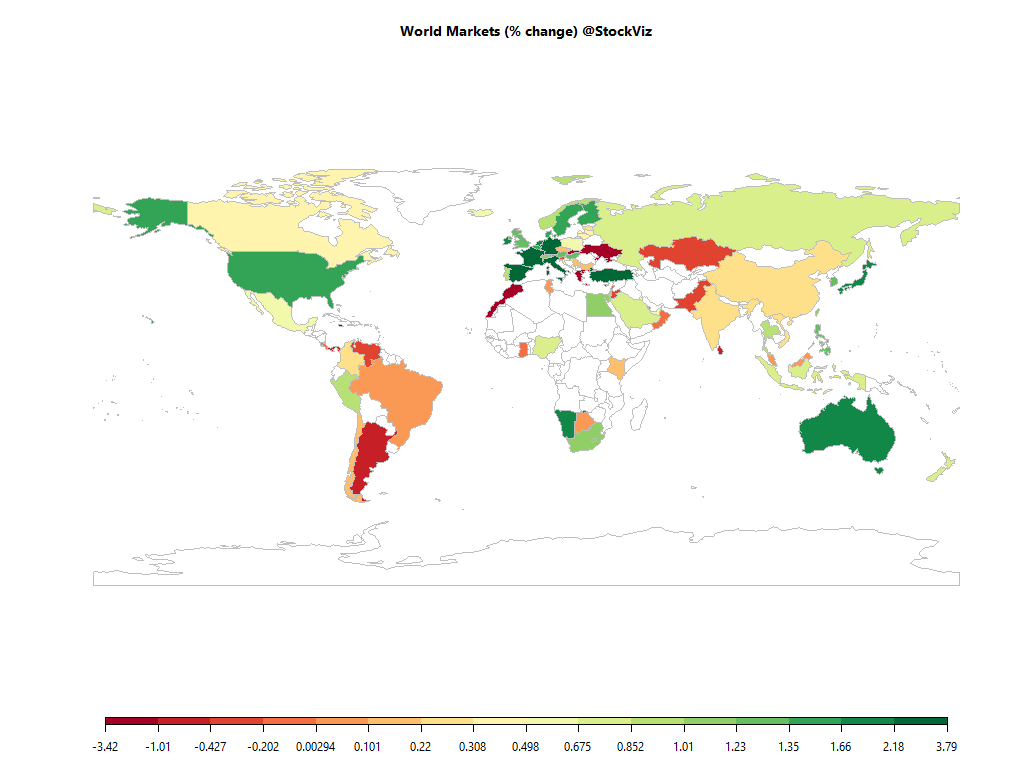 Equities
Commodities
Energy
Brent Crude Oil

+1.17%

Heating Oil

+1.14%

Natural Gas

-0.20%

Ethanol

+0.00%

RBOB Gasoline

-0.49%

WTI Crude Oil

+1.32%
Metals
Platinum

+0.02%

Silver 5000oz

+0.17%

Copper

+0.00%

Gold 100oz

+0.00%

Palladium

-1.12%
Agricultural
Corn

+0.13%

Cotton

-0.10%

Soybean Meal

+1.00%

Wheat

+0.43%

White Sugar

+0.00%

Cocoa

+0.00%

Lean Hogs

+0.00%

Lumber

+0.00%

Coffee (Robusta)

+0.00%

Soybeans

+0.55%

Cattle

+0.00%

Coffee (Arabica)

+0.00%

Feeder Cattle

+0.00%

Orange Juice

+0.00%

Sugar #11

+0.00%
Credit Indices
| Index | Change |
| --- | --- |
| Markit CDX EM | -0.44% |
| Markit CDX NA HY | +0.09% |
| Markit CDX NA IG | -0.34% |
| Markit iTraxx Asia ex-Japan IG | +1.08% |
| Markit iTraxx Australia | +0.24% |
| Markit iTraxx Europe | +0.23% |
| Markit iTraxx Europe Crossover | +1.46% |
| Markit iTraxx Japan | +0.27% |
| Markit MCDX (Municipal CDS) | +0.00% |
Out of 42 world ETFs listed in NYSE that we track, 23 are trading above their 10-day SMA and 15 are trading above their 50-day SMA. Also, there were 20 sigma events over the last 24 hours. Details
here
.
Must reads
Water is a "natural resource that belongs to the entire nation" and not to any private entity, the Bombay high court (HC) on Tuesday directed the government to requisition or take charge of all private wells and bore wells for as long as the state faces water shortage. (HT)
The Mauritius pact is likely to provide the much-needed push for fund managers to relocate to India. Or, just trade the SGX Nifty out of Singapore. (LiveMint)
Reserve Bank of India has raised concerns over one-third of ATMs being non-functional and warned the lenders of penal action if the compliance levels are not met. (NDTV)
Deloitte thinks online peer-to-peer lenders will not be significant players in terms of overall volume or share. They are, at best, a sustaining innovation, likely to be limited to serving profitable, underserved segments that are currently overlooked by incumbent banks. (BI)
Sweatshops no more! Adidas announced that it will start marketing its first series of sportshoes manufactured by robots in Germany from 2017. (GP)
Good luck!