Your world at 9am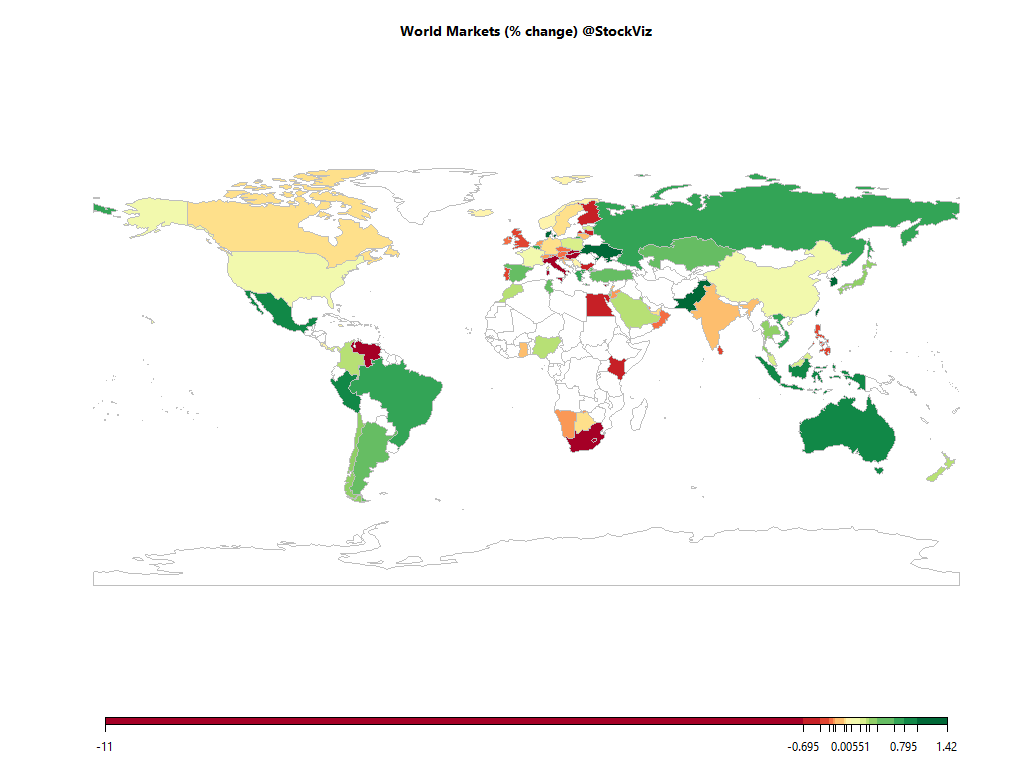 Equities
Commodities
Energy
WTI Crude Oil

+0.05%

Brent Crude Oil

-0.06%

Heating Oil

-0.23%

Natural Gas

-1.25%

RBOB Gasoline

+0.24%

Ethanol

+0.00%
Metals
Platinum

-0.07%

Copper

+0.00%

Silver 5000oz

+0.00%

Gold 100oz

+0.00%

Palladium

+0.02%
Agricultural
Corn

+0.14%

Lumber

-0.15%

Orange Juice

+0.00%

Cattle

-0.14%

Cocoa

+0.00%

Coffee (Arabica)

+0.00%

Cotton

+0.26%

Feeder Cattle

-0.02%

Soybeans

+0.24%

Wheat

+0.55%

Coffee (Robusta)

+0.00%

Lean Hogs

+0.28%

Soybean Meal

+0.05%

Sugar #11

+0.00%

White Sugar

+0.00%
Out of 43 world ETFs listed in NYSE that we track, 35 are trading above their 10-day SMA and 20 are trading above their 50-day SMA.
Must Reads
India's BJP government looks ever more like the one it replaced
AT A rally in the southern state of Karnataka the prime minister wagged his raised finger, accusing the local government, run by the rival Congress party, of creaming a 10% cut from every state contract. "Do you want a commission government, or do you want a mission government?" he boomed.
Supplements are a $30 billion racket—here's what experts actually recommend
There are more than 90,000 vitamin and dietary supplement products sold in the US. They come in pills, powders, drinks, and bars.
Privatising PSU banks: The time is now!
As the fraud at PNB dominates headlines, more and more experts are arguing that keeping so many banks in the public sector is actually a disservice to the nation. Shekhar Gupta in his National Interest column strongly advised the PM to "shut it, sell it & forget it".
12K loot Rs 1,60,256 cr from banks
Nearly 12,000 wilful defaulters have siphoned off more than Rs 1,60,256 crore from both public sector and private sector banks, co-operative banks, foreign banks operating in India and other financial institutions.
MPC minutes: cautious RBI is now behind the curve on rates
But central banks always tend to err on the side of caution and RBI, along with its six-member rate-setting committee, is no different.
Modi's 2014 victory was always an unrepeatable 'Black Swan' event
The BJP has not shown any signs of improving its tally in its weak large states such as West Bengal, Tamil Nadu, Kerala, Andhra Pradesh and Telangana.
PNB scam: How a system was gamed
And so the hunt begins. A handful of bank officials who perpetrated the fraud at India's second-largest public sector bank — leading to unauthorised issue of Letters of Undertaking (LoUs) to jeweller Nirav Modi's firms — have been brought under the scanner.
Check out our Global Macro Dashboard for currency, commodity, bonds and credit charts.
Good luck!