Today's pick is [stockquote]ONGC[/stockquote]. The last year saw the stock trading in a 225 to 300 range and the stock was range-bound for the longest time since July. However, it broke-down the range a week ago. During the last three month period, the stock was -5% vs. the +8% of the Nifty.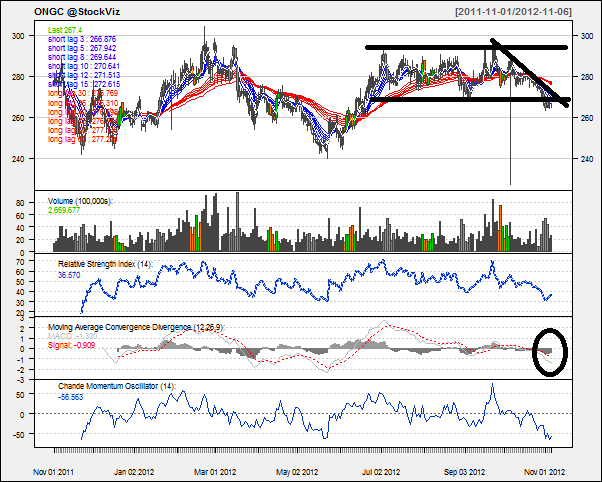 Oscillators RSI and CMO are currently at 36 and -56 and are close to the over-sold territory.
MACD line and the signal line are at distant but the histogram levels are steady – this can be the early sign of a short-term up-trend.
The GMMA chart is not giving any signal as both long-term and short-term lines are tightly packed.

ONGC's average correlation of 0.51 with the Nifty is positive. The stock will not replicate the movements of Nifty closely. [stockquote]NIFTYBEES[/stockquote]

ONGC had a historical volatility in the range of 0.3 to 0.7. Current high volatility can be attributed to the Emkay disaster.
The decline in the price can also be attributed to the withdrawal of the much awaited FPO issue for the stock. With the stock trading at a 12% discount to where LIC bailed it out in March, it looks like its not so nirmal anand after all.
Looking at these technicals a short-term buy is suggested if the stock picks up from the 260 support levels. Although for the long-term, a decisive breakout from the current trading range will suggest a direction.