Today's pick is [stockquote]JINDALSTEL[/stockquote]. The stock has been in a down-trend for the most part since Feb this year. However, there was a slight up-move in Sep, but it gave up by start of Oct. Since then the stock has been in a down-trend again. In the last three month period, the stock moved -11% Vs +5% as that of Nifty's.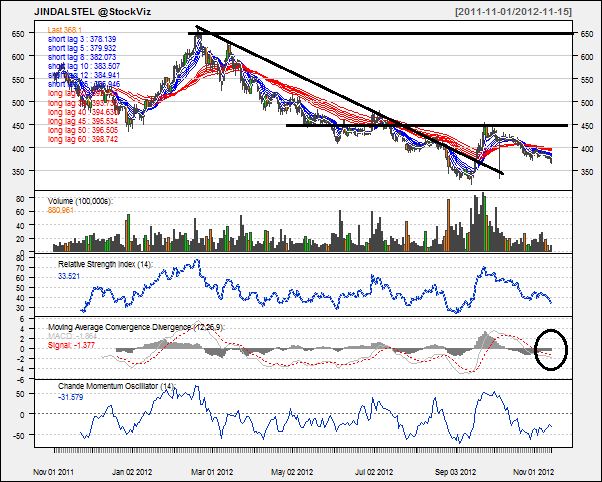 Oscillators RSI and CMO are at currently at 33 and –31, and are hovering around the over-sold territory but are not suggesting any direction.
MACD line and the signal line are moving very close to each other and the Histogram is showing a decreasing levels. This can be an early indicator of an upcoming up-trend.
The GMMA chart is not suggesting any direction for either the short-term or the long-term as well.

JINDALSTEL's average correlation of 0.65 with the Nifty is positive and strong. The stock will replicate the movements of Nifty closely because of the co-efficient. [stockquote]NIFTYBEES[/stockquote]

JINDALSTEL has a historical volatility in the range of 0.3 to 1.0. The scrip's volatility is currently in the middle of the range and hence is not a concern.
Looking at these technicals a short-term buy is suggested upon a decisive MACD cross-over. A break-out of the near term resistance at 450 will trigger a longer-term up-trend.