Today's pick is [stockquote]PANTALOONR[/stockquote]. The stock is currently trading around the same price where it was year ago – range bound between 130 to 220 levels for almost a year. However, it recently zipped past its resistance at 200 on higher volumes. In the last three month period, the stock is up 30% vs. 7% for Nifty.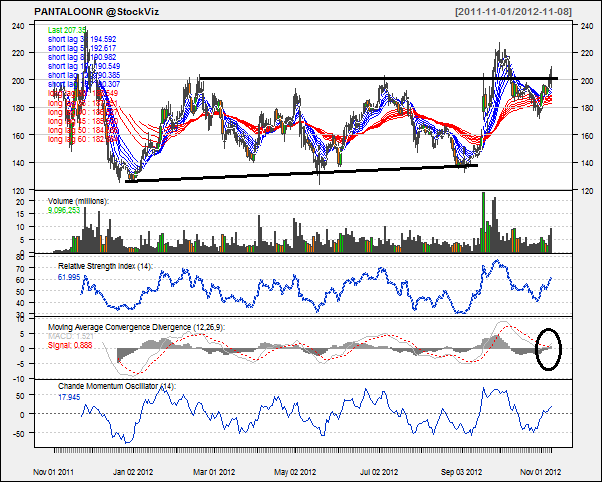 Oscillators RSI and CMO are currently at 62 and 18 and are closing towards over-bought territory.
MACD line has just crossed the signal line from below signaling a bullish movement for the coming days.
Long term set of GMMA lines are fanning out – which is a bullish for the long term. Due to the recent down-trend in the stock prices the short-term lines are constricted and are not signaling any movement.
In addition to these technicals, the stock seems to have some momentum behind it with 4 cross 9 and 9 cross 18 EMA bullish crossovers seen in the past week.

PANTALOONR's average correlation of 0.60 with the Nifty is positive and strong. The stock will replicate the movements of Nifty closely. [stockquote]NIFTYBEES[/stockquote]

PANTALOONR had a historical volatility in the range of 0.6 to 1.6. Currently the stock's volatility is towards the lower side of the range.
Looking at these technicals a short-term buy is suggested. For the long-term, the GMMA lines are giving a bullish signal for the stock and a break-out above the 220 levels will confirm the signal.