Today's pick is [stockquote]WIPRO[/stockquote]. The last year saw the stock trading in a 330 to 450 range and the stock just tested the support levels around 52 week lows. In the past 50 days the stock made return of 3.8% as against 6.2% made by Nifty.
The stock has been in a down-trend since April this year, with a support near the 335 levels and resistance around 450.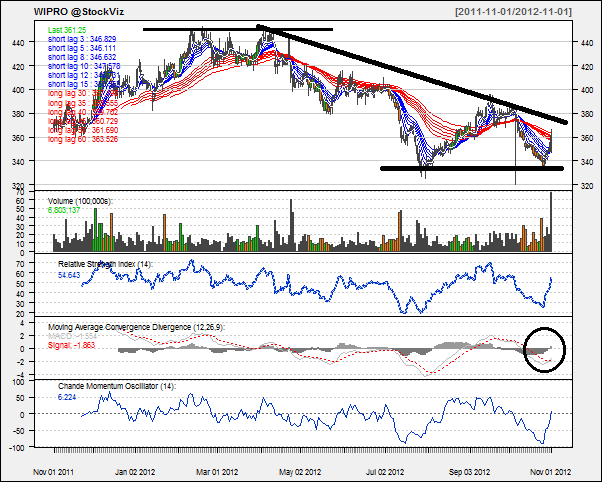 Oscillators RSI and CMO are at currently at 54 and 6 and are hovering in the no man's land.
MACD line just crossed the signal line and is on a rise; the histogram levels are rising as well suggesting short-term up-trend.
The GMMA chart is not suggesting any directional move as of now. The short-term lines are constricting and long-term lines are spreading. When the lines fan out, we will be able to take a stand on the direction.

WIPRO's average correlation of 0.56 with the Nifty is positive and strong. The stock will not replicate the movements of Nifty closely. [stockquote]NIFTYBEES[/stockquote]

WIPRO has a historical volatility in the range of 0.3 to 0.7. The scrip's volatility is currently in the middle range and hence should not be a concern to the traders.
Looking at these technicals a short-term buy is suggested. For the long-term outlook of the scrip we will have to wait for GMMA lines to give some direction.