Today's pick is [stockquote]TATASTEEL[/stockquote]. The last year saw the stock trading in a 350 to 500 range and is currently trading around the same price.
The stock has been in a down-trend since February this year, with a support near the 350 levels and resistance around 470.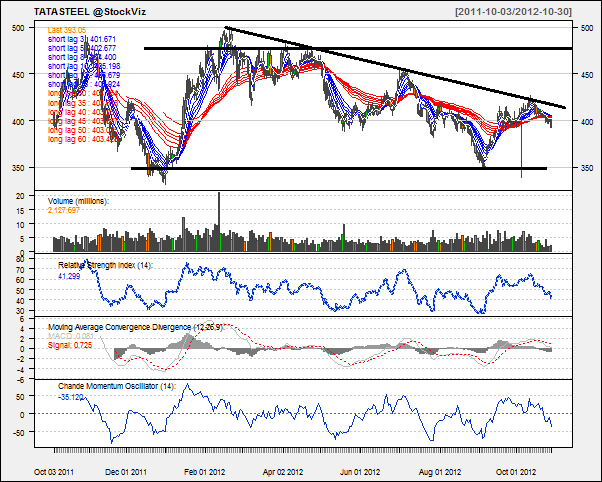 Oscillators RSI and CMO are at currently at 41 and -35 and are hovering close to the oversold territory.
MACD line and signal line are at a distance; the histogram levels are stagnant suggesting a short term consolidation.
The GMMA chart is not suggesting any directional move. The short-term lines and long-term lines are too close to each other.

TATASTEEL's average correlation of 0.73 with the Nifty is positive and quite strong. The stock tends to replicate the movements of Nifty quite closely. [stockquote]NIFTYBEES[/stockquote]

TATASTEEL has a historical volatility in the range of 0.3 to 0.8. The scrip's volatility is currently in the middle range and hence should not be a concern to the traders.
Looking at these technicals a short-term hold is suggested. For the long-term outlook of the scrip a decisive breakout above the trend-line will suggest a change in the current down-trend.
After coming out with a positive result in Q3, U.S. Steel expects a global slowdown in the metal demand for the Q4. Will it be the same scenario for the TATASTEEL for the coming quarter as well?