Today's pick is [stockquote]INFY[/stockquote]. Even though the stock has experienced a high of 3000 and a low of 2150 during the last 12 months, it is still trading at roughly the same price as it was a year ago.
The stock has seen two drastic gap downs over the last 7 months. The up-trend since mid-July saw a tip-off near 2600 levels which might act as a near-term resistance level.
Looking at the chart for the last 2 months, a head and shoulder top might seem to be in formation if the current up-trend stalls and take a turn around 2450 levels on higher volumes.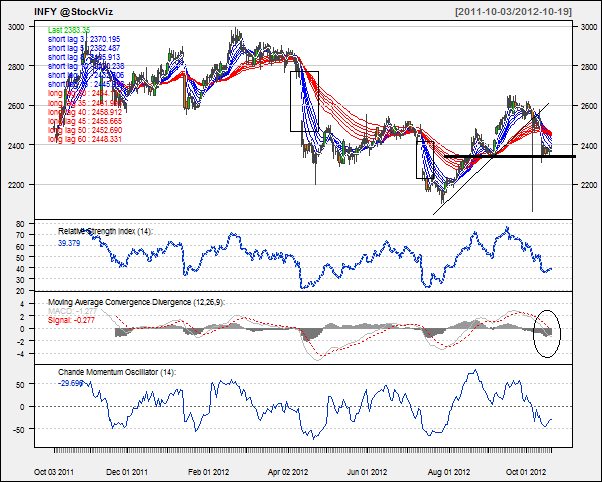 Oscillators RSI and CMO are at currently at 39 and -30. At this level of RSI, the stock has still got around 15 points to reach oversold levels. The CMO will also take time to reach the oversold side. These technicals are not giving out any signal currently.
MACD line and signal line are closing in towards each other and histogram levels are dropping off as well. The behavior of histogram (a decreasing slope) can act as an early signal of the imminent short-term up-trend.
The GMMA chart for the long term signal is suggesting a change in direction (uptrend since July) for the scrip. The short term lines are moving up again suggesting an up-trend after the last fall. A penetration of the short term lines with good volumes can bring about the up-trend for the stock.

Infosys's average correlation of 0.53 with the Niftybees is positive but not very strong. At this level the movements of the stock will not be of the same magnitude as Niftybees. [stockquote]NIFTYBEES[/stockquote]

Infosys has a historical volatility in the range of 0.2 to 0.6. The current volatility is is a result of the EMKAY trades and it should not be a cause of concern.
Looking at these technicals, it appears that the stock is presently nearing oversold territory. A short term buy would be a good idea but for the long term you might want to wait and watch until those long term lines of GMMA dis-entangle themselves to take a stand.