Your world at 9am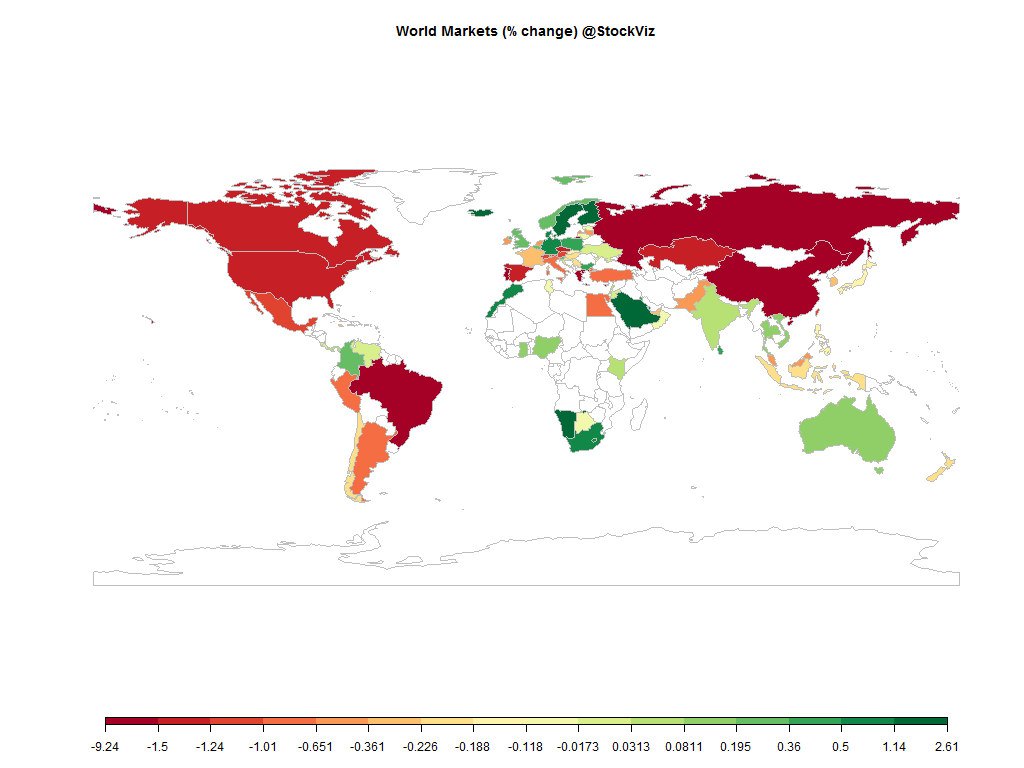 Equities
Commodities
Energy
Brent Crude Oil

+0.37%

Ethanol

+0.00%

Heating Oil

-0.11%

Natural Gas

+0.91%

RBOB Gasoline

+0.67%

WTI Crude Oil

+0.22%
Metals
Copper

-0.68%

Gold 100oz

-0.41%

Palladium

-0.57%

Platinum

-0.56%

Silver 5000oz

+0.00%
Agricultural
Cattle

+0.00%

Cocoa

+0.00%

Coffee (Arabica)

-0.54%

Coffee (Robusta)

+0.00%

Corn

-0.33%

Cotton

-0.20%

Feeder Cattle

+0.00%

Lean Hogs

+0.00%

Lumber

+0.92%

Orange Juice

-4.35%

Soybean Meal

-0.06%

Soybeans

-0.13%

Sugar #11

+0.00%

Wheat

-0.20%

White Sugar

+0.00%
Credit Indices
| Index | Change |
| --- | --- |
| Markit CDX EM | -0.21% |
| Markit CDX NA HY | -0.29% |
| Markit CDX NA IG | +1.20% |
| Markit iTraxx Asia ex-Japan IG | -0.28% |
| Markit iTraxx Australia | -0.26% |
| Markit iTraxx Europe | +1.87% |
| Markit iTraxx Europe Crossover | +8.56% |
| Markit iTraxx Japan | -1.92% |
| Markit iTraxx SovX Western Europe | +0.29% |
| Markit LCDX (Loan CDS) | +0.09% |
| Markit MCDX (Municipal CDS) | +0.30% |
How will the NIFTY fare in the sea of red today?
Must reads
JLR, which accounts for most of Tata's overall revenue, can't be sure of high growth anymore in China and Europe, where it sold 63% of its cars last year. (WSJ) TATAMOTORS 586.40 -12.20 (-2.04%)
To ensure hassle free credit to all borrowers, the RBI has asked banks to dispense with obtaining 'no due certificate' from the individual borrowers. Because, technology. (HBL, #regulation)
Real estate inventory piles up across 6 cities. (LiveMint, #real estate)
3G, Vodafone, Coal India, PFC, REC. FTW! (ET)
Subprime bonds are back! (Bloomberg)
Good luck!