Your world at 9am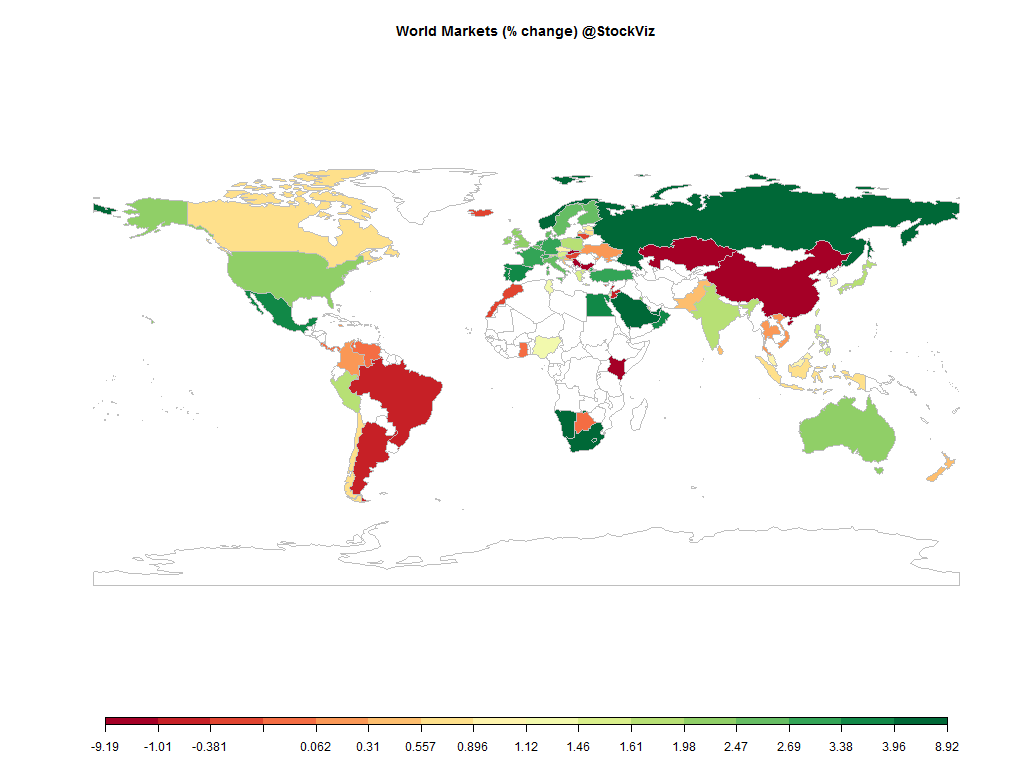 Equities
Commodities
Energy
Brent Crude Oil

-0.02%

Ethanol

+0.00%

Heating Oil

+0.25%

Natural Gas

+0.60%

RBOB Gasoline

-0.05%

WTI Crude Oil

+0.54%
Metals
Copper

+0.00%

Gold 100oz

+0.32%

Palladium

+0.17%

Platinum

+0.22%

Silver 5000oz

+0.00%
Agricultural
Cattle

+0.00%

Cocoa

+0.00%

Coffee (Arabica)

+1.31%

Coffee (Robusta)

+0.00%

Corn

-0.55%

Cotton

-0.25%

Feeder Cattle

+0.00%

Lean Hogs

+0.00%

Lumber

-0.41%

Orange Juice

-2.72%

Soybean Meal

+0.00%

Soybeans

-0.34%

Sugar #11

+1.77%

Wheat

-1.56%

White Sugar

+0.00%
Credit Indices
| Index | Change |
| --- | --- |
| Markit CDX EM | +2.82% |
| Markit CDX NA HY | +1.63% |
| Markit CDX NA IG | -6.35% |
| Markit iTraxx Asia ex-Japan IG | -6.00% |
| Markit iTraxx Australia | +1.35% |
| Markit iTraxx Europe | -4.21% |
| Markit iTraxx Europe Crossover | -20.01% |
| Markit iTraxx Japan | -4.37% |
| Markit iTraxx SovX Western Europe | +0.03% |
| Markit LCDX (Loan CDS) | +0.00% |
| Markit MCDX (Municipal CDS) | -2.60% |
Most markets in the green this morning. TGIF!!!
Must reads
Sebi's debtor's prison is here. (ET, #SEBI)
Soon European banks and fund managers having to specify and separate the costs of research and dealing commissions for each client. SEBI should do this next. (FT)
Indian auto dealers are getting disinter-mediated. And that's a good thing. (LiveMint)
Barry Callebaut (Swiss, public), Cargill (US, private), and Olam (Singapore, public) will account for about 60% of the world's cocoa processing. And top 5 chocolate makers that include Mars, Mondelez and Nestlé account for more than 65% of total confectionery sales. End result: Growers only get 6% of the chocolate bar, down from 16% in 1980. (FT)
Passive investing will one day become so popular that active investors can easily take advantage. (AICIO)
Good luck and have a nice weekend!