Your world at 9am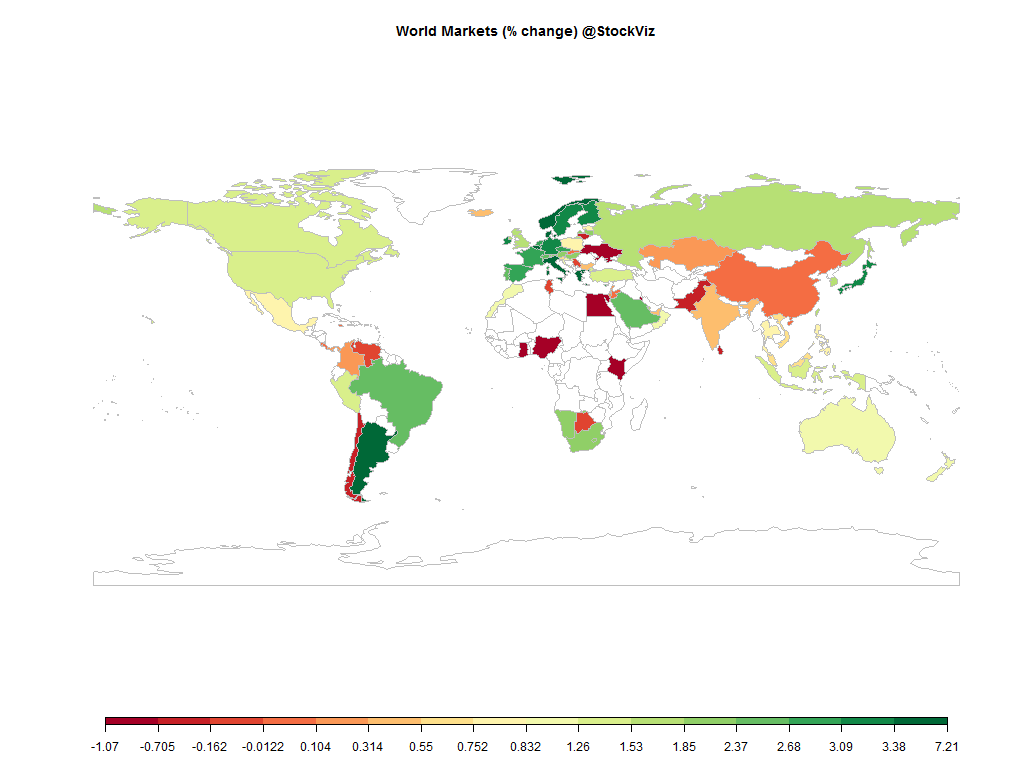 Equities
Commodities
Energy
Brent Crude Oil

+0.16%

Ethanol

+2.46%

Heating Oil

+0.08%

Natural Gas

-1.04%

RBOB Gasoline

+0.08%

WTI Crude Oil

+0.50%
Metals
Copper

+0.00%

Gold 100oz

-0.23%

Palladium

+0.23%

Platinum

+0.58%

Silver 5000oz

+0.00%
Agricultural
Cattle

+0.12%

Cocoa

+0.00%

Coffee (Arabica)

-2.95%

Coffee (Robusta)

+0.00%

Corn

-0.65%

Cotton

+0.00%

Feeder Cattle

-0.55%

Lean Hogs

+0.73%

Lumber

-0.06%

Orange Juice

-0.44%

Soybean Meal

-0.36%

Soybeans

-0.63%

Sugar #11

-0.54%

Wheat

-0.58%

White Sugar

+0.00%
Credit Indices
| Index | Change |
| --- | --- |
| Markit CDX EM | +1.24% |
| Markit CDX NA HY | +1.03% |
| Markit CDX NA IG | -3.28% |
| Markit CDX NA IG HVOL | -11.49% |
| Markit iTraxx Asia ex-Japan IG | -0.36% |
| Markit iTraxx Australia | +2.00% |
| Markit iTraxx Europe | -3.38% |
| Markit iTraxx Europe Crossover | -22.05% |
| Markit iTraxx Japan | +4.00% |
| Markit iTraxx SovX Western Europe | +2.07% |
| Markit LCDX (Loan CDS) | +0.08% |
| Markit MCDX (Municipal CDS) | -1.29% |
US Dollar is rallying, NKY up on reports that Japan's pension fund is going to buy more equities. SPX staged a smart comeback on Friday. With BJP's winning streak continuing and reform agenda on track, we are setup for the next leg-up in equities. Let the Diwali fireworks commence!
Must reads
Japan's massive Government Pension Investment Fund (GPIF) is working on plans to raise the amount of its assets invested in domestic stocks to about 25% — it was 17% as of the end of June. (MW)
Congress-free India. (LiveMint)
The Modi government's decision to raise natural gas prices to $5.6 per unit from $4.2 will significantly boost the earnings of ONGC. (ET) ONGC 399.95 -8.05 (-1.97%)
Next item for Modi's administration to tackle: "The whole REITs structure is motivated by tax benefit. Taxation is involved at four stages–first while structuring and transferring assets to REITs or InvITs, second when they distribute income to its investors, third when they are traded and fourth time when there is an exit." (NDTV, #REIT)
Coal Scam: CBI files case against JSPL. (IE, #scam) JINDALSTEL 162.50 17.05 (11.72%)
Scientists can now delete and fabricate memories in mice. Are humans next? (Vox)
Good luck!