Your world at 9am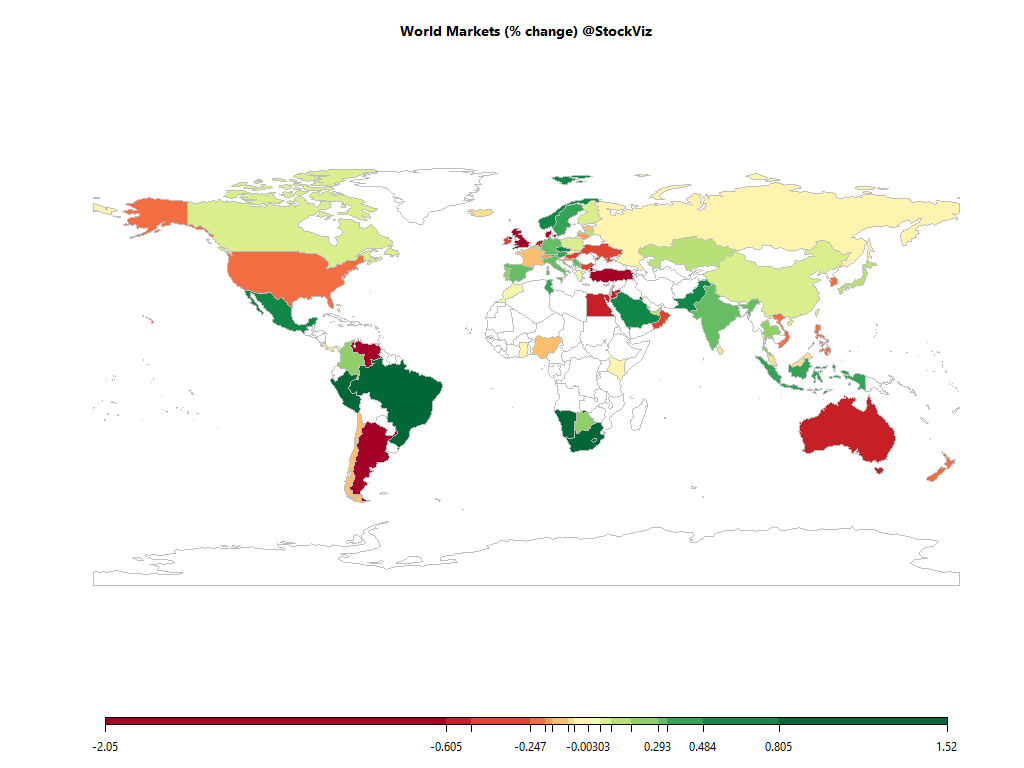 Equities
Commodities
Energy
Heating Oil

-0.48%

RBOB Gasoline

-1.04%

WTI Crude Oil

-0.88%

Natural Gas

-0.43%

Brent Crude Oil

-0.72%

Ethanol

+0.00%
Metals
Palladium

+0.33%

Gold 100oz

-0.13%

Copper

-0.04%

Platinum

-0.19%

Silver 5000oz

-0.29%
Agricultural
Cocoa

+0.00%

Corn

+0.19%

Lean Hogs

+0.00%

Lumber

+0.00%

Coffee (Arabica)

+0.00%

Cotton

+0.33%

Cattle

+0.00%

Coffee (Robusta)

+0.00%

Orange Juice

+0.00%

Soybean Meal

+0.03%

Sugar #11

+0.00%

White Sugar

+0.00%

Feeder Cattle

+0.00%

Soybeans

+0.22%

Wheat

+0.63%
Out of 43 world ETFs listed in NYSE that we track, 38 are trading above their 10-day SMA and 37 are trading above their 50-day SMA.
Must Reads
Steve Blank Why Companies and Government Do "Innovation Theater" Instead of Actual Innovation
This article previously appeared in the Harvard Business Review. The type of disruption most companies and government agencies are facing is a once-in-every-few-centuries event. Disruption today is more than just changes in technology, or channel, or competitors – it's all of them, all at once.
The Millennial Urban Lifestyle Is About to Get More Expensive
Several weeks ago, I met up with a friend in New York who suggested we grab a bite at a Scottish bar in the West Village. He had booked the table through something called Seated, a restaurant app that pays users who make reservations on the platform.
Opinion | Socio-economic factors that go against a hale and hearty India
Oliver Goldsmith famously wrote in 1770, "Ill fares the land, to hastening ills a prey, Where wealth accumulates, and men decay…
BJP seems to have pervaded every nook and corner: Ashwani Kumar
Elucidating the paradigm shift in Indian politics, Professor Ashwani Kumar, noted political scientist with the Tata Institute of Social Sciences (TISS), says while the rise of the BJP has not changed the basic one-party dominance system — as by the Congress earlier — there are structural differe
View: Where's all the courage gone?
The Maharashtra and Haryana elections would be a walkover for BJP, never mind all the economic pain — goes the consensus. It rings true, given the disarray within the Opposition. However, this air of being unstoppable, if it is real, should make India's ruling party bold.
Check out our Global Macro Dashboard for currency, commodity, bonds and credit charts.
Good luck!