Your world at 9am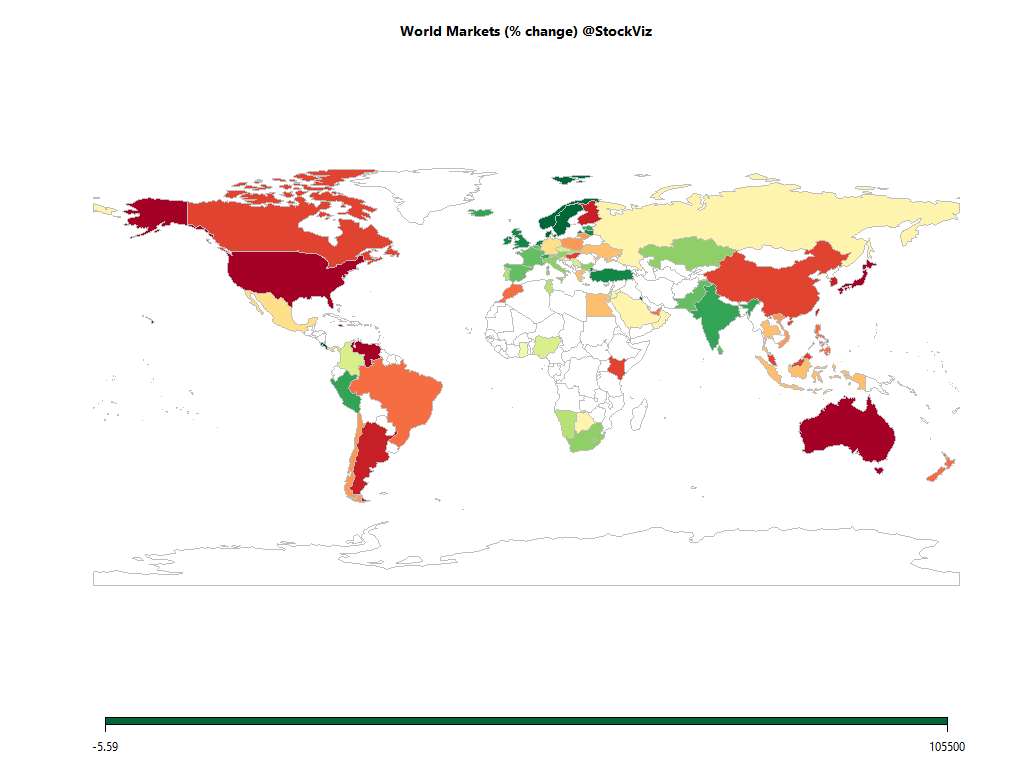 Equities
Commodities
Energy
Ethanol

+0.73%

Natural Gas

+2.65%

RBOB Gasoline

-0.31%

Brent Crude Oil

+0.63%

Heating Oil

+0.37%

WTI Crude Oil

-0.21%
Metals
Gold 100oz

+0.13%

Silver 5000oz

-0.05%

Platinum

+0.32%

Copper

-0.65%

Palladium

-0.33%
Agricultural
Cattle

+0.02%

Corn

-0.07%

Feeder Cattle

+0.16%

Lean Hogs

-0.50%

Orange Juice

+0.99%

Wheat

+0.00%

Coffee (Arabica)

-1.20%

Coffee (Robusta)

+0.00%

Lumber

+3.92%

Cocoa

+0.00%

Soybean Meal

-0.45%

Sugar #11

+1.50%

White Sugar

+0.00%

Cotton

+0.05%

Soybeans

-0.74%
Out of 43 world ETFs listed in NYSE that we track, 8 are trading above their 10-day SMA and 11 are trading above their 50-day SMA.
Must Reads
NHAI may not get many bids for toll roads
The second round of toll-operate-transfer auctions has some poorly constructed roads, which make it harder for NHAI to attract bidders.
How 3.4 million households in UP are using power illegally
UP holds key to electrifying 30 million households under Saubhagya scheme. Photo: Pradeep Gaur/Mint New Delhi: While the National Democratic Alliance (NDA) government is stepping up efforts to provide electricity connections to all households, around 3.
When Things Stop Working
On The Persistence of Stock Market Anomalies When the circumstances are right, one of the best evolutionary strategies as an animal is to get larger.  Larger animals have longer lifespans and are harder to kill than smaller animals.
Net equity MF inflows fall 33% to three-month low in Nov: Amfi
According to Amfi data, total amount collected through systematic investment plans (SIPs) in November was Rs 7,985 crore, the same as last month. Photo: iStock Mumbai: Even though markets fared well in November, inflows into equity mutual fund schemes fell during the period.
Is a festive season sales bump a myth for cars?
Dealers have been protesting inventory dumping by automakers.
RBI monetary policy: Don't fall for the rate cut trap yet
The Reserve Bank of India won't cut rates without making the Indian economy sweat for it. Graphic: Mint In just two months, the Reserve Bank of India (RBI) has brought back rate cuts on the table, after categorically stating that they were off the menu.
Quantitative easing draws to a close, despite a faltering economy
CENTRAL BANKING can be agonising. The effect of monetary policy on the economy is not immediate, so decisions must be based on expectations for two years' time. That means putting faith in forecasts that could well turn out to be wrong.
China's private sector faces an advance by the state
AN OLD AFFLICTION is settling on China's entrepreneurial class. It manifests itself in a cold sweat just at the mention of state-owned enterprises (SOEs), and a gnawing sensation that it is out of favour with the Communist-run government.
Check out our Global Macro Dashboard for currency, commodity, bonds and credit charts.
Good luck!