Today's pick is [stockquote]TATAGLOBAL[/stockquote]. The stock has been in a up-trend for the most part since Feb this year. In the last three month period, the stock moved 21% Vs. 4% of Nifty's.The stock is currently trading near its 52 weeks high.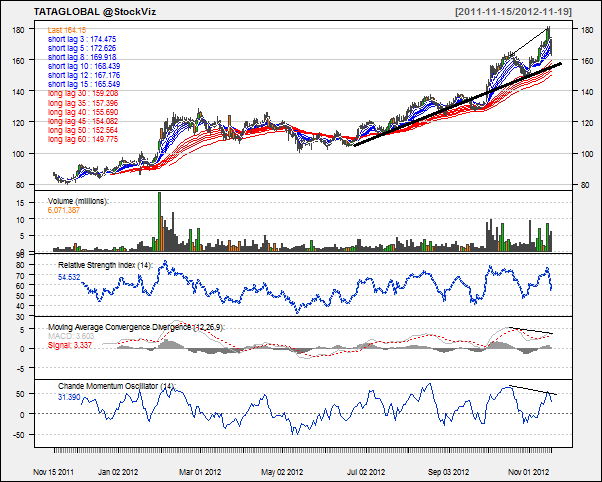 Oscillators RSI and CMO are currently at 54 and 31, and are close to the over-bought territory but are not suggesting any direction.
MACD line has just crossed the signal line from above, giving a bearish signal. This can be an early indicator of an upcoming down-trend.
The long-term GMMA chart is suggesting an upward direction with the fanning out of the lines.
The technicals are also in the divergence mode with the current price action, which is a short term bearish sign for the stock.

TATAGLOBAL's average correlation of 0.46 with the Nifty is positive. The stock will replicate the movements of Nifty. [stockquote]NIFTYBEES[/stockquote]

TATAGLOBAL has a historical volatility in the range of 0.3 to 0.9. The scrip's volatility is currently in the middle of the range and hence is not a concern.
Looking at these technicals a short-term sell is suggested. A correction to the long-term trend-line will see a continuation of the longer-term up-trend.