Today's pick is [stockquote]PFIZER[/stockquote]. The stock has been range-bound between the 1100 to 1350 levels since last December. The stock is currently trading close to its 52 weeks low of 1100. In the last three month period, the stock moved -10% Vs + 5% as that of Nifty's.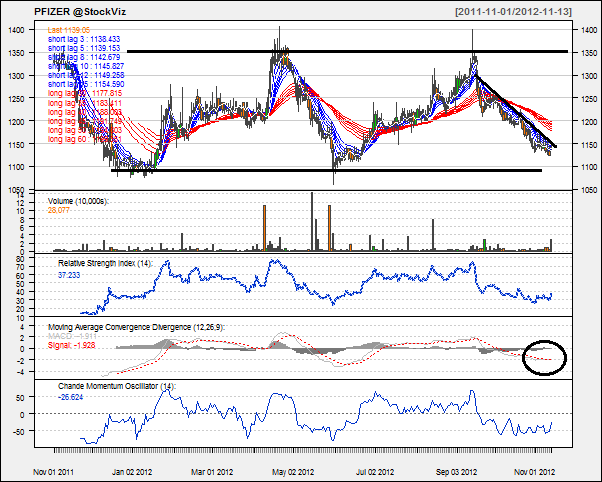 Oscillators RSI and CMO are at currently at 37 and -27 are hovering around the over-sold territory but are not suggesting any direction.
MACD line and the signal line are moving very close to each other since a long time and are not suggesting any trend.
The GMMA chart is not suggesting any up-move in the long term as well.

PFIZER's average correlation of 0.40 with the Nifty is positive. The stock will not replicate the movements of Nifty closely because of the low co-efficient. [stockquote]NIFTYBEES[/stockquote]

PFIZER has a historical volatility in the range of 0.2 to 0.7. The scrip's volatility is currently at the lowest point of the range and hence should not be a concern.
Looking at these technicals a short-term buy is suggested upon a decisive MACD cross-over. A break-out of the range in either direction will trigger a longer-term call.