Today's pick is [stockquote]LT[/stockquote]. The up-trend in place since December last year was punctuated by a correction in March through May. The stock has since resumed its upward trajectory to reach a 52 week high of 1700 recently. In the last three month period, the stock is up 18% vs. 8% for Nifty.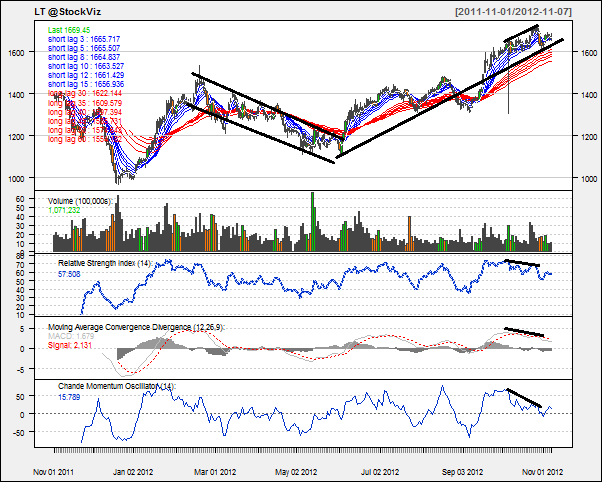 Oscillators RSI and CMO are currently at 57 and 16 and in no man's land.
MACD line and the signal line are moving very close to each other with the histogram levels steady. They are not signaling any directional movement.
Long term set of GMMA lines are fanning out – which is a bullish for the long term. Due to the recent down-trend in the stock prices the short-term lines are constricting, giving a bearish signal for the short-term.
Added to all the current technical levels, we can see a divergence in RSI, CMO and MACD levels. The higher highs in the prices are accompanied with the lower highs of the technicals which is a near-term bearish sign for the stock.

LT's average correlation of 0.75 with the Nifty is positive and quite strong. The stock will replicate the movements of Nifty closely. [stockquote]NIFTYBEES[/stockquote]
LT had a historical volatility in the range of 0.3 to 0.8. Current volatility of the stock should not be sign of panic for the traders.
In a couple of insider trading instances between 25th through 29th Oct, right around when the stock was making its 52 week highs, the Chairman, Mr. Naik, sold a total of Rs. 10.1 Cr worth of shares.
Looking at these technicals a short-term hold is suggested. Although for the long-term, the GMMA lines are giving a bullish signal for the stock.