Today's pick is [stockquote]TCS[/stockquote]. The stock has made a 29% since the 1020 levels of October 2011.
The up-trend since last year saw a tip-off near 1440 levels recently; this can act as a near-term resistance level for the stock. Although the stock has seen two major corrections in the last year, it is still trading above the near-term support of 1290 (long-term resistance) levels and above the long-term support of 1070 levels.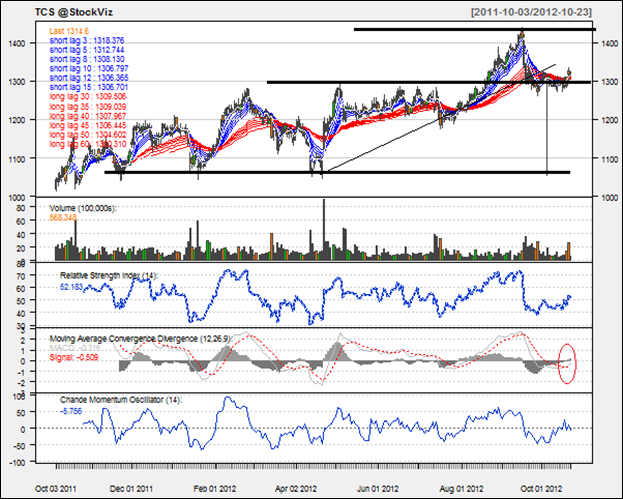 Oscillators RSI and CMO are at currently at 52 and -6. At this mid-level RSI, the stock has still got around 20 points to reach oversold levels. The current CMO level is also not suggesting any imminent move.
The MACD line just penetrated the signal line from below and the histogram levels are on a rise as well. Both these signal are giving a slight signal of a short-term up-trend for the stock.
The GMMA chart currently is not saying anything. Both the long and short-term set of lines are running very close to each other. A departure from the current scenario, either up or down will decide upon the future of the stock.

TCS's average correlation of 0.50 with the Niftybees is positive but not very strong. At this level the movements of the stock will not be able to replicate the same magnitude as Niftybees. [stockquote]NIFTYBEES[/stockquote]

TCS has a historical volatility in the range of 0.2 to 0.7. The current high volatility is a result of the EMKAY trades and it should not be a cause of concern.
Looking at these technicals, it appears that the stock is presently trendless. A short-term hold is suggested. The long-term outlook of the scrip will be decided by how long-term lines of GMMA unravel themselves in the coming days.