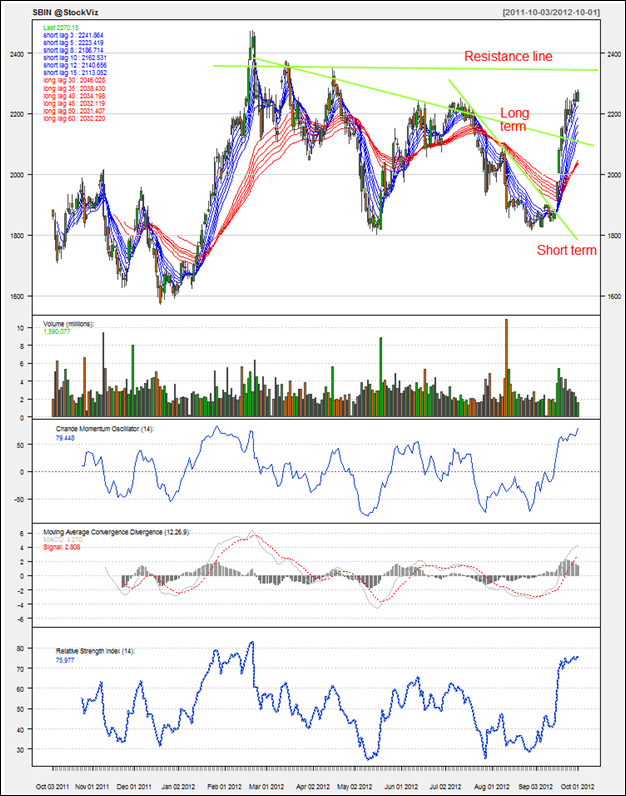 This week's pick is [stockquote]SBIN[/stockquote]. Trading somewhere close to its 52 week high of 2475, the return over the last 12 month period is about 21%. In the last few months, the scrip has tested the 1800 levels a few times, but a strong support is visible because of the pullbacks with higher volumes.
Oscillators like RSI and CMO are at currently at the levels of 76 and 79. At this high level, there surely can be a correction for a short while. MACD line and signal line are distant apart from each other and you can also pinpoint the decrease in the histogram levels. The histograms can be an early warning sign of a correction again.
Looking at GMMA for a medium to long term outlook is not giving a lot of indication. The long term lines are holding up very close to each other (signaling an upcoming change in the previous trend). Although the increasing separation in the short term lines does suggests a positive outlook for the near term. To wait and see how the long term lines wind out is what can be done best for the outlook.

SBIN's average correlation of 0.7 with the [stockquote]NIFTYBEES[/stockquote] suggests that the correlation is strong and positive, Although the movements will not be of the same magnitude as NIFTYBEES.

SBIN has a volatility in the range of 0.3 to 0.6, which is not a very big range. And hence a close above and below this volatility range can act as a good selling or buying signal.
Looking at the trend-line we can say that it is on an uptrend. Also, the stock has tested 2380 levels thrice during the last 4 quarters, which has acted as a strong resistance for the up-move. With the current up-trend (both long term and short term) the scrip can move up to the same level and test it again. For a short term until the RSI and CMO levels decrease it is suggested to keep out / Sell the scrip. And for the long term we might want to look at the long term lines of GMMA and also the resistance levels at 2380 to take a stand.