Previously, we saw how buying the best performing sector and holding it for a month didn't quite pan out. What if, we bought the worst performing sector instead? The "Dogs of Sector Spiders," if you will.
Rules of Rotation
For ETFs: XLY, XLP, XLE, XLF, XLV, XLI, XLB, XLK, XLU
Calculate rolling returns over n months. Where n = 1, 3, 6, 12.
For the n+1th month, go long the ETF that had the lowest return in Step 1.
Like before, we split the dataset into Before 2010 and After 2011.
Pick your Fighter
The Before 2010 dataset shows rotation by 3- and 6-month look-back periods to be better than buying-and-holding the S&P 500.

The 6-month look-back rotation strategy – MOM6 – would've been the strategy to bet on.
The SPY Rope-a-Dope
"Sure-things" don't exist in finance.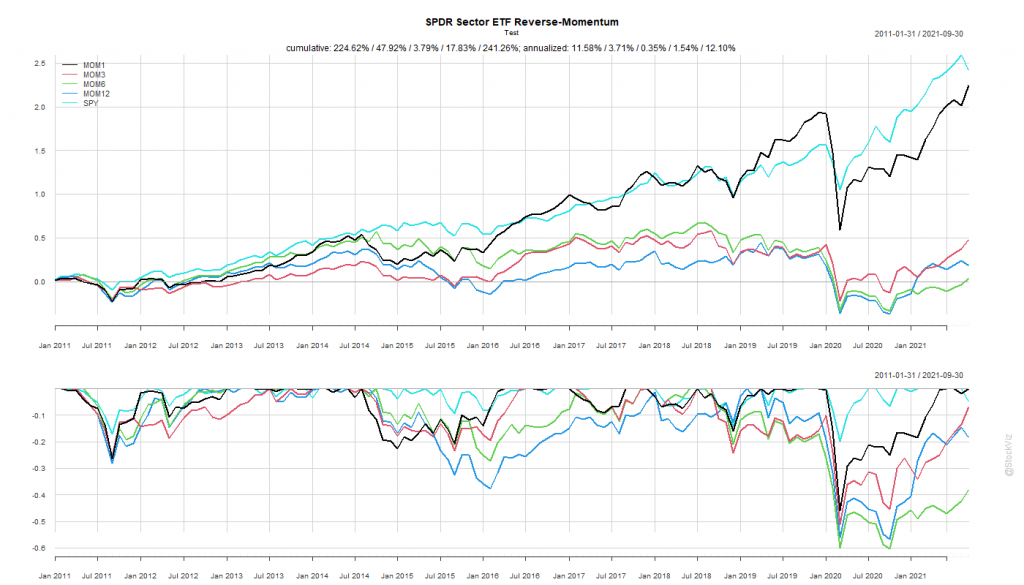 MOM6 spent the last decade getting absolutely decimated by the S&P 500.