MOMENTUM
We run our proprietary momentum scoring algorithm on indices just like we do on stocks. You can use the momentum scores of sub-indices to get a sense for which sectors have the wind on their backs and those that are facing headwinds.
Traders can pick their longs in sectors with high short-term momentum and their shorts in sectors with low momentum. Investors can use the longer lookback scores to position themselves using our re-factored index Themes.
You can see how the momentum algorithm has performed on individual stocks here.
Here are the best and the worst sub-indices: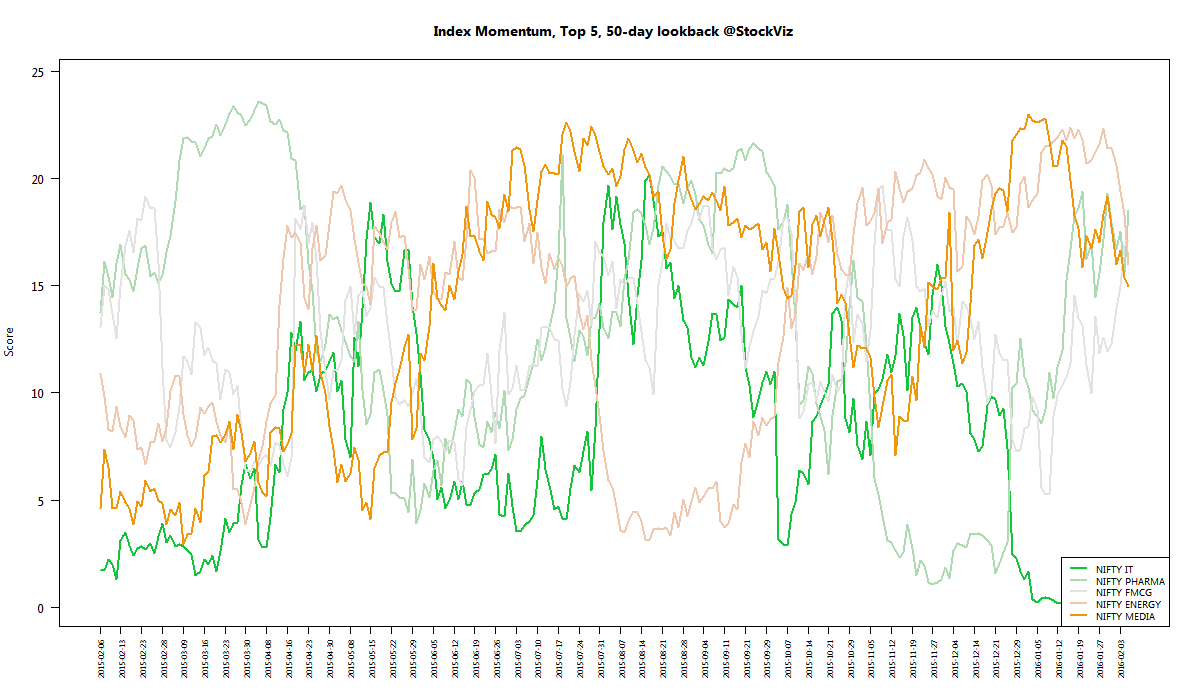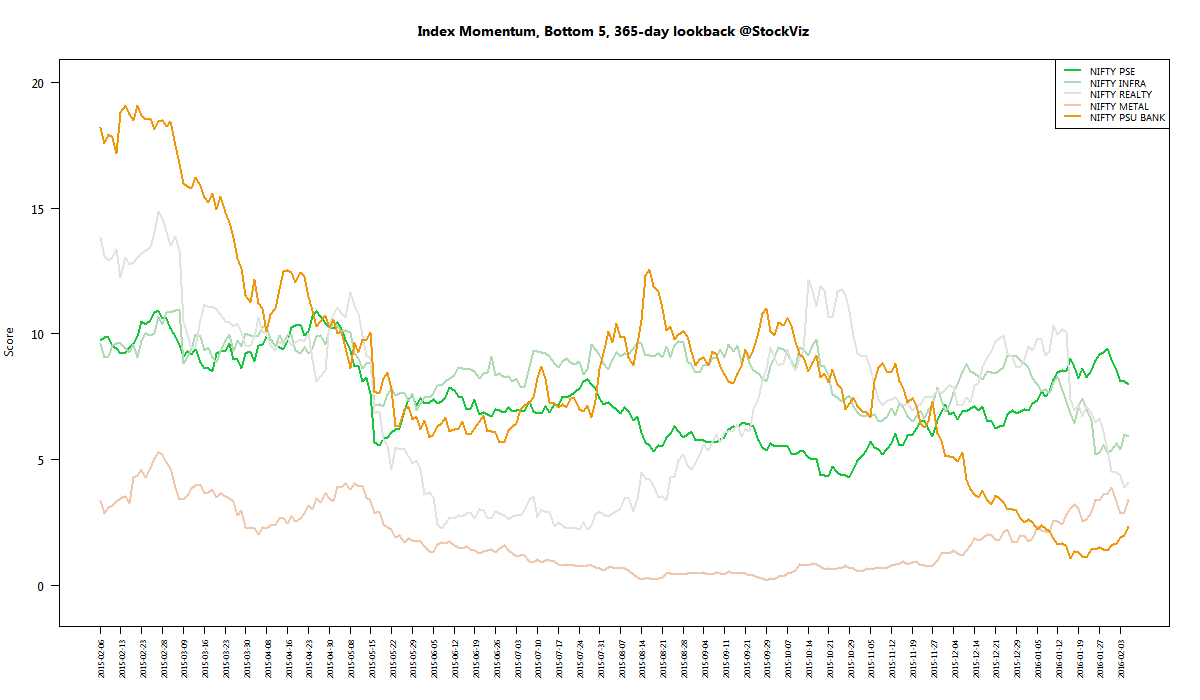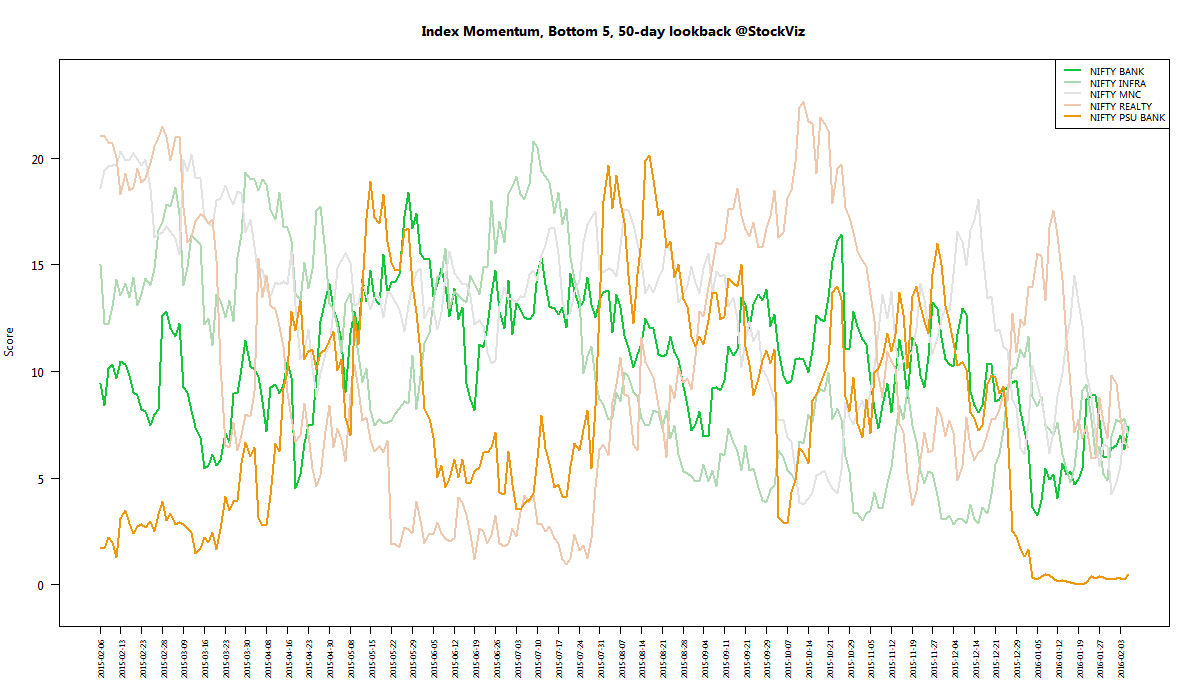 Relative Strength Spread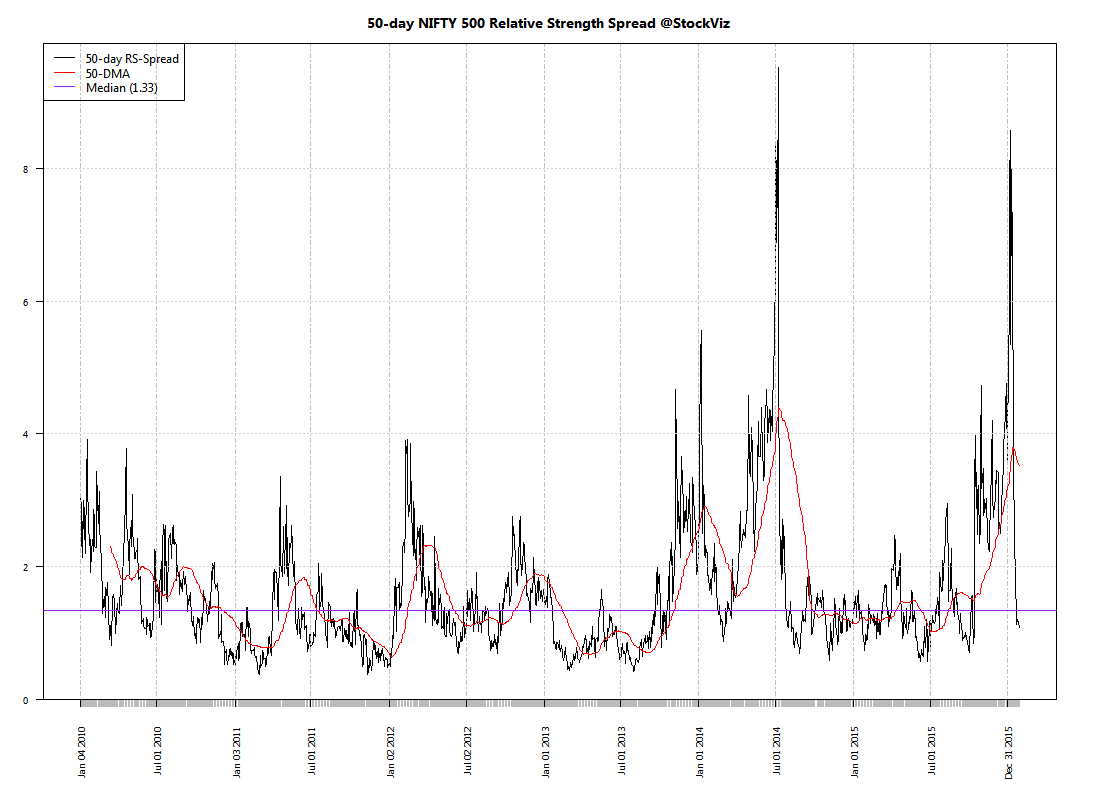 Refactored Index Performance
50-day performance, from November 26, 2015 through February 05, 2016:
Trend Model Summary
| Index | Signal | % From Peak | Day of Peak |
| --- | --- | --- | --- |
| NIFTY AUTO | SHORT | 17.62 | 2015-Jan-27 |
| NIFTY BANK | SHORT | 26.24 | 2015-Jan-27 |
| NIFTY COMMODITIES | SHORT | 38.78 | 2008-Jan-04 |
| NIFTY CONSUMPTION | SHORT | 10.38 | 2015-Aug-05 |
| NIFTY ENERGY | LONG | 32.92 | 2008-Jan-14 |
| NIFTY FIN SERVICE | SHORT | 22.73 | 2015-Jan-28 |
| NIFTY FMCG | LONG | 12.69 | 2015-Feb-25 |
| NIFTY INFRA | SHORT | 61.52 | 2008-Jan-09 |
| NIFTY IT | LONG | 88.24 | 2000-Feb-21 |
| NIFTY MEDIA | SHORT | 18.97 | 2008-Jan-04 |
| NIFTY METAL | SHORT | 70.09 | 2008-Jan-04 |
| NIFTY MNC | SHORT | 18.01 | 2015-Aug-10 |
| NIFTY PHARMA | SHORT | 15.75 | 2015-Apr-08 |
| NIFTY PSE | SHORT | 38.71 | 2008-Jan-04 |
| NIFTY PSU BANK | LONG | 59.05 | 2010-Nov-05 |
| NIFTY REALTY | SHORT | 92.16 | 2008-Jan-14 |
| NIFTY SERV SECTOR | SHORT | 17.71 | 2015-Mar-03 |
The only bright spot was FMCG – probably aided by a flight to safety. It is brutal out there…