The bird in the picture is none other than the brightly colored Kingfisher. Wikipedia has established in their status and conversation page on Kingfisher (birds) that "A few species are considered threatened by human activities and are in danger of extinction". Can it be true for the Indian Kingfisher airlines [stockquote]KFA[/stockquote] as well?
Let's have a look at what the technical tools are suggesting.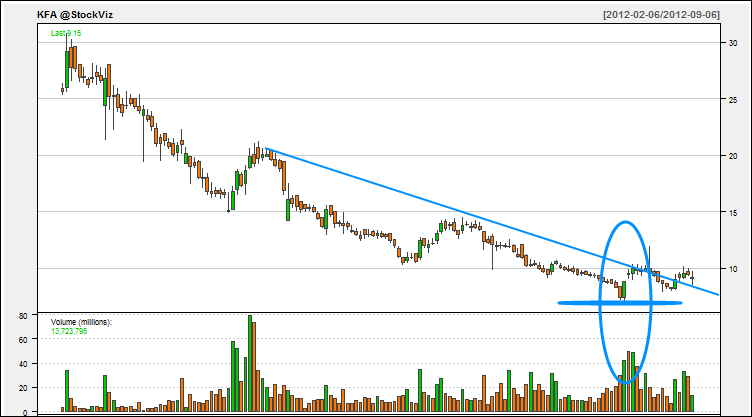 Prices have broken the 6 months trend line with good volumes. The heavy buying at the 52 weeks low also is suggestive of a potential resistance (You might want to check for another bounce back for confirmation).
Going forward, Guppy's short term lines contraction are clearly suggesting an up move for the scrip in the near term. MACD is also lending a hand for this suggestion as the MACD line has just crossed the signal line from below (Pointing an upward possibility) .
Technicals suggest a short-term buying opportunity in Kingfisher. But long-term issues remain unresolved – this is purely a short-term, technical call.