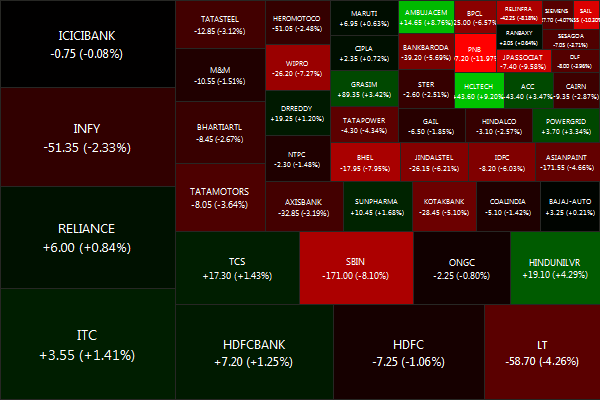 The NIFTY ended on a bearish note, melting down -2.16% for the week.
Biggest losers were PNB (-12.76%), SAIL (-10.88%) and JPASSOCIAT (-10.16%).
And the biggest winners were HCLTECH (+7.90%), AMBUJACEM (+7.69%) and HINDUNILVR (+4.16%).
Decliners eclipsed advancers 37 vs 13
Gold: +2.10%, Banks: -3.32%. Infrastructure: -1.75%
Its all in the hands of central bankers and policy makers in Europe now. Comments from European Central Bank President Mario Draghi sent shares flying over the last couple of days. (source, source) Here's what the market is expecting (and Europe better deliver):
using Europe's rescue funds buying government bonds on the primary market
ECB purchases of government bonds on the secondary market to ensure transmission of its record-low interest rates
ECB rate cuts and long-term loans to banks
granting a banking license to Europe's permanent rescue fund, the European Stability Mechanism
reduce Greece's debts by a further 70-100 billion euros by making the ECB and national central banks take losses on their holdings of Greek government bonds
Meanwhile, the breaking of the 5100 NIFTY support (before the Draghi rally) shows that the market has given up on anything positive coming out of our current government. Will we see the August lows again?
Daily news summaries are here.