Oil companies raised gasoline (petrol) prices by Rs 6.28 per liter or 11-12% at the retail level, sparking severe outrage from politicians and the so called 'aam aadmi'. Apart from political rhetoric, it would help to look at the economic implications of fuel price hikes and the entire subsidy mechanism.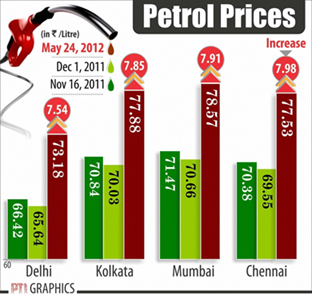 Since petrol prices are technically decontrolled, the hike will not bring down the fiscal subsidy bill. For that to happen, the paralytic government must get bold, meaning, it has to go out and raise the prices of diesel, LPG, kerosene as oil companies continue to bleed on selling these fuels at below-market prices. Although global crude prices have come off significantly from $125/ barrel mark, the benefits have been offset by the sharp depreciation in the rupee.
But the pressing issue is the entire subsidy sharing mechanism. Global prices of crude oil play a decisive role in the domestic pricing of petroleum products since more than 75 per cent of the country's crude oil requirement is met through imports. The government subsidizes its refiners (downstream companies like IOC, HPCL and BPCL) to sell fuel below cost, and pushes drillers (upstream companies like ONGC, GAIL and IOC) to foot part of the bill while it bears the rest.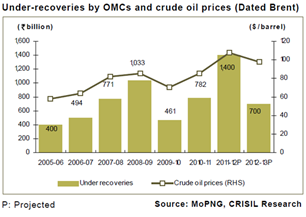 Oil Marketing Companies (OMCs) had lost a record Rs 1,38,541 crore on selling fuel at government- controlled rates during the last fiscal. While the government will make up 60 per cent or Rs 83,500 crore of the total revenue loss, upstream PSUs will shell out 40% or Rs 55,000 crore as their share of the subsidy burden. Out of the Rs 55,000 crore, ONGC will bear Rs 45,188 crore (82%), Oil India will shell out Rs 5,978 crore (11%) while GAIL will contribute Rs 3,834 crore (7%).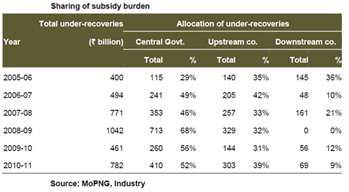 This time around, all OMCs will get full reimbursement which means they will not have to share the subsidy burden. As a result, both IOC and BPCL have reported solid numbers in Q4. Net profit of IOC trebled to Rs 12,670 crore from Rs 3, 905 crore a year ago while BPCL reported a four-fold hike in profits in Jan-Mar quarter at Rs 3,962 crore against Rs 935 crore a year ago.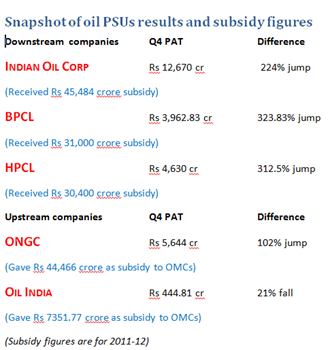 The ad-hoc subsidy mechanism and the financial jugglery with one oil PSU compensating the other has only worsened India's fiscal position and the balance sheets of oil firms. It may be politically unfeasible but the sensible thing to do is to eliminate subsidies. While it may push costs and spike inflation, Pranab & co must get rid of price controls and allow oil companies to pass on higher global energy prices to curb wasteful consumption and rationalize energy usage. Cheap energy has discouraged energy saving which can be seen in the sharp spurt in sales of diesel-driven passenger cars.
Simultaneously, supporting measures for the needy—such as well-targeted cash support programme to compensate households for the price increase is easy to implement and understand.
Pussyfooting on this issue will only increase the subsidy burden further even as consumption rises while the rupee depreciates further. This is a potent mixture that can send the macro-economic picture into further tailspin.
---
[stockquote]IOC[/stockquote] [stockquote]BPCL[/stockquote] [stockquote]ONGC[/stockquote] [stockquote]HINDPETRO[/stockquote] [stockquote]GAIL[/stockquote]