Coal India Limited (CIL) faces headwinds from different quarters. Production targets have gone awry and the impasse over fuel supply agreements with power companies continues. Amidst all this, the coal behemoth has digested a 25% wage hike in February this year even though its attempts to effect a price hike have met with stiff resistance from key customers.
Coal India [stockquote]COALINDIA[/stockquote] sells coal at a discount of up to 78% to imported Indonesian coal, giving it solid headroom to raise prices. It sells 83% of its coal at the notified price under the fuel supply agreement (FSA) and 11% of its total production through e‐auction, which is priced up to 30% higher than the notified price. Regulated sectors such as power utilities, defense, railways and fertilizers receive their quota through the FSA.
In line with international pricing mechanism, CIL migrated to a new system for pricing its non-coking (NC) coal on the basis of Gross Calorific Value (GCV) of its various grades of coal from January 01 this year. Earlier, it priced its NC coal under the Useful Heat Value (UHV) based method.
Non-coking coal is mainly sold to power companies. By raising prices, CIL hoped to offset the impact of wage hike to its over 3.65 lakh employees that would entail an outgo of over Rs 6,500 crore.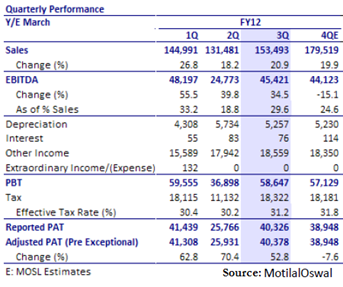 But within a month, it had to roll back the price hike under the new mechanism due to stiff protests from consumers in sectors such as power and cement. The new grading system would have given CIL an additional Rs 6,250 crore annually. Bowing to pressure, the government forced Coal India to put off the price hike and said it would review the new system after three months.
NTPC [stockquote]NTPC[/stockquote], which is Coal India's biggest customer, has vociferously opposed the switchover to GCV-based pricing saying its input costs would soar. India's largest power generator has also refused to sign the fuel supply agreement in its present shape.
CIL wades through a critical phase wherein key policy developments relating to coal / power sectors are in the pipeline like setting up of a coal regulator, auction of coal blocks, mining bill, etc.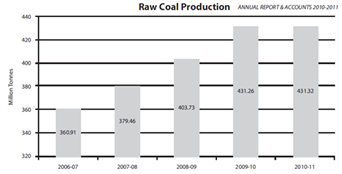 On the operational front, Coal India's performance has been sub-par with production languishing at around 430 million tonnes for the last three years. Its inability to raise prices to offset the rise in input costs could adversely affect its EBITDA margins.
If CIL is to increase productivity, then a price hike is long overdue. Customers have a choice- either allow the coal PSU to raise prices and benefit from increased supply or pay through the nose for imported fuel. While CIL's profitability has got a boost from higher realizations through e-auctions, better pricing power, faster environment/ forest clearances and solution to land acquisition issues is the key to drive profitability and earnings growth going forward.