Your world at 9am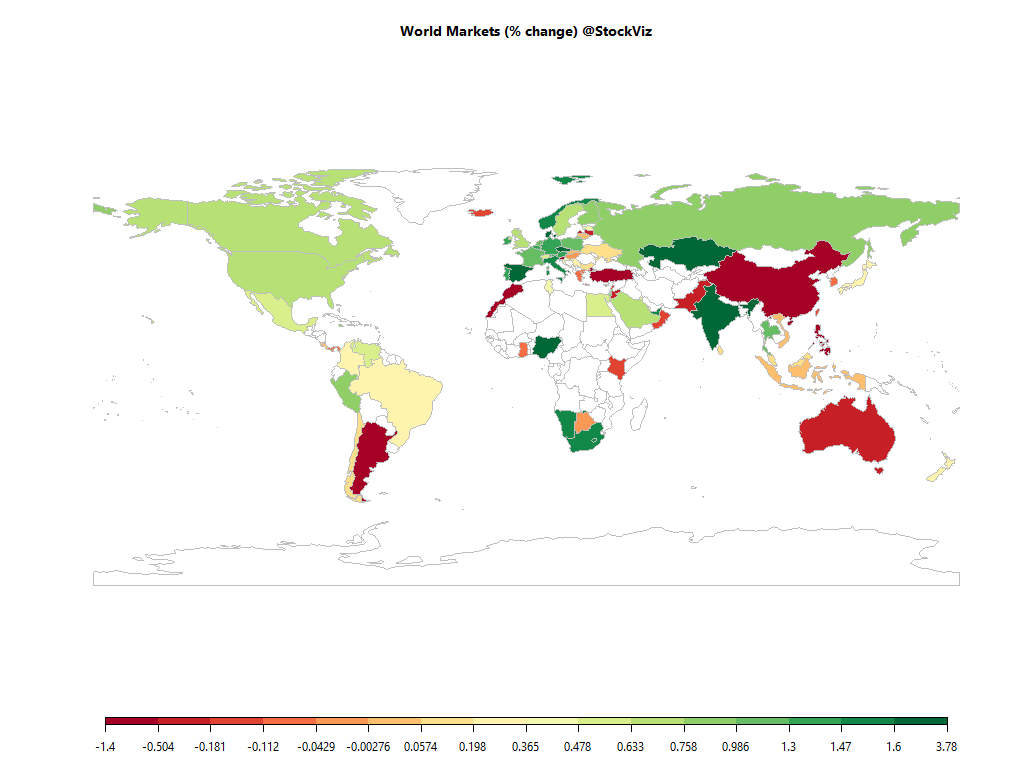 Equities
Commodities
Energy
Brent Crude Oil

+0.64%

Ethanol

+0.00%

WTI Crude Oil

+0.50%

Heating Oil

+0.11%

Natural Gas

-1.05%

RBOB Gasoline

+0.38%
Metals
Copper

+0.00%

Silver 5000oz

+0.15%

Palladium

+1.62%

Gold 100oz

+0.00%

Platinum

+0.88%
Agricultural
Coffee (Robusta)

+0.00%

Orange Juice

+0.00%

Soybean Meal

+0.49%

Soybeans

-0.02%

Corn

-0.06%

Cotton

+0.22%

Feeder Cattle

+0.00%

Lumber

+0.00%

Wheat

+0.27%

White Sugar

+0.00%

Cattle

+0.00%

Coffee (Arabica)

+0.00%

Sugar #11

+0.00%

Cocoa

+0.00%

Lean Hogs

+0.00%
Credit Indices
| Index | Change |
| --- | --- |
| Markit CDX EM | +0.37% |
| Markit CDX NA HY | +0.78% |
| Markit CDX NA IG | -3.88% |
| Markit iTraxx Asia ex-Japan IG | +0.00% |
| Markit iTraxx Australia | -0.19% |
| Markit iTraxx Europe | -3.33% |
| Markit iTraxx Europe Crossover | -14.93% |
| Markit iTraxx Japan | -0.28% |
| Markit MCDX (Municipal CDS) | -0.33% |
Out of 42 world ETFs listed in NYSE that we track, 34 are trading above their 10-day SMA and 21 are trading above their 50-day SMA. Also, there were 28 sigma events over the last 24 hours. Details
here
.
Must reads
The Cabinet approved the first-ever policy for the capital goods sector in the country that aims to triple the value of production of these goods to Rs.7.5 lakh crore by 2025 and create more than 21 million jobs. (Hindu, #economy)
Coming down the pike: stringent norms for high-frequency trades along with higher penalties for misuse. (HT, #SEBI)
We burn our own coal now… proudly. (FE)
'Acche din' in 3 years. (TOI)
Travellers, who could not get a confirmed ticket on Rajdhani Express, will now be provided an alternate option under which they can fly by Air India flights at the price that will be similar to AC first class fare of the train. (ITN)
In the last six months, 22 PSU banks reported losses of Rs30,700 crore. They also wiped off 16.4% of their net worth. (LiveMint) PSUBNKBEES 0.00 0.00 (0.00%)
Good luck!