Your world at 9am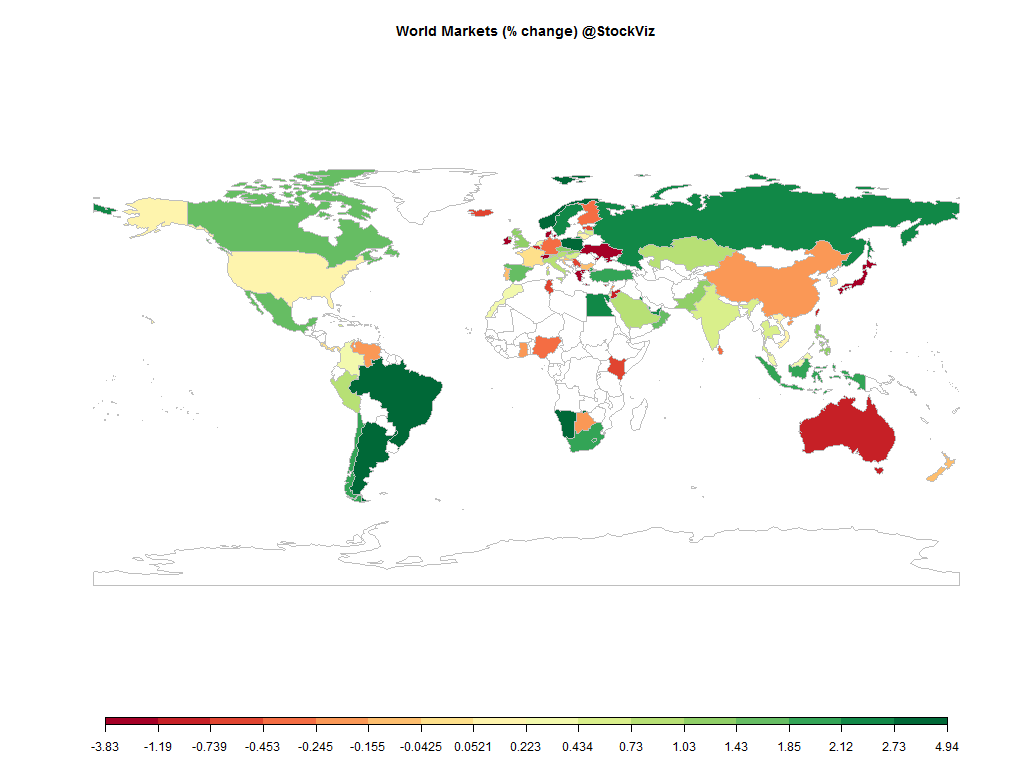 Equities
Commodities
Energy
Brent Crude Oil

+0.29%

Natural Gas

+0.81%

Heating Oil

+0.06%

RBOB Gasoline

-0.10%

Ethanol

+0.00%

WTI Crude Oil

+0.32%
Metals
Gold 100oz

-0.21%

Platinum

+0.28%

Silver 5000oz

+0.16%

Copper

+0.00%

Palladium

+0.11%
Agricultural
Lean Hogs

+0.00%

Soybeans

+0.26%

Wheat

-0.16%

Cocoa

+0.00%

Lumber

+0.00%

Soybean Meal

+0.22%

Cattle

+0.00%

Coffee (Arabica)

+0.00%

Cotton

+0.35%

Feeder Cattle

+0.00%

Orange Juice

+0.00%

Sugar #11

+0.00%

White Sugar

+0.00%

Coffee (Robusta)

+0.00%

Corn

+0.07%
Credit Indices
| Index | Change |
| --- | --- |
| Markit CDX EM | +0.62% |
| Markit CDX NA HY | +0.50% |
| Markit CDX NA IG | -0.62% |
| Markit iTraxx Asia ex-Japan IG | +4.13% |
| Markit iTraxx Australia | +4.31% |
| Markit iTraxx Europe | +6.20% |
| Markit iTraxx Europe Crossover | +14.21% |
| Markit iTraxx Japan | +3.87% |
| Markit MCDX (Municipal CDS) | +1.00% |
TGIF!!!
Must reads
Foreign direct investment (FDI) in the country more than doubled to about USD 4.5 billion in December 2015. (FE, #economy)
South Korea is hurting European shares and the HK dollar. Can't make this shit up. (FT)
The lifecycle of a fintech startup. End game: Fintech is absorbed into the bureaucracy of banking. (FT)
With Uber, Ola and others reducing transportation to a commodity and technology redefining personal mobility, auto manufacturers rethink their sales plans. (LiveMint)
Indian IT: third straight year of declining growth projections. (ET)
Good luck and have a nice weekend!