Your world at 9am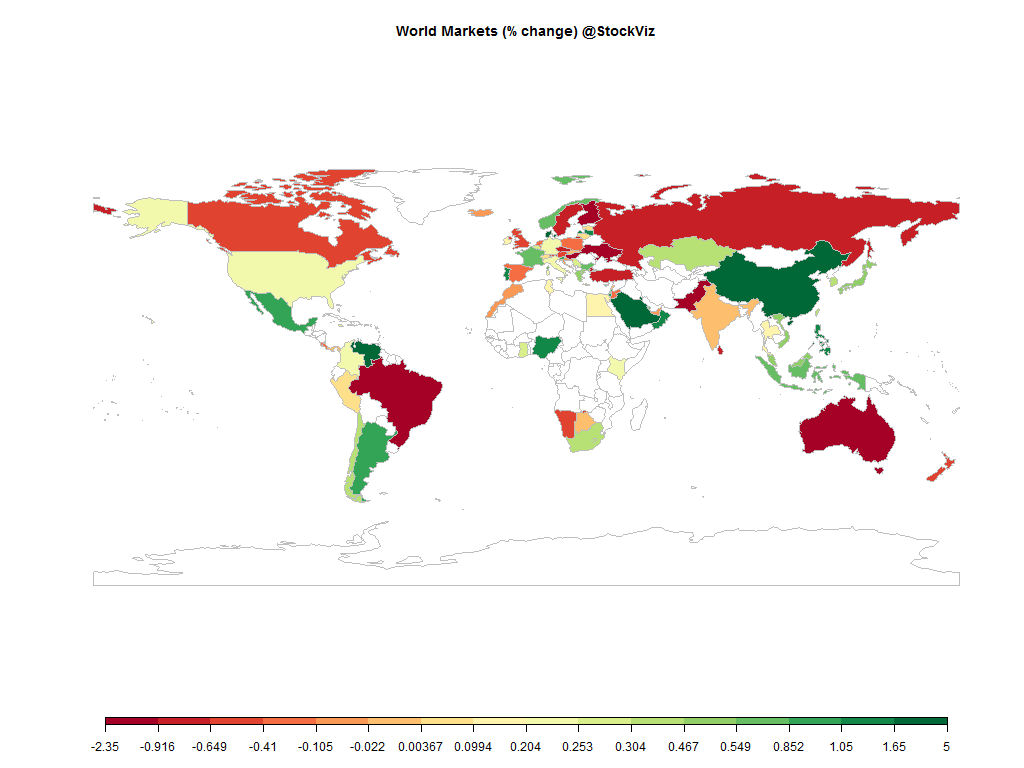 Equities
Commodities
Energy
Brent Crude Oil

-0.69%

Ethanol

+0.40%

Heating Oil

-0.16%

Natural Gas

-0.38%

RBOB Gasoline

-0.71%

WTI Crude Oil

-1.49%
Metals
Copper

-0.38%

Gold 100oz

-0.48%

Palladium

-0.52%

Platinum

-0.80%

Silver 5000oz

+0.00%
Agricultural
Cattle

+0.37%

Cocoa

+0.00%

Lean Hogs

-0.04%

Lumber

-1.22%

Soybean Meal

+0.53%

Wheat

+0.89%

Coffee (Arabica)

-1.71%

Corn

+0.06%

Feeder Cattle

+0.61%

Orange Juice

-0.08%

Soybeans

+0.34%

Coffee (Robusta)

+0.00%

Cotton

+0.16%

Sugar #11

-1.86%

White Sugar

+0.00%
Credit Indices
| Index | Change |
| --- | --- |
| Markit CDX EM | +0.00% |
| Markit CDX NA HY | +0.10% |
| Markit CDX NA IG | +0.06% |
| Markit iTraxx Asia ex-Japan IG | +0.82% |
| Markit iTraxx Australia | +0.64% |
| Markit iTraxx Europe | -0.30% |
| Markit iTraxx Europe Crossover | -0.54% |
| Markit iTraxx Japan | -0.36% |
| Markit iTraxx SovX Western Europe | +0.43% |
| Markit LCDX (Loan CDS) | +0.00% |
| Markit MCDX (Municipal CDS) | +1.00% |
Will the Friday bounce in the US overflow to the Nifty today?
Must reads
Flipkart set to raise up to $800 mn – values the firm at $15 billion. (LiveMint, #private equity)
Coming on April 1: foreign trade policy. (IE, #economy)
On tap from RBI: individual and corporate exposure limits that will tighten bank exposure to company promoters and their groups. (BT, #regulation)
Sand: one of the most sought-after commodities of the 21st century. (Wired)
Good luck! And remember that markets are closed on Thursday and Friday.