It's do or die situation for the country's precariously placed companies in the power sector, especially distribution companies (discoms) or state electricity boards (SEBs).
The Shunglu panel, set up by the Planning Commission, last year pegged accumulated losses of discoms at Rs 82,000 crore from 2006-10. The committee was set up to look into the financial health of discoms. The losses of SEBs indirectly impact the power producers since SEBs are the largest buyers of power in the country.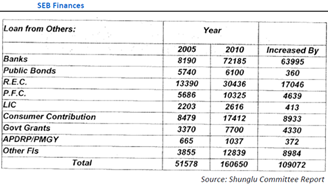 According to a report released by the 13th Finance Commission, these financial losses may increase to Rs. 116,089 crore by FY 2016-17, much higher than Rs 63,500 crore seen in FY 2010. Non-revision of tariffs and non-realisation of subsidies has severely plagued these entities.
With debts at unmanageable levels and losses mounting, reports have hinted at a bailout for these distribution utilities that are tethering on the brink of bankruptcy. Is it a case of throwing good money after bad or will these companies get rid of their complacency and deliver hard-hitting reforms like raising power tariffs, eliminating theft and corruption through efficient delivery mechanisms?
Deteriorating financial position has handicapped SEBs ability to service debt. This has prompted banks to turn cautious in extending loans to the power sector as a whole. Nearly 70% of the SEB losses are financed by public sector banks. Some lenders have started insisting on riders like automatic pass-through of fuel costs and filing tariff petitions every year in their loan agreements with SEBs.

While a bailout is needed to avert a total blackout in the power sector, it must be backed by structural reforms like strict reduction in transmission and distribution losses and frequent revisions in tariffs to ease liquidity constraints faced by discoms.
Currently, regulatory framework for distribution utilities is marred due to political interference in tariff fixation.
The Shunglu panel has called for independence of the regulator, creation of a special purpose vehicle by the RBI to purchase the liabilities of distribution companies, non-creation of regulatory asset in the books of discoms, etc among other measures to prop up their finances.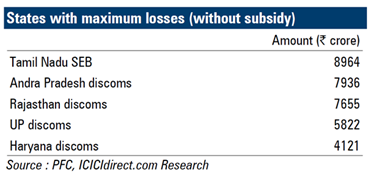 Several states have seen the writing on the wall. All the top 10 loss making states have revised tariffs in the past 18 months.
Delhi raised tariffs by 24% this week, the fourth such hike in the last 10 months, after distribution companies complained of severe financial strain due to the rising power purchase cost. Tamil Nadu proposed a tariff hike of 38% while Rajasthan raised rates by 24% in September 2011. The hikes will give some room for state distribution companies to repair their balance sheets.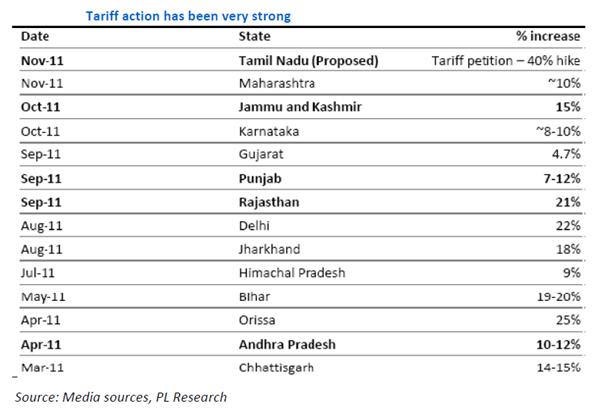 While the recent tariff hikes have held out hope of a turnaround, SEBs must resort to sustainable measures like annual tariff petition filing, timely revision of tariff, increasing private participation in the distribution business, computerisation of accounts, better monitoring of funds, etc. The Shunglu committee has also called for stern action against state regulators if adequate tariff revisions are not undertaken and penal action against utilities for not filing annual accounts.
The financial health of distribution utilities is critical for the success of the power sector that will see a capacity addition of 85,000 mw during the 12th five-year plan.