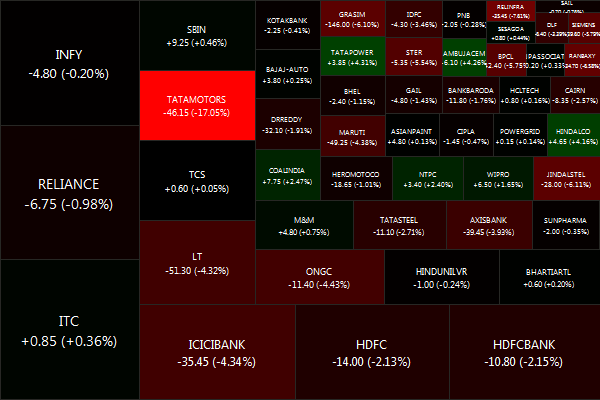 The NIFTY ended on a bearish note, melting down -1.69% for the week.
Biggest losers were TATAMOTORS (-17.05%), RELINFRA (-7.61%) and RANBAXY (-6.58%).
And the biggest winners were TATAPOWER (+4.31%), AMBUJACEM (+4.26%) and HINDALCO (+4.16%).
Decliners eclipsed advancers 32 vs 17
Gold: +0.25%, Infrastructure: +0.99%, Banks: -0.72%.
Macro news is decidedly bearish: global growth, from US to China, is slowing down, domestic car sales are weakening, commodity prices are taking a hit. It's only a matter of time before Central Banks will respond with a new round of monetary easing. Expect the ECB to do something.
Daily news summaries are here.