When it comes to business, the Hindi Chini bhai-bhai comment has lived upto its billing. Despite the sharp downturn in global economy, bilateral trade between India and China has been growing, reflecting the vast potential for economic cooperation. Trade between India and China hit a record $ 73.9 billion last year, rising by almost 20%. China is the fastest growing market for India, ahead of US and Japan and two-way trade is expected to touch the $100 billion- mark by 2015.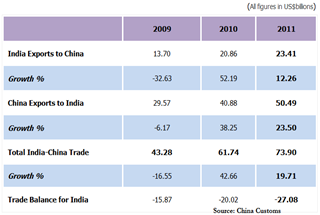 While India's exports to China grew by a mere $3 billion last year, China's exports to India during the said period jumped by over $10 billion.
The huge trade imbalance in favour of our northern neighbour has been a cause of concern and India has been vocal about 'seeking a more conducive business environment'. The trade deficit for India for 2011 stood at $ 27.08 billion.
Notwithstanding the huge trade gap, the economic relationship between the two top emerging market economies has gained much traction during the last decade.
Chinese export to India relies strongly on manufactured items meeting the demand of fast expanding sectors like telecom and power in India. Chinese companies supply equipments at competitive prices. India's exports are characterized by primary products, raw material and intermediate products.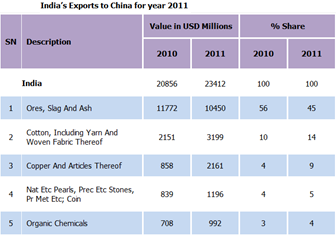 Items like iron Ores, textile, copper, precious stones, organic chemicals, etc. continue to dominate India's export basket. Among these, iron ores, slag and ash comprised of a hefty 45% share while cotton, yarn and fabrics made up 14% of the export basket. The fall in export of iron ore in 2011, which has traditionally been the top export item, has been attributed to the ban on mining in Karnataka and Goa and restriction on shipments from Orissa.
Imports from China rose by 24% with India emerging as the seventh largest export destination for China with a share of 2.66% of total Chinese exports to the world. Electrical machinery accounted for a huge chunk of imports to India. The composition of export/ import basket reveals that India ships raw material to China while China sends finished, value added goods back to India.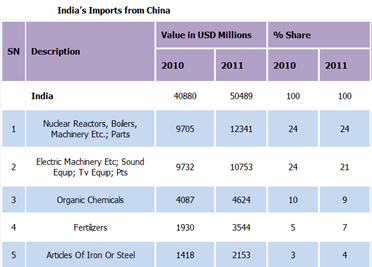 To ensure more balanced trade ties, India wants China to import more IT, ITeS and pharma products. New Delhi has also sought removal of restrictions on import of basmati rice, fruits and vegetables, ­­ landing rights for Indian TV channels in China and import of more Indian films.
With China emerging as our largest trading partner, it is high time India ups the tempo as far as the rate of its exports is concerned in relation to imports.

India must diversify its trade basket and press for increased access to Chinese market whose annual imports stood at $1.4 trillion annually. Trade disputes between the two are not new with both initiating anti-dumping charges against each other. India has filed more anti-dumping investigations against China than any other country at the World Trade Organization (WTO) against a host of Chinese products, from toys and mobile phones to tyres and chemicals. China has slapped anti-dumping measures on Indian antibiotics.
Despite the political distrust between the two nations, bilateral trade has grown exponentially.
While India must cash in on the growing Chinese market by targeting different segments like jewellery, pharma and services, it also needs to plug the widening trade deficit for long-term benefits. Expanding economic engagement will also set the platform for overcoming political hostilities.