While banks have always been aggressive in shoring up their CASA (current account/savings account) ratio, the chase for less expensive deposits has picked up post savings rate deregulation.

For biggies like State Bank of India [stockquote]SBIN[/stockquote], Punjab National Bank [stockquote]PNB[/stockquote], HDFC Bank [stockquote]HDFCBANK[/stockquote], and ICICI Bank [stockquote]ICICIBANK[/stockquote], savings accounts make up 30-35% of their total deposits. For relatively smaller banks like Corporation Bank and Oriental Bank of Commerce, it is lower at 15-20%. Although retail deposits are the cheapest form of funding for banks, it comes with the millstone of having to operate a vast retail presence – a network of branches across the country.
While new entrants like Yes Bank [stockquote]YESBANK[/stockquote] and Kotak Mahindra Bank [stockquote]KOTAKBANK[/stockquote] raised their savings account deposit rates in a flash to 6%, big boys like SBI and ICICI played the waiting game. Late last year, SBI launched an innovative FD scheme, 'unfixed' deposit product, through which it has garnered over Rs 30,000 crore till March. The lender lured savers by offering 8.5% interest rate along with the flexibility to withdraw without penalties.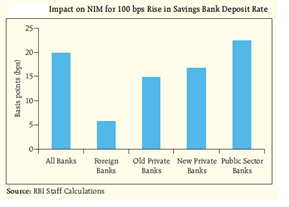 Even though many banks are yet to tinker with their savings rate, it is unlikely to significantly impact their net interest margin (NIM).
While banks have aggressively wooed depositors, borrowers have given them a tough time. The Gross Non-Performing Assets (NPAs) of nationalized banks rose to 2.4% of advances as on December 31, 2011 from 1.9% as on March 31, 2011. However, private banks saw their NPAs moderating to 2.1% in Q3 against 2.3% in the same period last fiscal.
Bad loans have risen as credit to sectors like aviation, telecom, power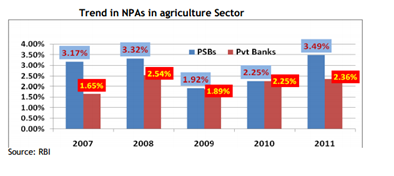 and agriculture have gone sour. Market leader SBI's gross NPAs for agriculture during the December quarter surged to 9.45% as against overall bad loans of 4.61%.
The gross NPA ratio for all banks in respect to the agriculture segment rose to 3.3% in March 2011 as against 2.4% in March 2010.
Despite pressure on margins due to higher deposit rates and concerns over asset quality, the banking sector as a whole will continue to display resilience, says a report by Care Rating based on the performance of 39 banks during the first nine months of this fiscal (FY 12).
With the Reserve Bank of India getting an assurance from top bankers in February that all is well on NPAs and there is no systemic threat, I guess, we can take it easy just like Big Brother.