Oil is a very important natural resource, and one deciding outcome for a lot of economic activity as well. In case of US, rising crude has always preceded the next stock market slowdown. It happened recently in 2008, when oil touched its all time high nearing $150/barrel. Oil just tested the high marks of 2011 highs of $124. We will have to be concerned if it breaks the resistance. We might be up against a sudden rise of Brent and in turn a fall in the markets.

Well, India imports most of oil from Iran. Iran's 9% of the export comes to India, and according to US, India needs to stop depending on Iran for the oil needs.
Coming onto the impact that we see on Indian market, it is no different. An increasing crude price was accompanied by falling stock market, a four day falling streak in the near past. Although as crude started falling, we did see buying happening in the markets, which pulled up the stocks back.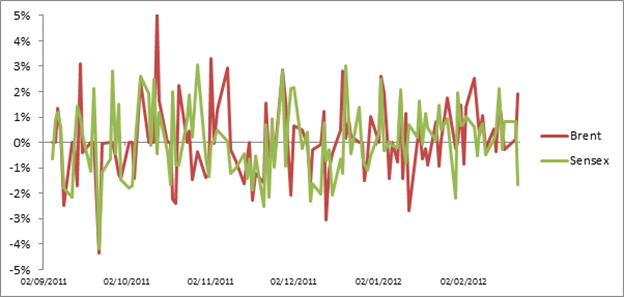 While tensions in Iran are escalating, there is no looking behind for the oil to fall to the 110$ levels any soon (Average price for the oil during the Sep – Dec period). Looking at how the oil producing and marketing companies are performing in contrast to the Brent.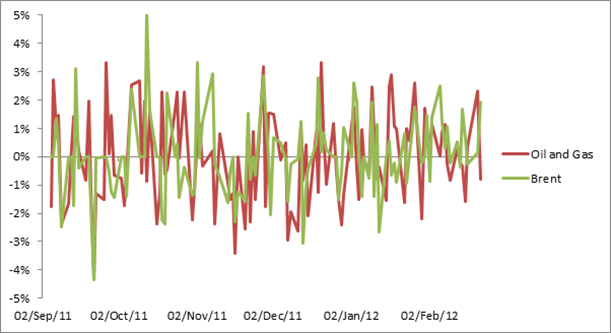 We, see here that the oil and gas index has a bit of a preceding nature of the prices when compared to the Brent. A fall in Brent is preceded by the oil and gas index (Can be because of the delayed opening of the commodity markets in the west).
To make trades in the market, we will have to wait and watch where the oil goes from here. As far as I am concern, would be shorting till the oil is rising but would buy if it stagnates around $115 as well for the next couple of weeks.