This is the last of three posts by Abhishek Preetam on why he is bullish on the yellow metal. Please welcome him to StockViz and follow him on twitter @AbhiPreetam
The Q2 2011 gold demand trends report from World Gold Council reported a year-on-year volume growth in the total consumer demand of 38% in India and 25% in China, compared to a global growth rate of 7%.
According to the WGC report – India: Heart of gold: Revival and China gold report: Gold in the year of Tiger, China had a total demand of about 200 tonnes of gold in 2000 to around about 450 tonnes in 2009. For India the figures would be 300 tonnes and around 950 tonnes for the respective years. These two economies have always kept the demand primed, even as others were keeping gold at a distance.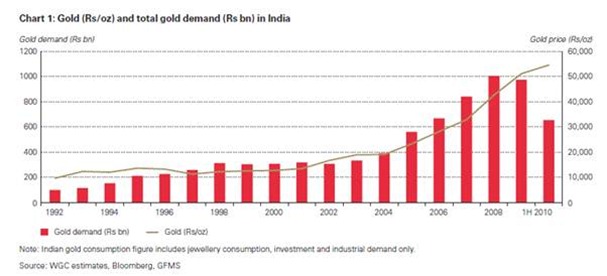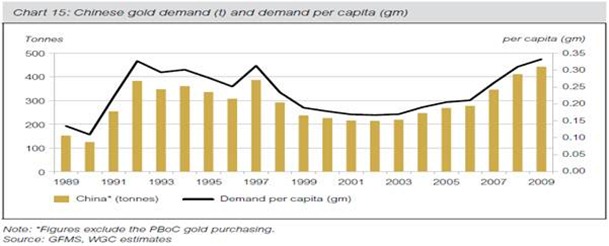 Some of the drivers behind the increasing demand for gold appear to be:
Cultural / Traditional values: Mode of gifts at various occasions and auspicious value related to gold on occasions like marriages (10% – 15% of total marriage expense) and festivals.
Increase in the disposable income of the population.
Economic growth
Other Asian economies like Vietnam, South Korea, Indonesia and Thailand as well are following on the footsteps of neighboring China. The fact that gold has both cultural and economic importance in these countries is the source of their demand. Also the fact that those with not that much spending potential are moving towards a lower carat gold product is again boosting the gold demand quantitatively.
Untapped potential
In the webcast – "case for investing in gold" Jason Toussaint of World Gold Council highlighted an interesting fact: Of the roughly 800 tons of gold imported to India each year, only the top 40 percent of Indian households purchase all of the country's gold, says Toussaint. The other 60 percent of Indians, who may have the same adoration for gold and celebrate Ramadan and Diwali, historically may not have had access to purchase gold. This large population represents a huge untapped market. To fulfill demand, the WGC has created a program with Indian post offices to distribute coins and small pieces of gold. Toussaint says right now there are 700 post offices in the rural areas servicing 90,000 customers and he expects that number to grow. If purchase patterns continue, they expect from 2005 to 2025, a four times larger gold market in India.
Hence restating from the first blog, looking at the current gold price range of 1600 – 1800 $ per ounce, it can be said that it's a good buying opportunity for the investors. With continuous demand from all across the world economies, both economic and individual interests, it is very likely that there is not going to be a sudden and a drastic decrease in the gold prices. Also the faith of economists all across the world, that this is no where close to the real estate bubble or the IT bubble of the last decade affirms that whether now or in the near future, it would be an intelligent decision to keep some eggs of gold in your investment basket.