Image by SS&SS via Flickr
Most of investing literature revolves around buying decisions. However, in order to truly profit from the markets, it is important to know when to sell as well. An important part of knowing when to sell is keeping informed of actionable market actions in your portfolio, mainly done through what are known as "trailing" alerts.
A trailing alert typically gets triggered when a stock hits a price level that is relative to its previous close. For example, in order to protect my profits, I could set a trailing stop of 2% on DLF. Now if DLF drops below 2% from the previous close, you automatically exit out of the stock, thus monetizing whatever profit you had in that position or preventing more losses.
The trick is setting the percentage at a level that will pick up a true price drop as opposed to normal daily price fluctuations.
You can setup to receive alerts on SMS/email on StockViz by visiting http://stockviz.biz/alerts Here's how I've setup mine: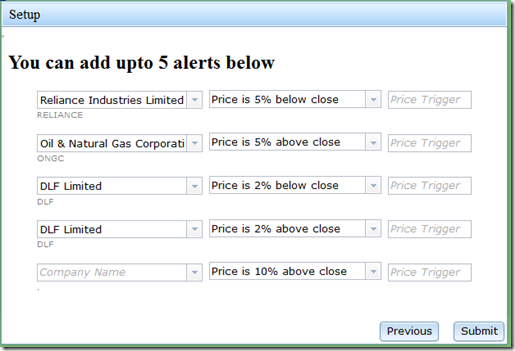 As you can see, I've set both up and down trailing alerts for DLF so that I can monitor the stock closely, whereas I'm interested in only drops more than 5% in a day for Reliance and ONGC.
Stay alert & Stay sharp!