Your world at 9am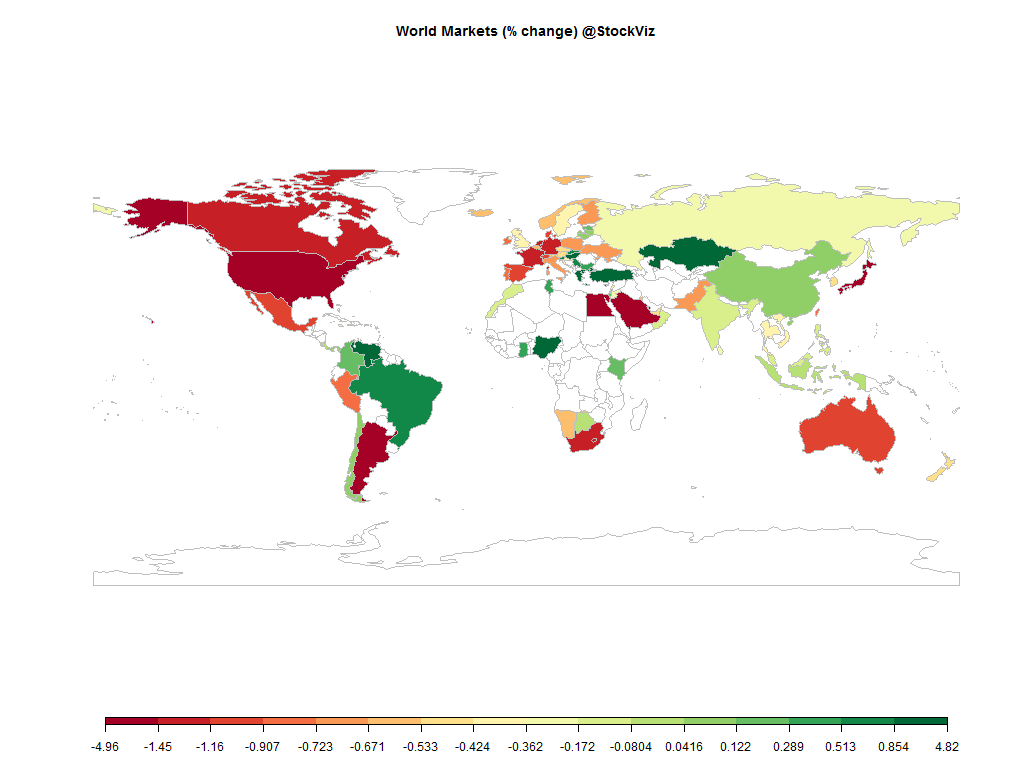 Equities
Commodities
Energy
Brent Crude Oil

+3.95%

Ethanol

+0.00%

Heating Oil

+3.51%

Natural Gas

+0.33%

RBOB Gasoline

+2.23%

WTI Crude Oil

+4.55%
Metals
Copper

+0.00%

Gold 100oz

+0.08%

Palladium

+0.21%

Platinum

+0.19%

Silver 5000oz

+0.00%
Agricultural
Cocoa

+0.00%

Coffee (Arabica)

+1.64%

Orange Juice

+0.35%

Soybean Meal

-0.28%

Cotton

-0.43%

Feeder Cattle

+0.00%

Lean Hogs

+0.00%

Lumber

+0.80%

Soybeans

+0.00%

Sugar #11

+0.48%

Wheat

+0.53%

White Sugar

+0.00%

Cattle

+0.00%

Coffee (Robusta)

+0.00%

Corn

+0.25%
Credit Indices
| Index | Change |
| --- | --- |
| Markit CDX EM | +0.18% |
| Markit CDX NA HY | -0.06% |
| Markit CDX NA IG | +0.24% |
| Markit iTraxx Asia ex-Japan IG | -0.96% |
| Markit iTraxx Australia | -0.45% |
| Markit iTraxx Europe | -0.94% |
| Markit iTraxx Europe Crossover | -2.58% |
| Markit iTraxx Japan | -0.62% |
| Markit iTraxx SovX Western Europe | +0.10% |
| Markit LCDX (Loan CDS) | +0.00% |
| Markit MCDX (Municipal CDS) | +1.29% |
Oil: up. Equities: down. Dollar: up. Risk: OFF.
Must reads
FYI, Ranbaxy will stop trading from April 6, 2015.
Bids for 4G spectrum is 80% above reserve price. Can they charge consumers enough to justify these prices? (ET)
MF upfront commissions capped at 1% from April 1. Hopefully this will stop the rampant miss-selling going on in the closed-ended NFO sector. (TOI, #fund)
IMF: India's net international investment position has fallen to –17% of GDP. (LiveMint, #economy)
The Fed's zero rates and quantitative easing flooded the emerging world with dollar liquidity in the boom years, overwhelming all defences. Foreigners have borrowed $9 trillion in US currency outside American jurisdiction. This is up from $2 trillion in 2000. The dollar index (DXY) has soared 24% since July, and 40% since mid-2011. How badly will this end? (Telegraph)
Traders have resumed buying call options that pay out if benchmark US crude futures surpass $100 by the end of 2018. (FT)
Good luck!