Your world at 9am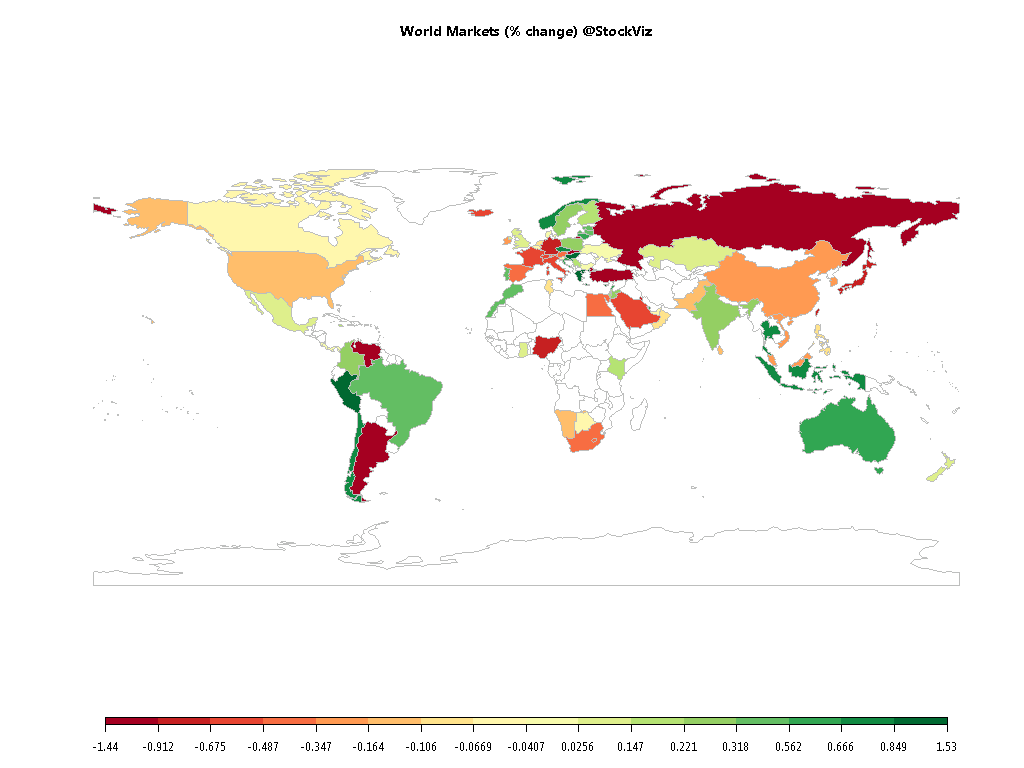 Equities
Commodities
Energy
Brent Crude Oil

+0.09%

Ethanol

+0.00%

Heating Oil

+0.04%

Natural Gas

-0.40%

WTI Crude Oil

-0.04%

RBOB Gasoline

+0.11%
Metals
Copper

-0.13%

Gold 100oz

+0.04%

Silver 5000oz

+0.00%

Palladium

-0.30%

Platinum

-0.54%
Agricultural
Cocoa

+0.00%

Corn

+0.44%

Lean Hogs

+0.00%

Cotton

-2.00%

Lumber

+0.00%

Orange Juice

+0.00%

Soybean Meal

-0.31%

Soybeans

-0.22%

Sugar #11

+0.00%

Wheat

+0.24%

White Sugar

+0.00%

Cattle

+0.00%

Coffee (Arabica)

+0.00%

Coffee (Robusta)

+0.00%

Feeder Cattle

+0.00%
Credit Indices
| Index | Change |
| --- | --- |
| Markit CDX EM | +0.00% |
| Markit CDX NA HY | +0.08% |
| Markit CDX NA IG | -1.04% |
| Markit iTraxx Asia ex-Japan IG | +0.47% |
| Markit iTraxx Australia | -0.19% |
| Markit iTraxx Europe | -0.15% |
| Markit iTraxx Europe Crossover | +0.60% |
| Markit iTraxx Japan | +0.00% |
| Markit MCDX (Municipal CDS) | -0.50% |
Out of 42 world ETFs listed in NYSE that we track, 38 are trading above their 10-day SMA and 29 are trading above their 50-day SMA.
Also, there were 3 sigma events over the last 24 hours. Details
here
.
Must Reads
Exide gets robots to breathe more life into batteries
The first of the project, with technology sourced from East Penn Manufacturing Inc of the US, would be implemented at a 25-acre facility at Haldia in Bengal, where it has an existing plant. After invading the shop floors of automobile makers, robots are entering battery plants as well.
Russian Consumers Still in Shock as They Cut Back on Food and Medicine
With stores from near the Arctic to the foothills of the Caucasus Mountains, Magnit PJSC would be the first to know when the Russian consumer is back. Instead, the nation's largest supermarket chain has just come across something it's never seen.
Don't Try This Crazy Trick on the Economy
Some economists argue that the Federal Reserve should take a highly unconventional approach to ending a long period of below-target inflation: Instead of keeping interest rates low to spur economic activity and push up prices, it should raise rates.
Car sharing leads to reduced car ownership and emissions in cities, study finds
Cars are one of the top contributors to greenhouse gas emissions globally, and cars in cities can be especially heavy with their contributions, owing to traffic and population density.
Brexit Fallout Will Be Contained to the U.K., Bond Yields Suggest
How far the economic ripples of Brexit will expand remains one of the key questions for financial markets in the months ahead. Bond yields suggest the fallout won't be as far-reaching as initially feared. Yields on sovereign bonds in the U.S.
Ricoh India admits accounting violations, falsification of books
Ricoh India, a subsidiary of Japanese imaging and electronics major Ricoh, has admitted that some of its companies violated accounting principles and are responsible for falsification in the books of accounts.
Income Declaration Scheme rule on old cases clashes with I-T Act
MUMBAI: An anomaly in the Income Declaration Scheme (IDS), a mechanism to disclose hidden assets and come clean can trigger litigation and go against the present law.
Good luck!