Your world at 9am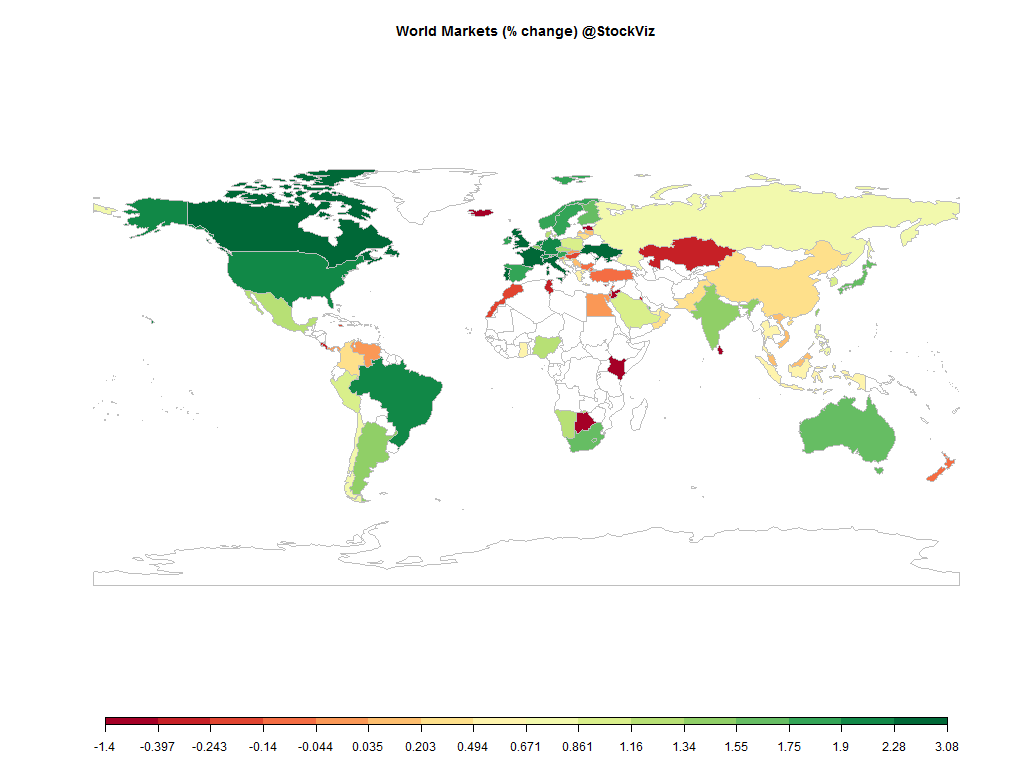 Equities
Commodities
Energy
Ethanol

+0.00%

Heating Oil

+0.70%

Brent Crude Oil

+0.79%

Natural Gas

+0.63%

WTI Crude Oil

+1.31%

RBOB Gasoline

+0.91%
Metals
Copper

+1.00%

Palladium

+0.68%

Silver 5000oz

+0.00%

Gold 100oz

-0.03%

Platinum

+0.51%
Agricultural
Cattle

+0.00%

Lean Hogs

+0.00%

Soybeans

-0.14%

Coffee (Robusta)

+0.00%

Corn

-0.64%

Orange Juice

+0.00%

Sugar #11

+2.97%

Coffee (Arabica)

+0.33%

Cotton

+0.00%

Lumber

-1.27%

Wheat

+0.05%

Cocoa

+0.00%

Feeder Cattle

+0.00%

Soybean Meal

-0.81%

White Sugar

+0.00%
Credit Indices
| Index | Change |
| --- | --- |
| Markit CDX EM | +0.03% |
| Markit CDX NA HY | -0.20% |
| Markit CDX NA IG | +0.73% |
| Markit iTraxx Asia ex-Japan IG | +12.89% |
| Markit iTraxx Australia | +11.72% |
| Markit iTraxx Europe | +0.85% |
| Markit iTraxx Europe Crossover | +7.51% |
| Markit iTraxx Japan | +7.94% |
| Markit iTraxx SovX Western Europe | -0.05% |
| Markit LCDX (Loan CDS) | +0.00% |
| Markit MCDX (Municipal CDS) | +0.32% |
Oh, what a relief rally!
Must reads
Rajan being Captain Obvious: Modi's visits must be backed up with action on ground. (TOI)
Growth in eight core sectors — coal, crude oil, natural gas, refinery products, fertiliser, steel, cement, and electricity — increased to 2.6% in August after a slower 1.1% in July. However, the 2.2% cumulative growth in April to August of FY16 still remains less than the corresponding figure previous year, which was 5.6%. (BS, #economy)
This year's southwest monsoon has ended with a rain shortfall of 14%, the worst since 2009. (BS)
The black-money compliance window closed yesterday. As usual, the big fish are likely to go scot-free. (DNA)
Apparently, bond fund managers took the word of rating agencies at face value and ramped thousands of crores of corporate bonds. And now, SEBI is pissed at this gigantic failure of fiduciary duty. Why are we paying these guys asset management fees again? (LiveMint, #fund)
Remember the hyperinflation scare of the 2010's? Probably the worst economic prediction ever. (WaPo)
Good luck and have a nice long weekend! Tomorrow is Gandhi Day – a Dry Jayanti.