Your world at 9am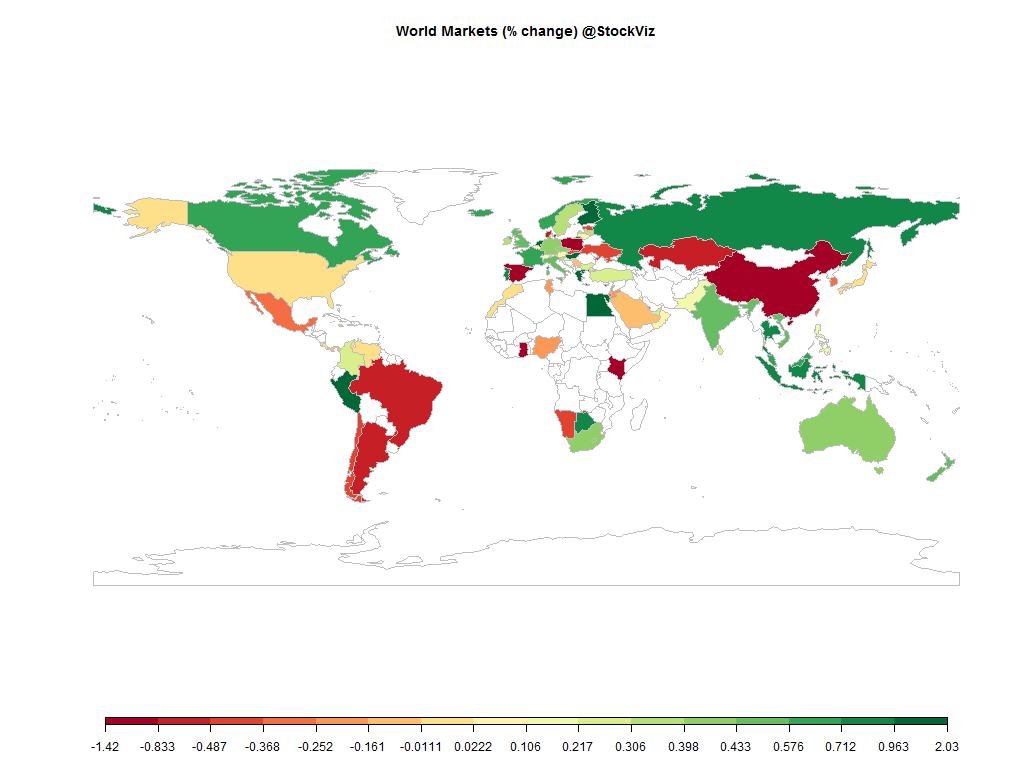 Equities
Commodities
Energy
Natural Gas

+0.36%

Ethanol

+0.00%

RBOB Gasoline

+0.01%

WTI Crude Oil

-0.70%

Brent Crude Oil

-0.49%

Heating Oil

-0.08%
Metals
Copper

+0.00%

Palladium

-0.41%

Platinum

-0.49%

Silver 5000oz

+0.00%

Gold 100oz

-0.43%
Agricultural
Cattle

+0.00%

Cocoa

+0.00%

Coffee (Arabica)

+2.33%

Corn

+0.74%

Cotton

+0.00%

Lumber

+0.91%

Orange Juice

+0.61%

Soybeans

+0.20%

Sugar #11

-1.83%

Wheat

+0.50%

Feeder Cattle

+0.00%

Lean Hogs

+0.00%

Soybean Meal

-0.03%

White Sugar

+0.00%

Coffee (Robusta)

+0.00%
Credit Indices
| Index | Change |
| --- | --- |
| Markit CDX EM | +0.30% |
| Markit CDX NA HY | +0.32% |
| Markit CDX NA IG | -0.77% |
| Markit iTraxx Asia ex-Japan IG | -0.07% |
| Markit iTraxx Australia | -0.45% |
| Markit iTraxx Europe | -1.27% |
| Markit iTraxx Europe Crossover | -6.53% |
| Markit iTraxx Japan | -1.04% |
| Markit iTraxx SovX Western Europe | +0.26% |
| Markit LCDX (Loan CDS) | +0.00% |
| Markit MCDX (Municipal CDS) | +0.26% |
TGIF!!!
Must reads
Bill Gross: Fed on track for September rate hike. (IN)
We'll soon find out how deep and wide Enfield's moat is now that is under attack on two fronts. Meet Harley and Triumph. (MC) EICHERMOT 19,100.00 72.05 (0.38%)
The Gold Bond scheme is likely to have an annual cap of 500 grams per person. Its not like people were lining up in the first place. (HBL) Related: Hallmarking does not guarantee full purity of jewellery. (HBL) GOLDBEES 2,268.20 -39.05 (-1.69%)
After watching eCommerce cos raise dizzying amounts of capital, an old-economy crone says "Me too!" (HBL)
Tourism Minister Mahesh Sharma also has categorically ruled out a stake sale in India Tourism Development Corporation (ITDC). Welcome to the new, same as the old. (MC)
Now that BNP Paribas bought Sharekhan, what will happen to Geojit? (ET) GEOJITBNPP 49.60 -1.40 (-2.75%)
The RBI relaxed rules governing the restructuring and repayment of loans extended by NBFCs. (IE) Related: Raghuram Rajan meets banks, ARCs and PE firms to accelerate bad loan sales. (LiveMint)
Profit growth in Europe is above that of the U.S. for the first time since the financial crisis. (Bloomberg) Related: Investing in European Equities
Good luck and have a nice weekend!