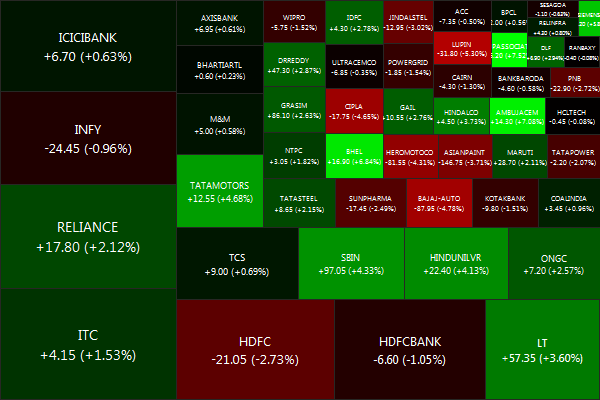 The NIFTY ended on a positive note, drifting up +0.87% for the week.
Biggest losers were LUPIN (-4.66%), BAJAJ-AUTO (-4.32%) and CIPLA (-4.17%).
And the biggest winners were JPASSOCIAT (+7.84%), AMBUJACEM (+7.08%) and BHEL (+6.86%).
Advancers lead decliners 30 vs 20
Gold: -1.04%, Banks: +0.64%. Infrastructure: -0.70%,
Net FII flows for the short week: $457.62 mm (Equity) and $193.11 mm (Debt)
The biggest data point that investors will ponder over the weekend is the US unemployment rate hitting 7.8% for September (8.1% previous).
Erroneous orders placed by Emkay sends Nifty crashing by 16%, to 4880.20 on Friday morning. Emkay has been temporarily barred from trading. Fat fingers indeed. (WSJ) [stockquote]EMKAY[/stockquote]
Daily news summaries are here.