Your world at 9am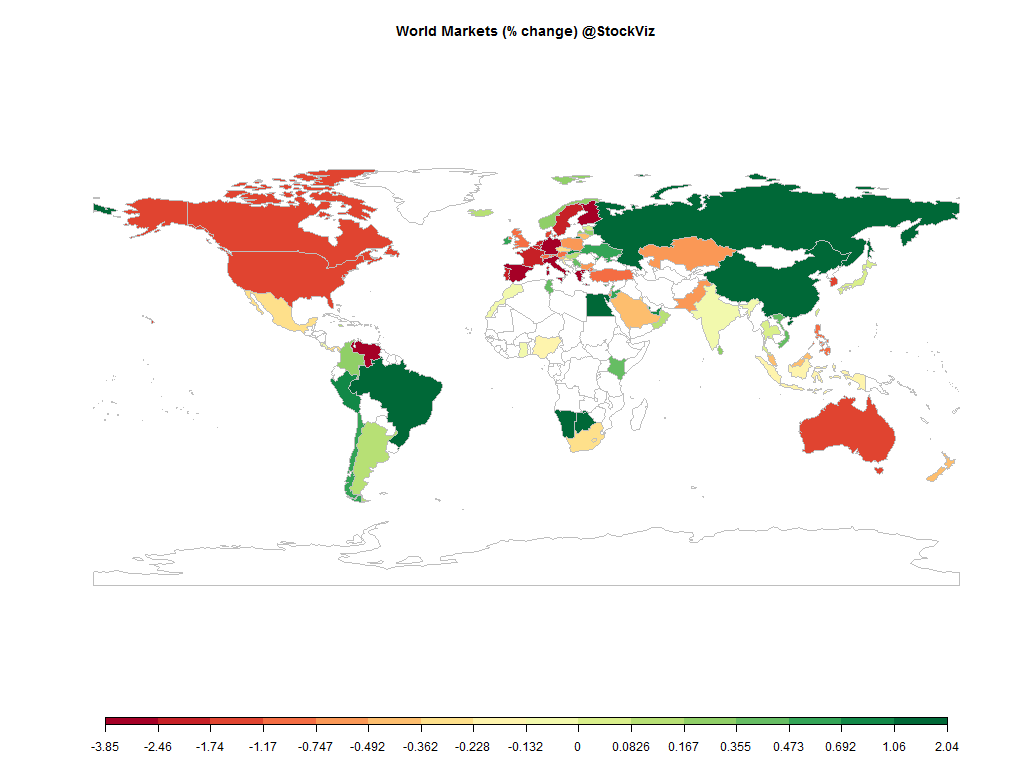 Equities
Commodities
Energy
Natural Gas

+0.14%

Heating Oil

+0.38%

Brent Crude Oil

+0.61%

WTI Crude Oil

+0.93%

Ethanol

+0.00%

RBOB Gasoline

+0.47%
Metals
Silver 5000oz

+0.00%

Palladium

-0.25%

Copper

-0.27%

Gold 100oz

+0.00%

Platinum

+0.00%
Agricultural
Cocoa

+0.00%

Coffee (Arabica)

+0.38%

Coffee (Robusta)

+0.00%

Cotton

+0.00%

Lumber

+0.50%

Corn

+0.62%

Soybean Meal

+0.06%

Soybeans

+0.05%

Cattle

+0.00%

Lean Hogs

+0.00%

Orange Juice

+0.78%

Sugar #11

+1.92%

Wheat

+0.75%

White Sugar

+0.00%

Feeder Cattle

+0.00%
Credit Indices
| Index | Change |
| --- | --- |
| Markit CDX EM | +0.06% |
| Markit CDX NA HY | +0.00% |
| Markit CDX NA IG | -0.01% |
| Markit iTraxx Asia ex-Japan IG | -0.54% |
| Markit iTraxx Australia | +0.00% |
| Markit iTraxx Europe | +0.00% |
| Markit iTraxx Europe Crossover | +0.00% |
| Markit iTraxx Japan | +0.00% |
| Markit iTraxx SovX Western Europe | +0.00% |
| Markit LCDX (Loan CDS) | +0.00% |
| Markit MCDX (Municipal CDS) | -0.26% |
Will Nifty follow the tumble in overnight markets or will the court stay against MAT demands tide it over?
Must reads
Naukri.com: hiring in the real estate sector saw a drop of 20% in March (compared with last year) and defence manufacturing, 27%. Construction and engineering saw a fall of around 6% in February and March. (LiveMint, #economy)
Home sales in the top six cities of India rose 2% sequentially in the quarter to March but were down 8% over the year ago quarter. (ET, #real estate)
Experts: put trucks on trains through Delhi. Dumbest idea ever? (TOI)
Tesla's Powerwall levelized cost of electricity (LCOE) is $0.35/kwh. In India, retail peak power prices are edging towards 20 cents/kwh in some cities. If these batteries can get to a 2x price reduction within 3-5 years, most urbanites can bid farewell to the grid. (Gizmodo)
Do you understand money? (TheAtlantic)
Good luck!