Your world at 9am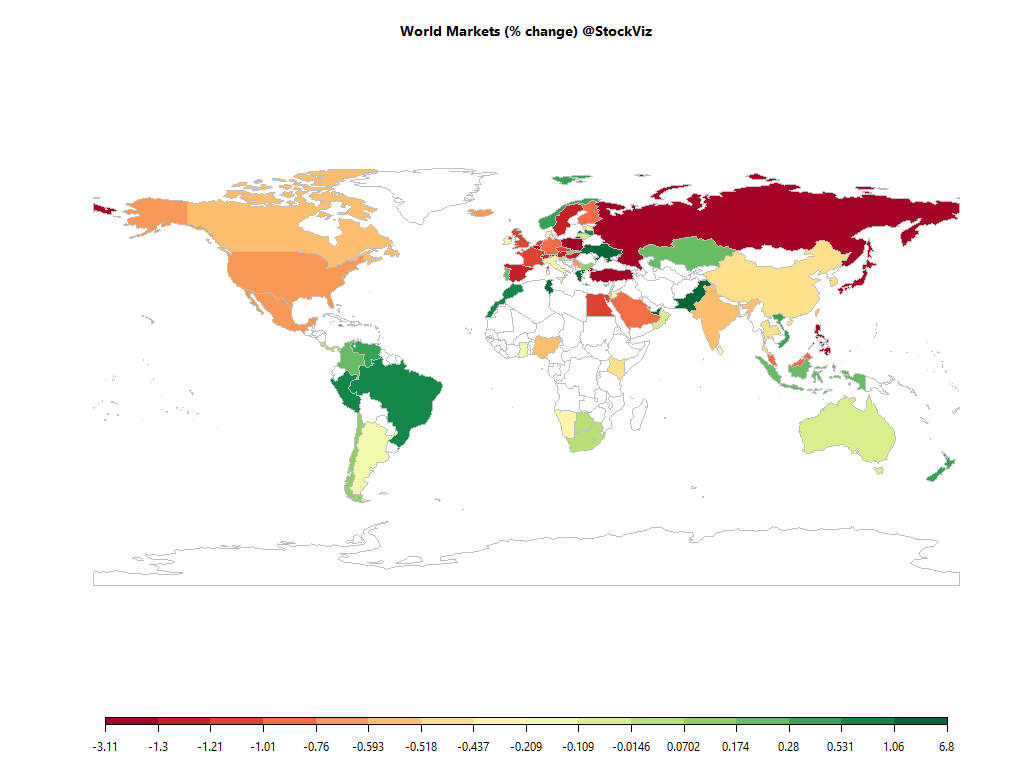 Equities
Commodities
Energy
Heating Oil

+1.36%

Brent Crude Oil

+1.52%

RBOB Gasoline

+1.43%

Ethanol

+0.00%

WTI Crude Oil

+2.01%

Natural Gas

+0.09%
Metals
Gold 100oz

+0.68%

Silver 5000oz

+0.51%

Palladium

+1.27%

Copper

+0.00%

Platinum

+0.45%
Agricultural
Cattle

+0.00%

Feeder Cattle

+0.00%

Lean Hogs

+0.00%

Wheat

-0.11%

Coffee (Arabica)

+0.00%

Coffee (Robusta)

+0.00%

Cotton

+0.00%

Sugar #11

+0.00%

Cocoa

+0.00%

Corn

+0.33%

Lumber

+0.00%

Soybean Meal

-0.09%

Soybeans

-0.02%

Orange Juice

+0.00%

White Sugar

+0.00%
Credit Indices
| Index | Change |
| --- | --- |
| Markit CDX EM | -0.36% |
| Markit CDX NA HY | -0.56% |
| Markit CDX NA IG | +3.39% |
| Markit iTraxx Asia ex-Japan IG | +2.64% |
| Markit iTraxx Australia | +0.67% |
| Markit iTraxx Europe | +2.58% |
| Markit iTraxx Europe Crossover | +9.91% |
| Markit iTraxx Japan | +0.00% |
| Markit MCDX (Municipal CDS) | +0.50% |
Out of 42 world ETFs listed in NYSE that we track, 2 are trading above their 10-day SMA and 24 are trading above their 50-day SMA. Also, there were 23 sigma events over the last 24 hours. Details
here
.
Must reads
The government is considering setting up an independent panel to help state-owned banks negotiate settlements with big businesses on bad loans. (NDTV)
Buybacks >> Dividends. (LiveMint, StockViz)
The robots are out to take the surgeon's job: a robotic surgical system outperformed humans and robot-assisted human operators in a soft-tissue procedure. (TC)
Technology is making "work" far less labor-intensive, even services jobs. Embrace the helicopter money. It may be the only money you get. (WSJ)
Contrast in EM household savings rates: People in emerging Asia typically saved 41.5% of their income last year while those in Latin America put aside just 17.6%, and sub-Saharan Africans just 13.7%. (FT)
China is so screwed that it has resorted to forcing economists to take a brighter view. (FT, WSJ)
Brazil will have the world's first sex-themed amusement park, complete with penis-shaped bumper cars, go-go dancers aboard a "train of pleasure," and a movie theater with vibrating seats. (NYP)
Good luck!