Your world at 9am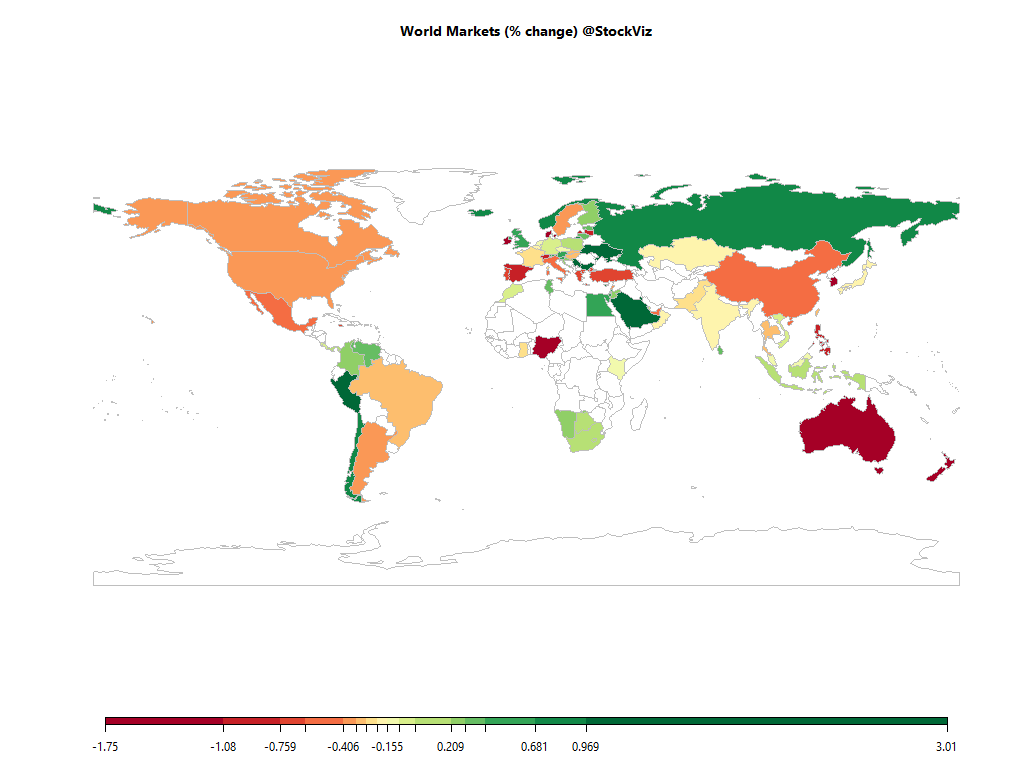 Equities
Commodities
Energy
Brent Crude Oil

-1.16%

Ethanol

+0.00%

RBOB Gasoline

-1.63%

WTI Crude Oil

-1.30%

Heating Oil

-0.89%

Natural Gas

-0.83%
Metals
Gold 100oz

+0.00%

Copper

+0.00%

Palladium

-0.21%

Silver 5000oz

+0.00%

Platinum

+0.16%
Agricultural
Orange Juice

+0.00%

Cattle

+0.00%

Coffee (Arabica)

+0.00%

Lean Hogs

+0.00%

Coffee (Robusta)

+0.00%

Feeder Cattle

+0.00%

Lumber

+0.00%

Soybean Meal

+0.62%

Soybeans

+0.71%

Sugar #11

+0.00%

Wheat

+0.25%

White Sugar

+0.00%

Cocoa

+0.00%

Corn

+0.29%

Cotton

-0.28%
Out of 42 world ETFs listed in NYSE that we track, 31 are trading above their 10-day SMA and 15 are trading above their 50-day SMA.
Must Reads
Axis Bank's Bad Loans Jump Four Times In A Year: A Management Failure?
Bloomberg | Quint is a multiplatform, Indian business and financial news company.
Top Gold Buyer Sees Demand Slumping on 'Black Money' Curbs
In the world's largest gold-consuming country after China, demand has just fallen off a cliff. Saurabh Gadgil, a sixth-generation jeweler, says it's the worst year in India since he took charge of the family business in 1999.
Monsanto RIP
In a few weeks it is quite likely that Monsanto will disappear as an independent company, and become part of Bayer. Monsanto has been an iconic company that drastically changed the plant-breeding sector in a manner resembling the changes brought by Microsoft and Apple in computing and Tesla in cars.
Check out our Global Macro Dashboard for currency, commodity, bonds and credit charts.
Good luck!