Your world at 9am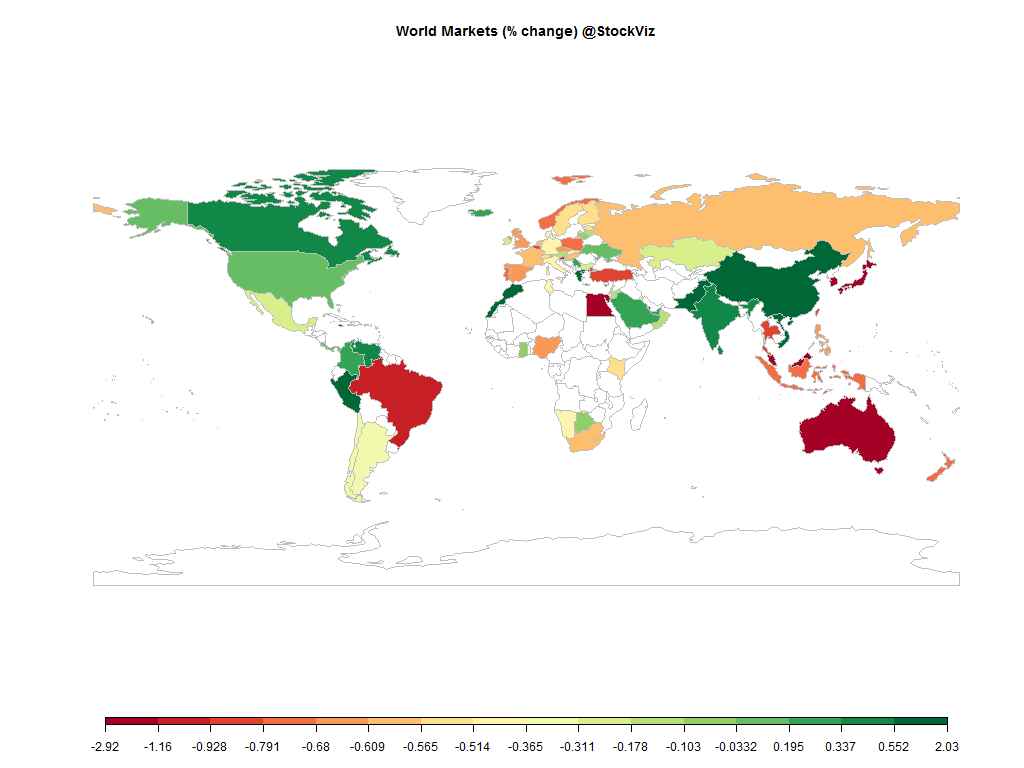 Equities
Commodities
Energy
Ethanol

+0.00%

Natural Gas

-1.98%

Brent Crude Oil

-0.96%

WTI Crude Oil

-3.48%

Heating Oil

-2.80%

RBOB Gasoline

-2.04%
Metals
Gold 100oz

+0.40%

Copper

-2.45%

Palladium

-2.61%

Platinum

-0.66%

Silver 5000oz

+0.12%
Agricultural
Corn

-1.31%

Cotton

+0.89%

Soybean Meal

-1.37%

Cattle

+0.13%

Cocoa

+0.00%

Coffee (Arabica)

+0.84%

Feeder Cattle

-0.54%

Coffee (Robusta)

+0.00%

Lean Hogs

+2.30%

Lumber

-0.17%

Orange Juice

+1.00%

Soybeans

-1.29%

Sugar #11

-1.29%

Wheat

-2.05%

White Sugar

+0.00%
Credit Indices
| Index | Change |
| --- | --- |
| Markit CDX EM | +0.16% |
| Markit CDX NA HY | +0.06% |
| Markit CDX NA IG | -0.52% |
| Markit iTraxx Asia ex-Japan IG | -1.98% |
| Markit iTraxx Australia | -0.06% |
| Markit iTraxx Europe | +1.54% |
| Markit iTraxx Europe Crossover | +7.75% |
| Markit iTraxx Japan | +0.96% |
| Markit iTraxx SovX Western Europe | +0.49% |
| Markit LCDX (Loan CDS) | -0.02% |
| Markit MCDX (Municipal CDS) | -0.20% |
So Greece finally hit the reset button. Interesting days ahead…
Must reads
Greece voted "No." It is not very clear what that means:
The secret sauce behind IndiGo's stunning success over the past few years is low maintenance cost – 3% compared with 8-12% at its peers. (LiveMint, #IPO)
CNBC: An electronic shaman that gives puzzled victims a narrative framework for redemption, a story in which their afflictions can be warded off, and blessings bestowed, if they perform a certain ritual, or appease a demon, or ingest a magical substance. A person who consults a shaman does not seek evidence or back-testing. He wants a comforting myth that casts himself as master of his destiny when things go well, and as a blameless victim of the gods when things go wrong. (TAP, StockViz, StockViz)
Good luck!