Your world at 9am
Equities
Commodities
Energy
Brent Crude Oil

-0.37%

Natural Gas

+0.49%

RBOB Gasoline

-0.03%

Ethanol

+0.00%

Heating Oil

-0.14%

WTI Crude Oil

-0.27%
Metals
Copper

+0.00%

Platinum

-0.03%

Gold 100oz

+0.00%

Palladium

-0.43%

Silver 5000oz

+0.00%
Agricultural
Coffee (Robusta)

+0.00%

Cotton

-0.36%

Lumber

+0.00%

Soybeans

-0.61%

Sugar #11

+0.00%

Cattle

+0.00%

Coffee (Arabica)

+0.00%

Feeder Cattle

+0.00%

Corn

-0.50%

Lean Hogs

+0.00%

Orange Juice

+0.00%

Wheat

-0.22%

Cocoa

+0.00%

Soybean Meal

-0.62%

White Sugar

+0.00%
Credit Indices
| Index | Change |
| --- | --- |
| Markit CDX EM | +0.00% |
| Markit CDX NA HY | +0.00% |
| Markit CDX NA IG | +0.00% |
| Markit iTraxx Asia ex-Japan IG | +0.00% |
| Markit iTraxx Australia | +0.00% |
| Markit iTraxx Europe | +0.00% |
| Markit iTraxx Europe Crossover | +0.00% |
| Markit iTraxx Japan | +0.00% |
| Markit MCDX (Municipal CDS) | +0.00% |
Out of 42 world ETFs listed in NYSE that we track, 7 are trading above their 10-day SMA and 10 are trading above their 50-day SMA. Also, there were 9 sigma events over the last 24 hours. Details
here
.
Must reads
Megalomania much? Ramdev is lining up an online platform (chikitsalaya) for ayurvedic consultation and treatment. (TOI)
Apparently, the RBI put in a lot of "work" to give in-principle licenses to some payments bank and is pissed that they decided not to pour money down the drain. Sigh… (ET)
Apple CEO Tim Cook's recent learning mission to India may open up new possibilities. (LiveMint)
WTF is happening to USDINR?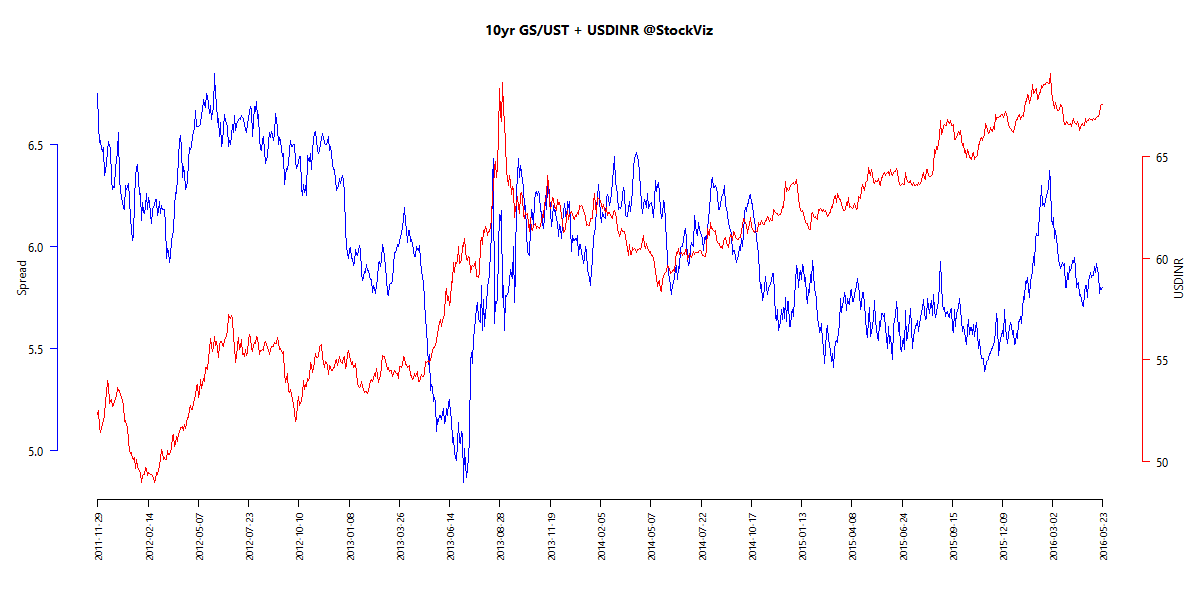 Australia's biggest banks, among the most profitable in the world, might be headed for trouble. Rising bad debts, falling earnings and fears of a property-market downturn have triggered a record number of "shorts" on Australian banks. (WSJ)
Good luck!