Your world at 9am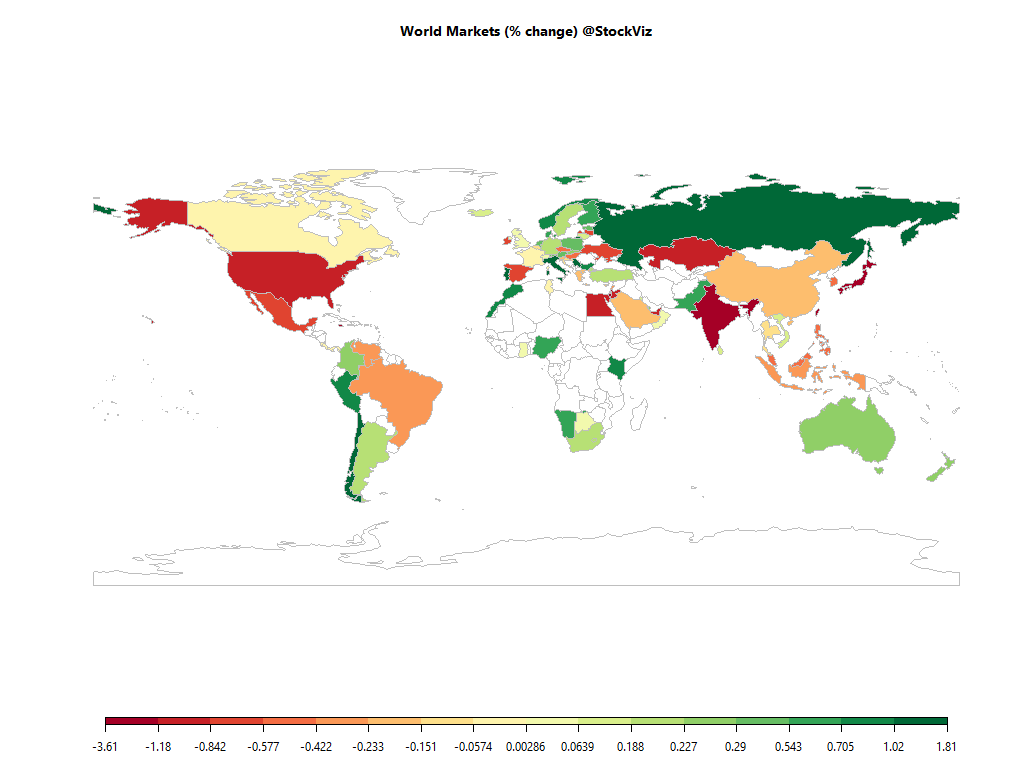 Equities
Commodities
Energy
Brent Crude Oil

+0.00%

WTI Crude Oil

+0.04%

Heating Oil

+0.14%

RBOB Gasoline

-0.73%

Ethanol

+0.00%

Natural Gas

-0.29%
Metals
Copper

+1.12%

Gold 100oz

+1.23%

Platinum

+1.27%

Silver 5000oz

+1.78%

Palladium

+0.82%
Agricultural
Cattle

+0.00%

Coffee (Robusta)

+0.00%

Corn

-0.13%

Cotton

-0.28%

Feeder Cattle

+0.00%

Sugar #11

+0.00%

Wheat

-0.68%

White Sugar

+0.00%

Coffee (Arabica)

+0.00%

Lean Hogs

+0.00%

Cocoa

+0.00%

Soybean Meal

-0.48%

Soybeans

-0.59%

Lumber

+0.00%

Orange Juice

+0.00%
Credit Indices
| Index | Change |
| --- | --- |
| Markit CDX EM | +0.37% |
| Markit CDX NA HY | +0.24% |
| Markit CDX NA IG | -0.71% |
| Markit iTraxx Asia ex-Japan IG | -0.22% |
| Markit iTraxx Australia | +0.20% |
| Markit iTraxx Europe | -0.59% |
| Markit iTraxx Europe Crossover | -2.76% |
| Markit iTraxx Japan | +0.26% |
| Markit MCDX (Municipal CDS) | -0.33% |
Out of 42 world ETFs listed in NYSE that we track, 17 are trading above their 10-day SMA and 37 are trading above their 50-day SMA. Also, there were 28 sigma events over the last 24 hours. Details
here
.
Must reads
Bank of Japan shocks markets by voting against more stimulus. Despite weak inflation and household spending, central bank decides against fresh measures to stimulate economy, pushing the yen up. (Guardian, Reuters, FT)
Those filing for bankruptcy could find their assets in other countries assessed under Indian laws. (BS)
RBI says it would be 'prudent' to regulate P2P lending businesses, proposes registering platforms as NBFCs. (LiveMint)
Infy's bet on AI driven automation. (TOI) INFY 1,214.40 5.25 (0.00%)
Good luck and have a nice weekend!