Your world at 9am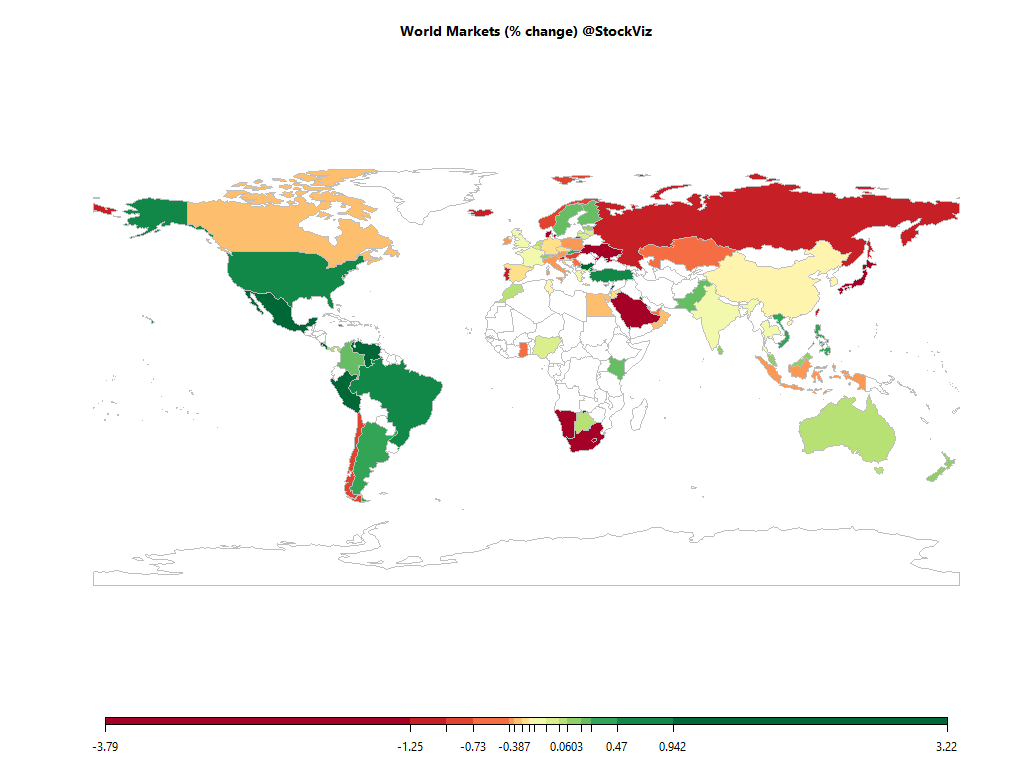 Equities
Commodities
Energy
Heating Oil

+0.30%

RBOB Gasoline

+1.13%

WTI Crude Oil

+0.00%

Natural Gas

-0.27%

Ethanol

+0.57%

Brent Crude Oil

+0.35%
Metals
Gold 100oz

+0.00%

Palladium

+0.02%

Copper

+0.00%

Platinum

+0.15%

Silver 5000oz

-0.17%
Agricultural
Coffee (Arabica)

+0.00%

Soybean Meal

+0.07%

Soybeans

-0.34%

Sugar #11

+0.00%

White Sugar

+0.00%

Cocoa

+0.00%

Coffee (Robusta)

+0.00%

Feeder Cattle

+0.00%

Lean Hogs

+0.00%

Lumber

+0.00%

Cattle

+0.00%

Cotton

+0.00%

Wheat

+0.31%

Corn

-0.08%

Orange Juice

+0.00%
Out of 42 world ETFs listed in NYSE that we track, 26 are trading above their 10-day SMA and 22 are trading above their 50-day SMA.
Must Reads
Men Without Work
Over the weekend, the FT published my review of Nicholas Eberstadt's important new book Men Without Work.  The core message is captured in the graph below. Job destruction caused by technology is not a futuristic concern.  It is something we have been living with for two generations.
Google for India: 'Mazze udao, data nahi', says internet giant
Further strengthening its India focus, Google on Tuesday announced a slew of Made for India products at its 'Google for India' event in New Delhi.
Stupefied
Each summer, thousands of the best and brightest graduates join the workforce. Their well-above-average raw intelligence will have been carefully crafted through years at the world's best universities.
When stocks crash, should you buy them or sell them?
Legends are made and careers are destroyed by large price movements in a stock over a short span of time. Let us look at two examples.
Check out our Global Macro Dashboard for currency, commodity, bonds and credit charts.
Good luck!