Your world at 9am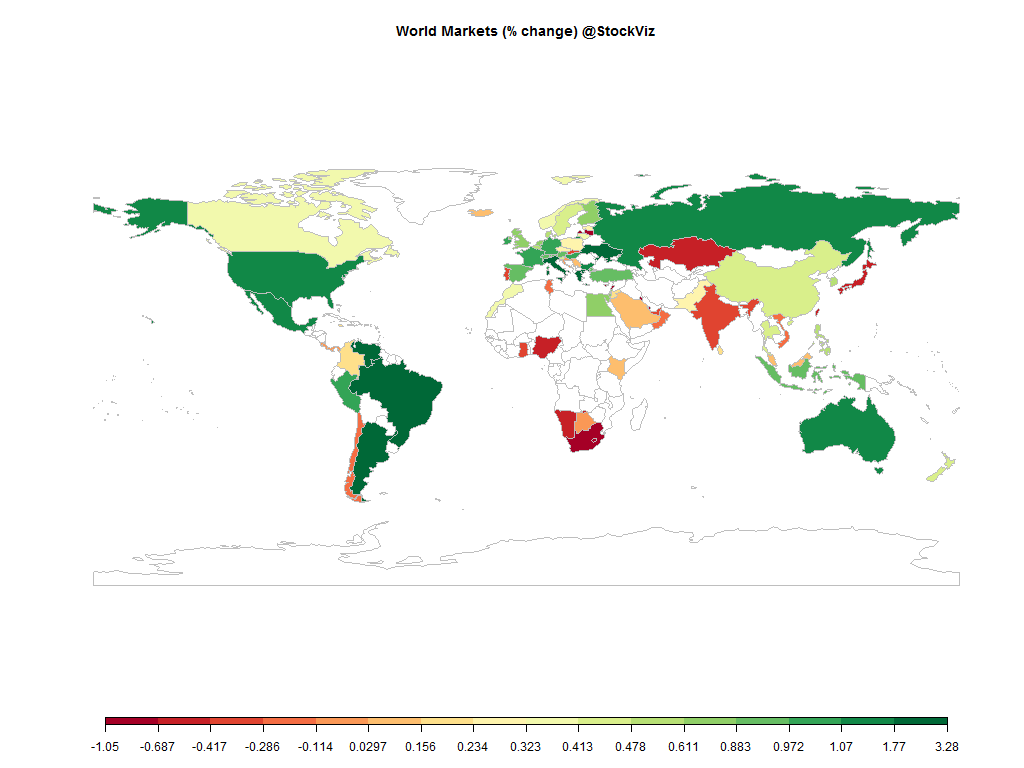 Equities
Commodities
Energy
Brent Crude Oil

-0.32%

WTI Crude Oil

-0.27%

Ethanol

+0.00%

Heating Oil

-0.47%

Natural Gas

+0.74%

RBOB Gasoline

-0.40%
Metals
Copper

+0.00%

Palladium

+0.70%

Platinum

+0.14%

Gold 100oz

+0.00%

Silver 5000oz

+0.06%
Agricultural
White Sugar

+0.00%

Cattle

+0.00%

Cocoa

+0.00%

Cotton

+0.00%

Soybean Meal

+0.20%

Sugar #11

-0.62%

Coffee (Robusta)

+0.00%

Corn

-0.67%

Feeder Cattle

+0.00%

Lean Hogs

+0.00%

Lumber

+1.33%

Coffee (Arabica)

-0.33%

Orange Juice

+0.28%

Soybeans

+0.18%

Wheat

-0.15%
Credit Indices
| Index | Change |
| --- | --- |
| Markit CDX EM | -0.21% |
| Markit CDX NA HY | -0.28% |
| Markit CDX NA IG | +1.71% |
| Markit iTraxx Asia ex-Japan IG | +3.52% |
| Markit iTraxx Australia | +2.22% |
| Markit iTraxx Europe | +2.28% |
| Markit iTraxx Europe Crossover | +10.58% |
| Markit iTraxx Japan | +1.73% |
| Markit iTraxx SovX Western Europe | +0.49% |
| Markit LCDX (Loan CDS) | +0.00% |
| Markit MCDX (Municipal CDS) | +0.93% |
What is the market going to obsess about today?
Must reads
Punjab National Bank, a quarter of whose $4-billion portfolio of steel loans is stressed, is considering taking charge of some companies over the next two years, changing their management and then selling stakes. (BS) So now we have bureaucrats trying to run steel companies. This should end well. (IE)
Channel stuffing going on in 2-wheelers: Motorcycle inventories have risen at dealerships across the country as companies continue to despatch high volumes despite poor demand, helping them show impressive sales at least on paper. (LiveMint)
Emerging-market currencies have slumped to 15-year lows. (FT)
Good luck!