Your world at 9am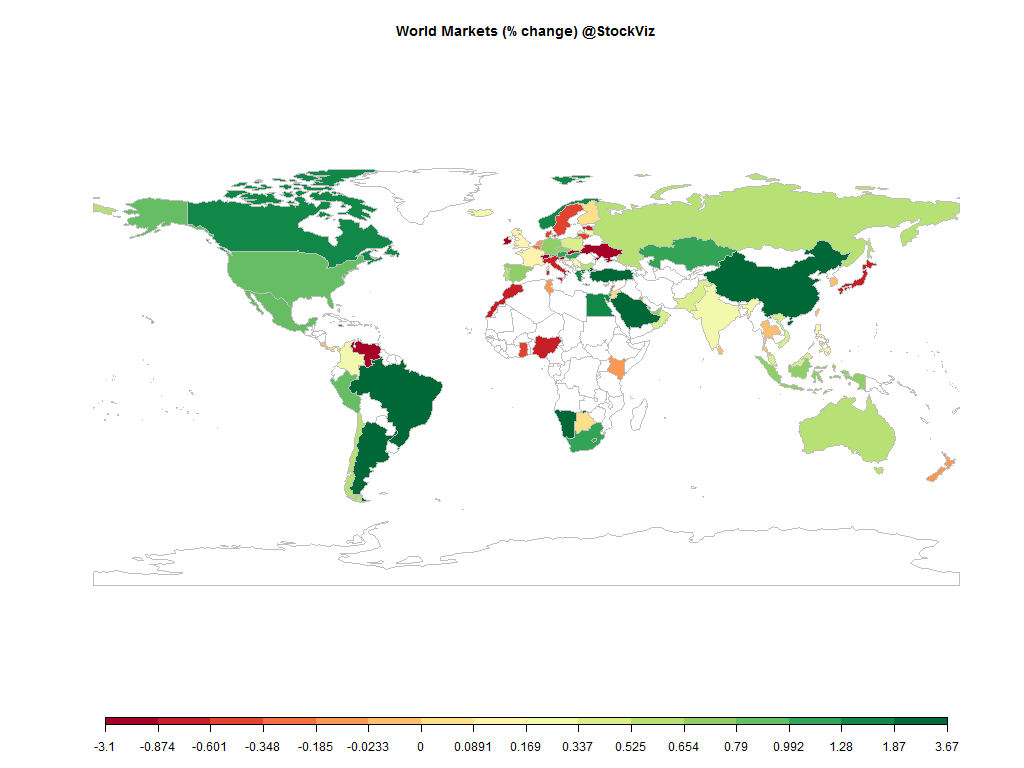 Equities
Commodities
Energy
Brent Crude Oil

+0.39%

Natural Gas

+0.12%

RBOB Gasoline

+0.37%

Ethanol

+0.00%

WTI Crude Oil

+0.50%

Heating Oil

+0.28%
Metals
Copper

-0.04%

Gold 100oz

-0.56%

Platinum

-0.53%

Silver 5000oz

+0.00%

Palladium

-1.36%
Agricultural
Coffee (Arabica)

+0.00%

Lean Hogs

+0.00%

Soybeans

-0.14%

Wheat

+0.48%

Cattle

+0.00%

Coffee (Robusta)

+0.00%

Corn

-0.19%

Cotton

+0.00%

Feeder Cattle

+0.00%

Lumber

+0.64%

Soybean Meal

+0.13%

Sugar #11

+0.00%

Cocoa

+0.00%

Orange Juice

+0.00%

White Sugar

+0.00%
Credit Indices
| Index | Change |
| --- | --- |
| Markit CDX EM | +0.06% |
| Markit CDX NA HY | +0.00% |
| Markit CDX NA IG | -0.02% |
| Markit iTraxx Asia ex-Japan IG | -2.27% |
| Markit iTraxx Australia | -2.95% |
| Markit iTraxx Europe | -2.46% |
| Markit iTraxx Europe Crossover | -9.20% |
| Markit iTraxx Japan | -1.58% |
| Markit iTraxx SovX Western Europe | -0.02% |
| Markit LCDX (Loan CDS) | +0.00% |
| Markit MCDX (Municipal CDS) | -1.72% |
Risk ON/OFF?
Must reads
Modi to tell states to raise electricity prices. Penalizing honesty. (BT)
Its official, Aadhaar is useless. Rs 5630 crore down the drain. Probably the biggest scam in Indian history. (IE)
Coffee Day IPO. Avoid. Pick it up after a year once we know more. (LiveMint, #ipo)
Artemisinin, the newest treatment for malaria, is derived from a plant used for that purpose in China for well over 2,000 years. The idea was developed originally in a secret Chinese project designed to help keep North Vietnamese soldiers malaria-free during the Vietnam war. (Economist)
Barclays: the removal of QE made the market more volatile but the loss of oil cash flow to assets is probably having a similar effect, since it suspends the ability of oil producers to print hard currency. This means that something in the region of $400bn of incremental annual demand has been lost. (FT)
Good luck!