Your world at 9am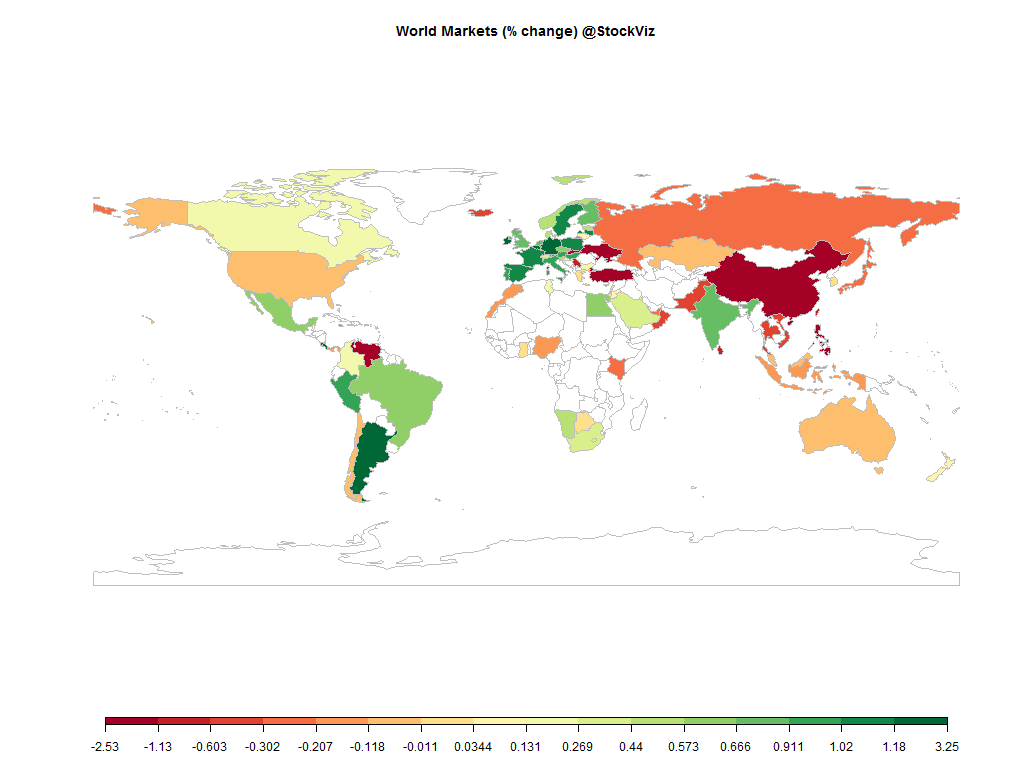 Equities
Commodities
Energy
Brent Crude Oil

-0.07%

Ethanol

-1.26%

Heating Oil

-1.87%

Natural Gas

-2.57%

RBOB Gasoline

-0.20%

WTI Crude Oil

-1.21%
Metals
Copper

+1.83%

Gold 100oz

-0.21%

Palladium

+0.54%

Platinum

+1.03%

Silver 5000oz

-0.34%
Agricultural
Coffee (Arabica)

+0.00%

Feeder Cattle

+0.78%

Soybean Meal

+0.18%

Wheat

-0.93%

Coffee (Robusta)

+0.00%

Lean Hogs

+1.12%

Orange Juice

+0.00%

White Sugar

+0.00%

Cocoa

+0.00%

Cotton

+0.00%

Sugar #11

+0.00%

Cattle

+1.06%

Corn

+0.07%

Lumber

+0.56%

Soybeans

+1.16%
Credit Indices
| Index | Change |
| --- | --- |
| Markit CDX EM | -0.14% |
| Markit CDX NA HY | +0.27% |
| Markit CDX NA IG | -0.67% |
| Markit iTraxx Asia ex-Japan IG | -1.20% |
| Markit iTraxx Australia | +1.21% |
| Markit iTraxx Europe | -1.87% |
| Markit iTraxx Europe Crossover | -4.11% |
| Markit iTraxx Japan | +1.71% |
| Markit iTraxx SovX Western Europe | -0.27% |
| Markit LCDX (Loan CDS) | +0.00% |
| Markit MCDX (Municipal CDS) | +1.15% |
TGIF!!!
Must reads
Finance Minister Arun Jaitley got the backing of India Inc. for bringing in an 'undistorted' goods and services tax (GST) regime with corporations opting for a complete move to GST even if it involved making a compromise on its structure. (Hindu, Hindu, #economy)
Foreign investors can now buy corporate bonds, NCDs in default. (IE, #regulation)
Amazon will sell products from 5,000 Indian sellers to its customers in the US during the ongoing holiday season. A sales channel to sellers that rivals such as Flipkart and Snadpeal can't match. (LiveMint)
India's gold buying in the key December quarter is likely to fall to the lowest level in eight years, hurt by poor investment demand and back-to-back droughts. (Reuters, #gold)
Is Saudi Arabia blinking on the whole "lower for longer" thing? (FT)
Good luck and have a nice weekend!