Your world at 9am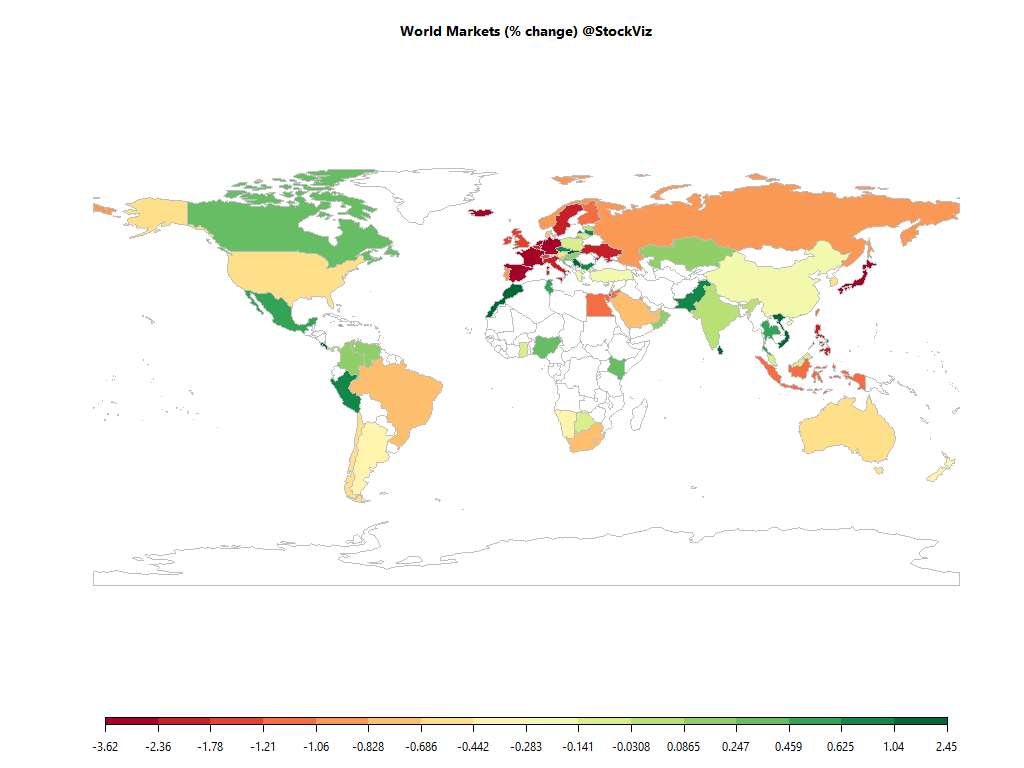 Equities
Commodities
Energy
Heating Oil

-1.00%

Natural Gas

-1.97%

Brent Crude Oil

-0.89%

WTI Crude Oil

-0.81%

Ethanol

+0.65%

RBOB Gasoline

-0.34%
Metals
Platinum

-0.26%

Palladium

-0.23%

Silver 5000oz

+0.15%

Copper

-0.48%

Gold 100oz

+0.40%
Agricultural
Feeder Cattle

+0.00%

Soybean Meal

+0.24%

Wheat

+0.21%

Coffee (Arabica)

+0.00%

Coffee (Robusta)

+0.00%

Corn

-0.13%

Lean Hogs

+0.61%

Sugar #11

+0.00%

Cocoa

+0.00%

Cotton

+0.00%

Lumber

-1.80%

Orange Juice

+0.00%

Soybeans

+0.17%

White Sugar

+0.00%

Cattle

+1.22%
Credit Indices
| Index | Change |
| --- | --- |
| Markit CDX EM | -0.48% |
| Markit CDX NA HY | -0.51% |
| Markit CDX NA IG | +3.55% |
| Markit iTraxx Asia ex-Japan IG | +0.75% |
| Markit iTraxx Australia | +0.31% |
| Markit iTraxx Europe | +2.71% |
| Markit iTraxx Europe Crossover | +9.98% |
| Markit iTraxx Japan | +2.44% |
| Markit MCDX (Municipal CDS) | -1.33% |
Out of 42 world ETFs listed in NYSE that we track, 20 are trading above their 10-day SMA and 36 are trading above their 50-day SMA. Also, there were 5 sigma events over the last 24 hours. Details
here
.
Must reads
Suckers: Just 1% of India's population pay taxes, but 100% of them pay bribes. (TOI)
SBI may be told to merge five associate banks. (ET) SBIN 186.00 0.00 (0.00%)
Earnings recovery? Analysis of 76 firms that have announced March quarter results shows 64.5% of them beat analysts' estimates. (LiveMint)
Big data economics: the amount of hassle is precisely calibrated to just how much you are willing to pay. (NYT)
Exercise alone is almost useless for weight loss because it accounts for only a small portion of daily calorie burn. It can cause physiological changes that help us conserve energy. (Vox)
Good luck!