Your world at 9am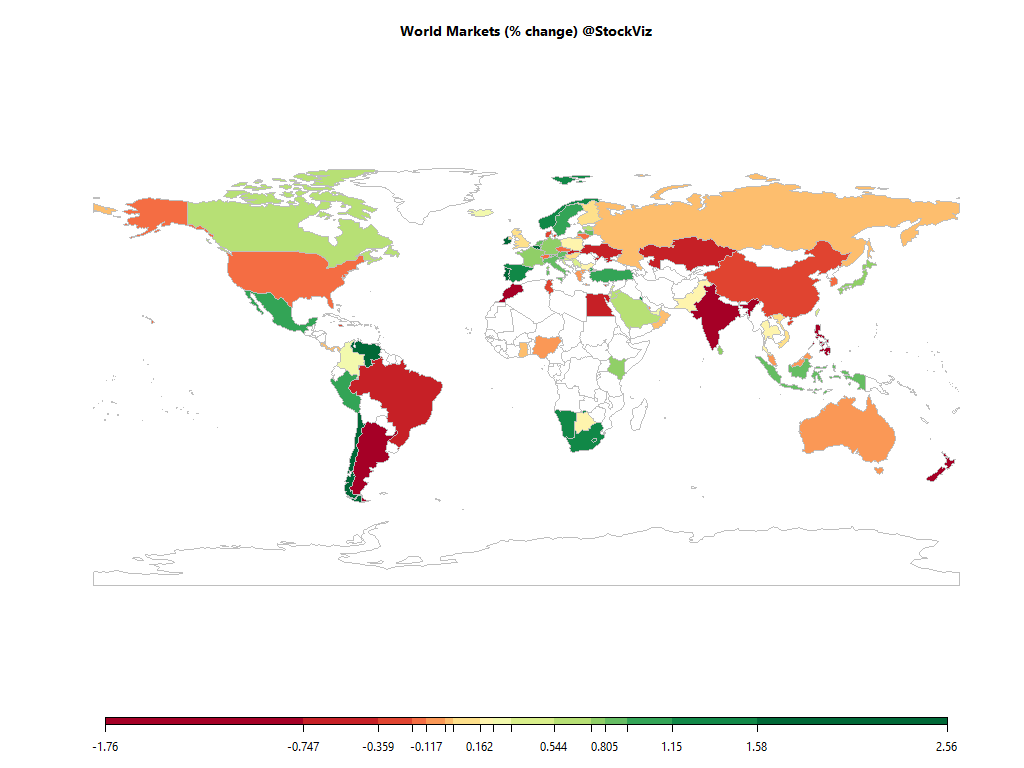 Equities
Commodities
Energy
Ethanol

+0.00%

Heating Oil

+0.30%

RBOB Gasoline

+0.41%

Natural Gas

+0.30%

Brent Crude Oil

-0.13%

WTI Crude Oil

-0.03%
Metals
Platinum

+1.19%

Palladium

+1.16%

Silver 5000oz

+0.84%

Gold 100oz

+0.00%

Copper

+0.74%
Agricultural
Coffee (Arabica)

+0.00%

Feeder Cattle

+0.00%

Lumber

+0.00%

Orange Juice

+0.00%

Wheat

+0.20%

White Sugar

+0.00%

Cocoa

+0.00%

Sugar #11

+0.00%

Cattle

+0.00%

Coffee (Robusta)

+0.00%

Corn

+0.99%

Cotton

+1.14%

Soybean Meal

+0.21%

Soybeans

+0.43%

Lean Hogs

+0.00%
Out of 43 world ETFs listed in NYSE that we track, 23 are trading above their 10-day SMA and 32 are trading above their 50-day SMA.
Must Reads
India's prosperity must not become hostage to European climate agenda
Nick Butler is a visiting professor at King's College London and a former senior executive at energy company BP.
Japan and US savings surge, with vaccines set to trigger spending
TOKYO/LONDON — Coronavirus vaccine rollouts have begun worldwide, raising hopes that the global economy can start to reopen. Strict movement restrictions and social distance measures have discouraged consumption, and savings have increased substantially in major countries.
Private Equity Firms 'Try to Manipulate Their Performance' When Raising Money
When private equity firms are under pressure to raise money, they're more likely to manipulate their portfolio companies' performance numbers, new research shows. In the past, research has found that general partners tend to inflate net asset values during fundraising.
Jalan-Kalrock consortium plans to keep Jet listed, brand unchanged
"We got the airline at a very competitive price due to the covid situation. Our cost is going to be much less than any other airline in the future. This is because we are going to start the airline without any liabilities.
Emerging Markets: Slow Growth, High Volatility
Note: This is part 1 of a series on emerging market crises. To download our full 55-page report, please click on the link at the bottom of this email. At the time, most pundits and investors, particularly those in the developed world, accepted El-Erian's position as common knowledge.
Schrodinger's Cab Firm: Uber's Existential Crisis
London's minicab regulator, TfL, has revoked Uber's licence to operate in the British capital, one of its largest world markets. Getting that licence back may require the firm to finally confront a question it cannot afford to answer: Just what is Uber?
The Man Who Abandoned Value
Alsin, the founder of investment firm Worm Capital, had an abundance of classic Asperger's symptoms. He was sensitive to light and sound and was so anxious around people that he forswore becoming a teacher. When his dog barked, Alsin says, "my brain would feel like it would explode."
FMCG cos bet big on ecommerce, eye online-exclusive product launches
A major change in consumer behaviour that emerged through the COVID-19 pandemic has been that of consumers turning online to buy their groceries and daily needs.
Uber drivers entitled to workers' rights, UK supreme court rules
The UK supreme court has dismissed Uber's appeal against a landmark employment tribunal ruling that its drivers should be classed as workers with access to the minimum wage and paid holidays.
The Gig Economy Is Coming for Millions of American Jobs
California's vote to classify Uber and Lyft drivers as contractors has emboldened other employers to eliminate salaried positions—and has become a cornerstone of bigger plans to "Uberize" the U.S. workforce.
Will DFIs give infrastructure projects a boost?
The Budget for 2021-22, presented by Finance Minister Nirmala Sitharaman, has proposed the establishment of a development finance institution (DFI). The idea of setting up a DFI for funding of infrastructure projects has been talked of in the media for some time by various analysts.
Could Roger Federer be as successful playing badminton?
In late January, Roger Federer won his sixth Australian Open title. His tally of Grand Slam championships now numbers 20—an incredible feat. As tennis's biggest star, he is well compensated for his efforts: Forbes magazine estimates that he took home $64 million last year.
Fintech's Final Frontier: Central Banks and Disintermediation
The internet has many legacies, but its greatest one is disintermediation. And the greatest disintermediation—of the banking system—is coming soon to an app near you.
Check out our Global Macro Dashboard for currency, commodity, bonds and credit charts.
Good luck!