Your world at 9am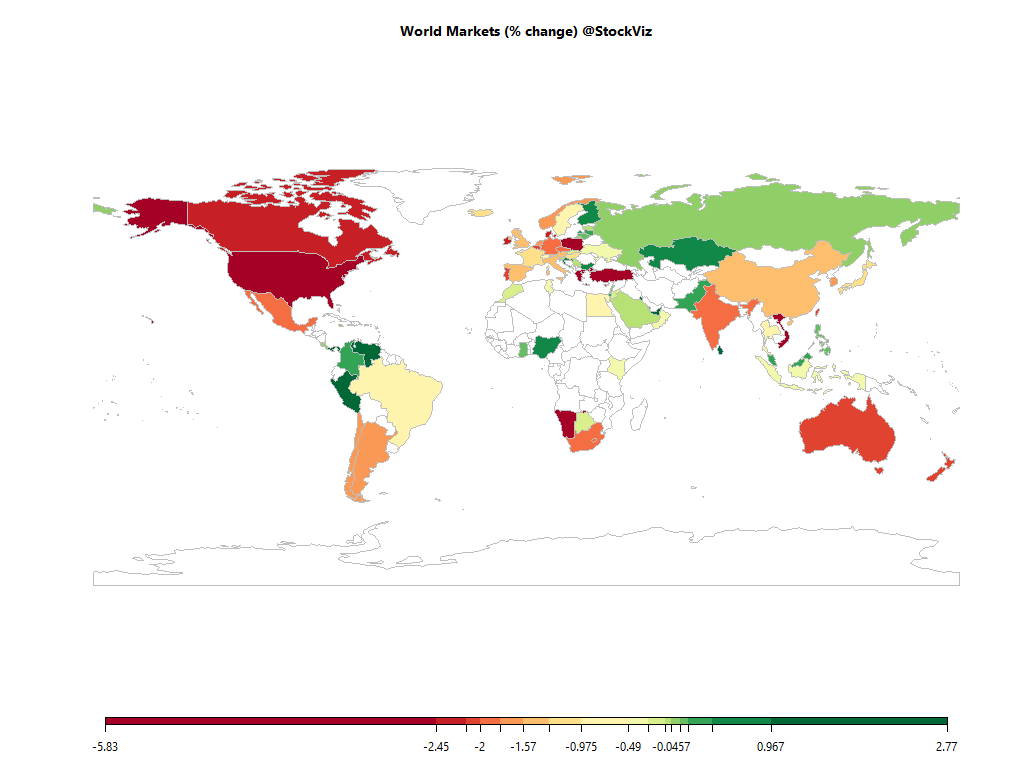 Equities
Commodities
Energy
Brent Crude Oil

-0.13%

Ethanol

+0.00%

Natural Gas

+0.30%

RBOB Gasoline

+0.41%

WTI Crude Oil

-0.03%

Heating Oil

+0.30%
Metals
Silver 5000oz

+0.84%

Gold 100oz

+0.00%

Palladium

+1.16%

Platinum

+1.19%

Copper

+0.74%
Agricultural
Cocoa

+0.00%

Lean Hogs

+0.00%

Wheat

+0.20%

Cotton

+1.14%

Feeder Cattle

+0.00%

Orange Juice

+0.00%

Sugar #11

+0.00%

White Sugar

+0.00%

Cattle

+0.00%

Coffee (Arabica)

+0.00%

Coffee (Robusta)

+0.00%

Corn

+0.99%

Lumber

+0.00%

Soybean Meal

+0.21%

Soybeans

+0.43%
Out of 43 world ETFs listed in NYSE that we track, 14 are trading above their 10-day SMA and 35 are trading above their 50-day SMA.
Must Reads
Publishing is Back to the Future
Andreessen Horowitz is going direct. From the a16z website, natch: People want to learn about the future. If Software really is Eating the World, there needs to be a place that is dedicated to explaining and tracking it.
The Reddit traders driving up the price of GameStop are not what you think they are
Look, I get it, what's happening on Wall Street right now seems hilarious.
India's new agri laws have potential to raise farm income: IMF's Gita Gopinath
IMF's chief economist Gita Gopinath (File photo) WASHINGTON: India's recently-enacted agri laws have the potential to increase farmers' income, but there is a need to provide a social safety net to the vulnerable cultivators, IMF's chief economist Gita Gopinath has said.
Knowing a company can make you a worse trader, study finds
The better you know a company, the worse you do at trading its shares. And the more you trade the poorer you become, an interesting new study, with broad implications for passive investing, has found.
Japan Inc prepares for automation bonanza in China
TOKYO — China is leaning harder than ever on automation as a way to keep production lines going while also preventing the spread of the coronavirus, and the resulting demand for robots and related equipment is luring investments from Japanese equipment makers.
Cost of tech decoupling much higher than it appears
Craig Burchell is senior vice president of global trade affairs at Huawei Technologies. As the World Economic Forum convenes online this week rather than in Davos, its participants will discuss how to move "beyond geopolitics.
Apple ramps up iPhone and iPad output shift to India and Vietnam
TAIPEI — Apple is ramping up the production of iPhones, iPads, Macs and other products outside of China, Nikkei Asia has learned, in a sign that the tech giant is continuing to accelerate its production diversification despite hopes that U.S.-China tensions will ease under President Joe Biden.
The Value Chain of the Open Metaverse
Welcome to the 439 newly Not Boring people who have joined us since last Monday! If you aren't subscribed, join 31,356 smart, curious folks by subscribing here: I first heard of OpenPhone when I asked Twitter for their favorite work software.
Hardware is Hard
We have written a lot about the blind spot the US venture ecosystem has for semiconductors (and here) and hardware more generally. We recently helped a venture firm conduct due diligence on an electronics company, which put us in the awkward position of having to walk in someone else's shoes.
Check out our Global Macro Dashboard for currency, commodity, bonds and credit charts.
Good luck!