Your world at 9am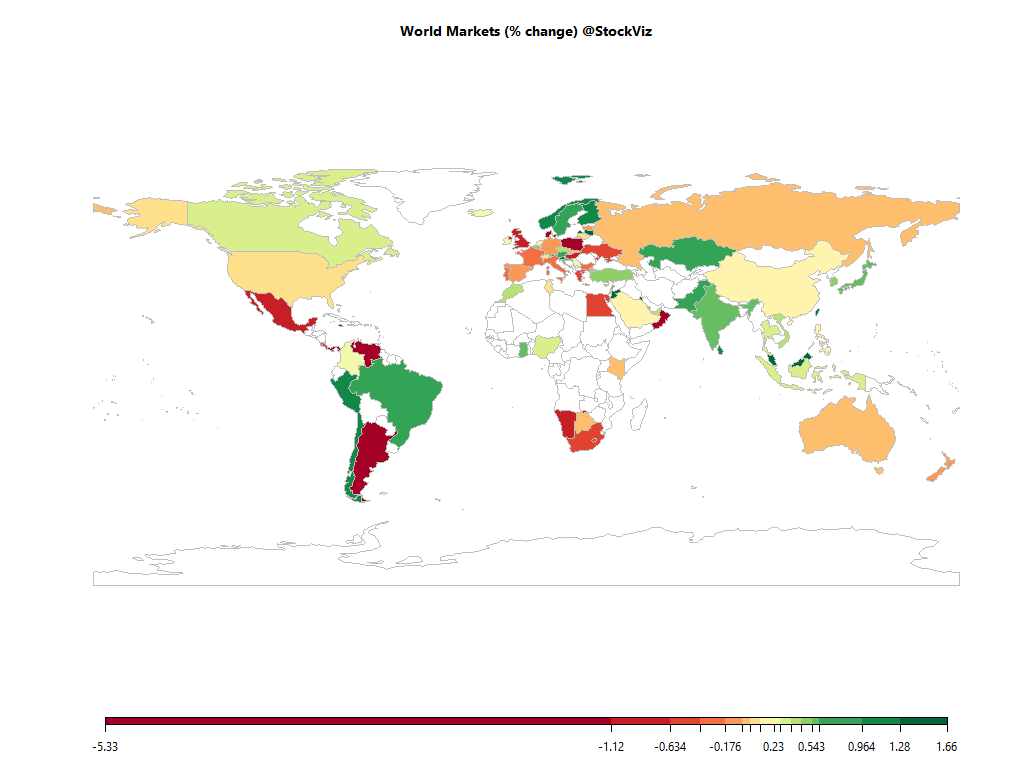 Equities
Commodities
Energy
Ethanol

+0.00%

Heating Oil

+0.30%

Natural Gas

+0.30%

Brent Crude Oil

-0.13%

RBOB Gasoline

+0.41%

WTI Crude Oil

-0.03%
Metals
Gold 100oz

+0.00%

Silver 5000oz

+0.84%

Copper

+0.74%

Palladium

+1.16%

Platinum

+1.19%
Agricultural
Cocoa

+0.00%

Coffee (Robusta)

+0.00%

Soybean Meal

+0.21%

Soybeans

+0.43%

Sugar #11

+0.00%

Cattle

+0.00%

Coffee (Arabica)

+0.00%

Cotton

+1.14%

Lean Hogs

+0.00%

Orange Juice

+0.00%

Wheat

+0.20%

White Sugar

+0.00%

Corn

+0.99%

Feeder Cattle

+0.00%

Lumber

+0.00%
Out of 43 world ETFs listed in NYSE that we track, 35 are trading above their 10-day SMA and 43 are trading above their 50-day SMA.
Must Reads
China is the dragon that will consume Asia's economic future
William Bratton is author of "China's Rise, Asia's Decline" which will be published later this year by Marshall Cavendish.
The next wave of globalization: Asia in the cockpit
Four years ago, the Trump administration came into office promising to bring back industrial jobs from Asia and revitalize America's manufacturing foundation. He pledged to slash the country's trade deficit with China by forcing it to buy more oil, food and industrial goods from the U.S.
More company loans close to turning bad
Data released by the RBI in its Financial Stability Report showed a spike in corporate borrowers who have delayed repayments by more than 60 days since the moratorium ended on 31 August Data released by the Reserve Bank of India (RBI) in its Financial Stability Report (FSR) showed a spike in corpora
Brexit shock washes up on Britain's shores
New tariffs, bureaucracy and quotas are disrupting life in the UK. The pain has only just begun. The shrinking of Britain may even become physical and political. A Scottish referendum is now increasingly likely. There is a sense of exhaustion and fatigue among Britons.
Tesla drives into India through Bengaluru
Tesla's expected entry comes at a time when the Union and state governments are encouraging higher adoption of green vehicle technologies to help reduce air pollution Billionaire Elon Musk's Tesla Inc.
Why People Won't Change Their Mind
The paper interviewed Dr. Charles Laughead at the home of Dorothy Martin. Dr. Laughead informed the paper that Martin received communications "from outer space."
New horizon
In Sweden's far north a revolution is under way that could transform how Europe lights its cities and powers its industries. We take a trip to Norrbotten, where the future is looking green.
From Japan to the US, young people give up on finding jobs
TOKYO — Millions of unemployed workers have given up on finding jobs amid an unrelenting pandemic. Nikkei analyzed labor statistics from 10 countries, including Japan, the U.S. and U.K., and found that the total number of people in the combined workforce shrank by 6.
Papua New Guinea a warning for poor nations rich in natural resources
Amit Jain is a Singapore-based consultant who helps clients navigate frontier markets and fragile states. He provides technical assistance and transaction advice on upstream projects.
The Irony of Growth
Robert Shiller won the Nobel Prize in part for his research documenting the fact that stock prices moved far more than fundamentals could justify: the dividend discount model was inadequate to explain the observed volatility of the stock market.
Check out our Global Macro Dashboard for currency, commodity, bonds and credit charts.
Good luck!