Your world at 9am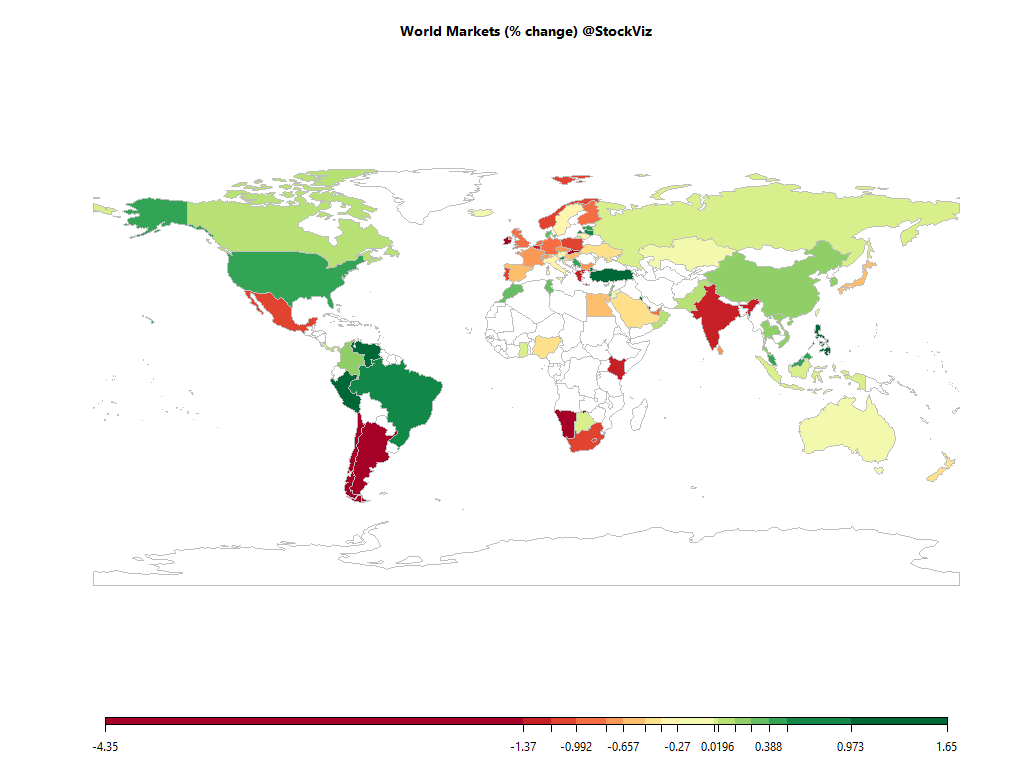 Equities
Commodities
Energy
Heating Oil

+0.30%

RBOB Gasoline

+0.41%

Brent Crude Oil

-0.13%

Ethanol

+0.00%

Natural Gas

+0.30%

WTI Crude Oil

-0.03%
Metals
Gold 100oz

+0.00%

Palladium

+1.16%

Copper

+0.74%

Platinum

+1.19%

Silver 5000oz

+0.84%
Agricultural
Cattle

+0.00%

Coffee (Arabica)

+0.00%

Coffee (Robusta)

+0.00%

Orange Juice

+0.00%

Corn

+0.99%

Lean Hogs

+0.00%

Cotton

+1.14%

Feeder Cattle

+0.00%

Lumber

+0.00%

Sugar #11

+0.00%

Wheat

+0.20%

Cocoa

+0.00%

Soybean Meal

+0.21%

Soybeans

+0.43%

White Sugar

+0.00%
Out of 43 world ETFs listed in NYSE that we track, 41 are trading above their 10-day SMA and 43 are trading above their 50-day SMA.
Must Reads
Big Tobacco gets a pandemic pick-me-up
(Reuters) – Danielle Eddy, a smoker for 20 years, quit at the start of 2019. When the coronavirus pandemic hit, the 42-year-old spirits industry consultant lit up again. "When I get on a call, I walk with the phone, and I smoke cigarettes.
Beware of Gurus Peddling Predictions
There are few things more fascinating to me than trying to predict the economic cycle. I want to know if we're going to have a recession or if we're going to have a boom. I want to know if inflation and interest rates will roar back to life.
On the edgeRecep Tayyip Erdogan faces up to economic facts
WHAT A DIFFERENCE a family row makes.
The Failed Promise of the Long Tail
Fifteen years ago, as Silicon Valley was recovering from the dot-com bust, David Hornik, a long-time VC at August Capital, started seeing a recurring theme in pitches from startup founders: overt references to a new term called "the long tail.
India's Economy to Struggle With Effects of Virus Through 2025
India will be worst-affected among the world's major economies even after the pandemic wanes, with output 12% below pre-virus levels through the middle of the decade, according to Oxford Economics.
Covid: Oxford vaccine shows 'encouraging' immune response in older adults
The Oxford coronavirus vaccine shows a strong immune response in adults in their 60s and 70s, raising hopes that it can protect age groups most at risk from the virus. Researchers say the Lancet phase two findings, based on 560 healthy adult volunteers, are "encouraging".
Exclusive: Adani has no guaranteed buyer for $6 billion Indian solar project – document
NEW DELHI/CHENNAI (Reuters) – Adani Green Energy's record $6 billion solar power project announced in June has no guaranteed customer, its deal with India's main solar-adoption agency shows, and may expose the company to higher financial risk.
Quant Fund Shrinks 92% From 2018 Peak in Factor-Investing Crisis
Like so many of his peers, Ian Heslop needs a turning point in markets to revive his misfiring quant strategies. Yet for the Jupiter Fund Management investor, last week's massive risk-on rotation only added insult to injury.
China sells first sovereign bond at negative interest rate, taking advantage of record low borrowing costs to raise capital
The Ministry of Finance sold about €750 million worth of a five-year note bearing an interest rate of -0.15 per cent overnight on Wednesday, the smallest tranche of a €4 billion (US$4.74 billion) sale of euro-denominated debt. The order book attracted €18 billion in bids, or 4.
Bt Eggplant is Great
A very important result from Ahmed, Hoddinott, Abedin and Hossain in The American Journal of Agricultural Economics. Bt eggplant offers a 51% increase in yield, a 37.5% decrease in pesticide use, increased farmer profits and decreased farmer sickness. Wow!
Check out our Global Macro Dashboard for currency, commodity, bonds and credit charts.
Good luck!