Your world at 9am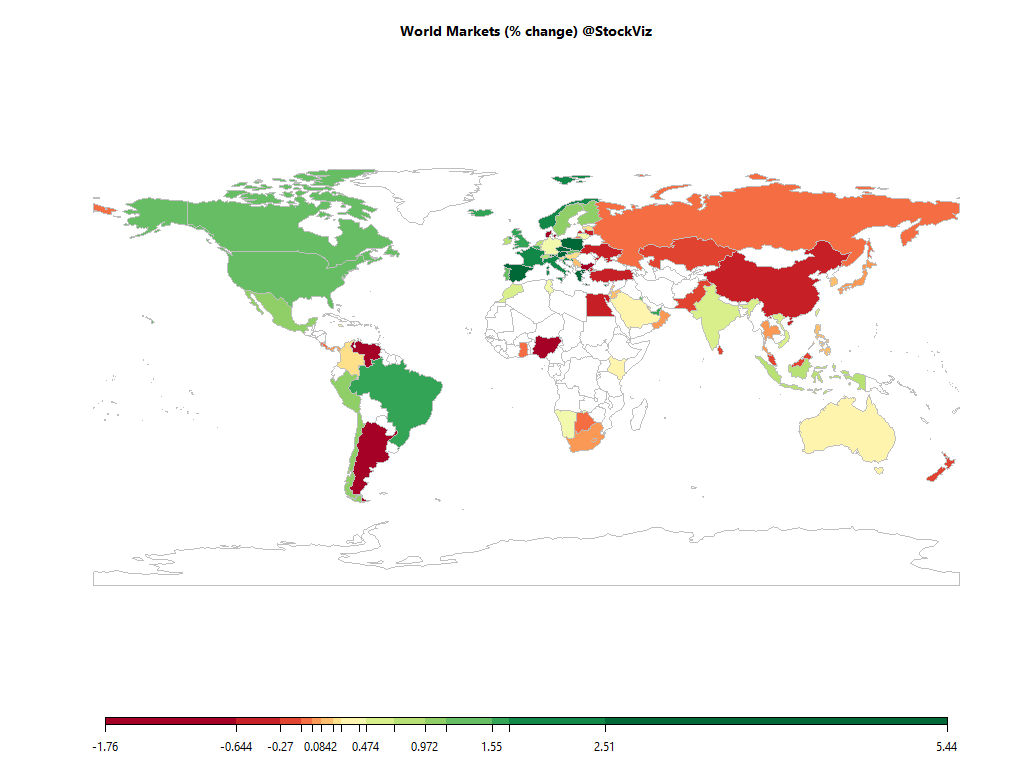 Equities
Commodities
Energy
Heating Oil

+0.30%

Ethanol

+0.00%

WTI Crude Oil

-0.03%

Brent Crude Oil

-0.13%

Natural Gas

+0.30%

RBOB Gasoline

+0.41%
Metals
Platinum

+1.19%

Silver 5000oz

+0.84%

Gold 100oz

+0.00%

Copper

+0.74%

Palladium

+1.16%
Agricultural
Coffee (Arabica)

+0.00%

Lumber

+0.00%

White Sugar

+0.00%

Cocoa

+0.00%

Corn

+0.99%

Cotton

+1.14%

Orange Juice

+0.00%

Feeder Cattle

+0.00%

Lean Hogs

+0.00%

Soybean Meal

+0.21%

Soybeans

+0.43%

Sugar #11

+0.00%

Wheat

+0.20%

Cattle

+0.00%

Coffee (Robusta)

+0.00%
Out of 43 world ETFs listed in NYSE that we track, 42 are trading above their 10-day SMA and 43 are trading above their 50-day SMA.
Must Reads
The Post-Presidency of a Con Man
It's hard to tell whether Donald Trump is attempting a coup or throwing a tantrum. Crying voter fraud, his administration has refused to begin a presidential transition despite his decisive electoral defeat.
Digging for dirt: Rent-seeking among elected politicians in India's mineral belt
The Indian mining industry is no stranger to corruption scandals, and dozens of environmental activists are allegedly murdered each year for exposing illegal mining activities.
Why Berkshire Hathaway Continues to Own Struggling Businesses
Berkshire Hathaway (NYSE:BRK.A) (NYSE:BRK.B) owns a whole range of subsidiary businesses that Warren Buffett (Trades, Portfolio) has helped the conglomerate acquire over the past few decades. Some of these companies have performed fantastically well. See's Candies is a great example.
The Case Against Using the CAPE Ratio for Relative Valuation Across Markets
Bloomberg has an article You May Regret Staying Parked in U.S. Stocks which made the case that there's "widespread agreement" and "the answer isn't in dispute" that foreign stocks will outperform going forward. Simplified version of my view of that statement…. c'mon now.
How Trump Sold Failure to 70 Million People
The president convinced many voters that his response to the pandemic was not a disaster. The psychology of medical fraud is simple, timeless, and tragic. At some basic level, Americans do seem to agree that the coronavirus is a major threat.
Debt funds get another layer of safety, equity options increase
4 min read .
Sebi's dual settlement cycle faces opposition from FPIs and brokers
The foreign portfolio investors (FPIs) represented by industry body Asia Securities Industry and Financial Markets Association (ASIFMA), and brokers represented by Association of National Exchanges Members in India (ANMI) have again written to Sebi highlighting their reservations.
A Diwali package to go with our revival spirit
The final contours of India's Atmanirbhar programme now appear in place. It bears only a slight Keynesian imprint and relief efforts have been combined with long-range policy shifts
15 Asian nations sign RCEP, world's biggest free-trade deal, after eight years
The realisation of the Regional Comprehensive Economic Partnership (RCEP) comes after eight years of negotiations.
Gold imports dip 47% in April-October to $9.28 billion
Gold imports, which have a bearing on the current account deficit, declined 47.42 percent to $9.28 billion during April-October due to fall in demand in the wake of the COVID-19 pandemic, according to data from the Commerce Ministry. Imports of the yellow metal stood at $17.
Should Warren Buffett Dismantle Berkshire Hathaway?
2020 should have been a banner year for Berkshire Hathaway (NYSE: BRK-B). In previous crises or market plunges, Berkshire has been swift in making savvy investments, swooping in when investors were frightened and seeing value where others could not. But 2020, has not turned out that way.
The Other Unicorns
A unicorn might be the famous mythical creature with a spiraling horn projecting from its forehead, but in the investing vocabulary, a unicorn is a privately held startup priced at over $1 billion.
Check out our Global Macro Dashboard for currency, commodity, bonds and credit charts.
Good luck!