Your world at 9am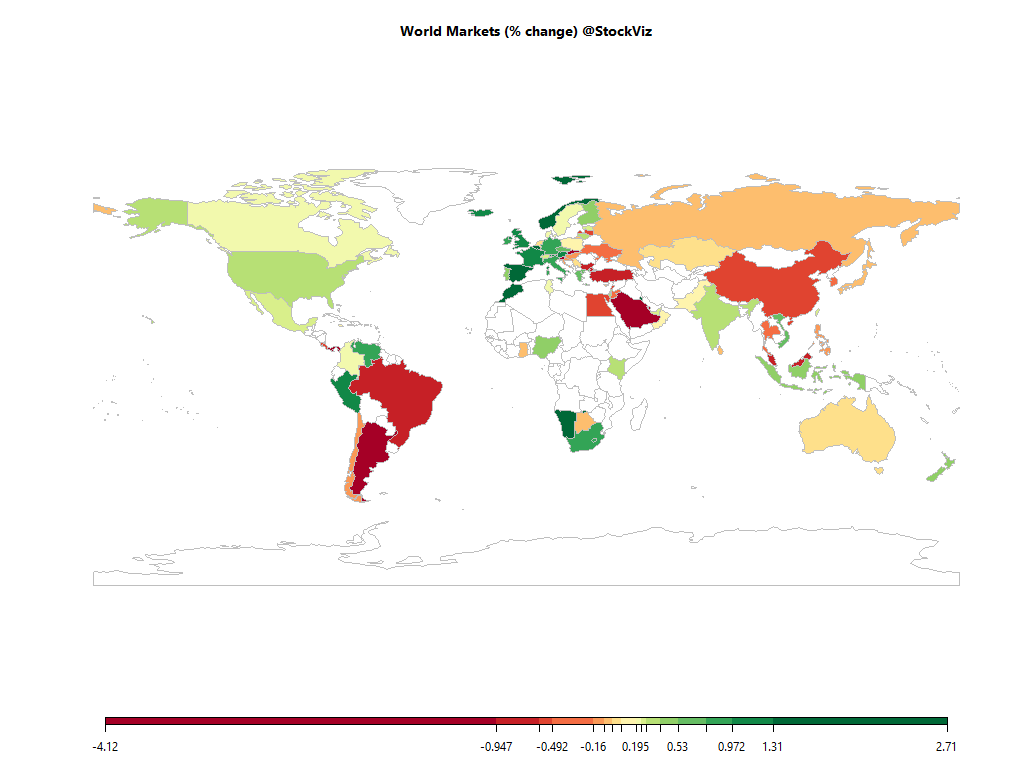 Equities
Commodities
Energy
Heating Oil

+0.30%

RBOB Gasoline

+0.41%

WTI Crude Oil

-0.03%

Brent Crude Oil

-0.13%

Ethanol

+0.00%

Natural Gas

+0.30%
Metals
Gold 100oz

+0.00%

Palladium

+1.16%

Platinum

+1.19%

Silver 5000oz

+0.84%

Copper

+0.74%
Agricultural
Cocoa

+0.00%

Cotton

+1.14%

Lumber

+0.00%

Soybean Meal

+0.21%

Soybeans

+0.43%

Feeder Cattle

+0.00%

Cattle

+0.00%

Coffee (Arabica)

+0.00%

Coffee (Robusta)

+0.00%

Corn

+0.99%

Lean Hogs

+0.00%

Orange Juice

+0.00%

Sugar #11

+0.00%

Wheat

+0.20%

White Sugar

+0.00%
Out of 43 world ETFs listed in NYSE that we track, 19 are trading above their 10-day SMA and 21 are trading above their 50-day SMA.
Must Reads
Actively scouting for a partner for passenger vehicle biz: Tata Motors
Tata Motors is looking for collaboration even as the process to carve out passenger vehicle (PV) business as a separate standalone unit gathers steam Earlier this year, the auto major's board had approved to form a separate entity which would house the PV business, including the EV vertical, NEW DEL
Theatres brace for tough times even as audiences show first signs of return
3 min read .
Time to reset expectations for world economy with coronavirus untamed
Investors banking on a coronavirus vaccine to save the world economy in 2021 need to temper their ambitions as scientists increasingly warn of a long and difficult road ahead.
Court-ordered interest waiver and bad loan recognition ban hurts common man
Banks don't make loans; depositors do. India's Rs 144 lakh crore in bank deposits make our Rs 110 lakh crore in bank loans possible. The "common man" is more likely a depositor than a borrower; banks have 210 crore deposit accounts but only 27 crore loan accounts.
Revealed: how elderly paid price of protecting NHS from Covid-19
On the day Boris Johnson was admitted to hospital with Covid-19, Vivien Morrison received a phone call from a doctor at East Surrey Hospital in Redhill. Stricken by the virus, her father, Raymond Austin, had taken a decisive turn for the worse.
A Bit about Trade
Economists are uniquely qualified in their understanding of one particular aspect of human activity, and that activity is unique to humans. No other animal trades, or exchanges, among its kind.
The Great Age of Rebalancing Begins
Sometimes I'm asked why Geometric Balancing hasn't been invented and implemented already?  Well in many ways it was invented decades ago.  But there are two main reasons why it hasn't been implemented in any widespread capacity yet. The first is psychological.
Doing Old Things Better Vs. Doing Brand New Things
New technologies enable activities that fall into one of two categories: 1) doing things you could already do but can now do better because they are faster, cheaper, easier, higher quality, etc. 2) doing brand new things that you simply couldn't do before.
Third Quarter 2020 Commentary
This website uses cookies to improve your experience while you navigate through the website. Out of these cookies, the cookies that are categorized as necessary are stored on your browser as they are essential for the working of basic functionalities of the website.
Are We Trading Our Happiness for Modern Comforts?
As society gets richer, people chase the wrong things. One of the greatest paradoxes in American life is that while, on average, existence has gotten more comfortable over time, happiness has fallen.
No more scotch? India moves to ban imported goods at military canteens
India has ordered its 4,000 military canteens to stop buying imported goods, according to a document reviewed by Reuters, a move that could send an unwelcome signal to foreign liquor firms such as Diageo and Pernod Ricard.
Check out our Global Macro Dashboard for currency, commodity, bonds and credit charts.
Good luck!