Your world at 9am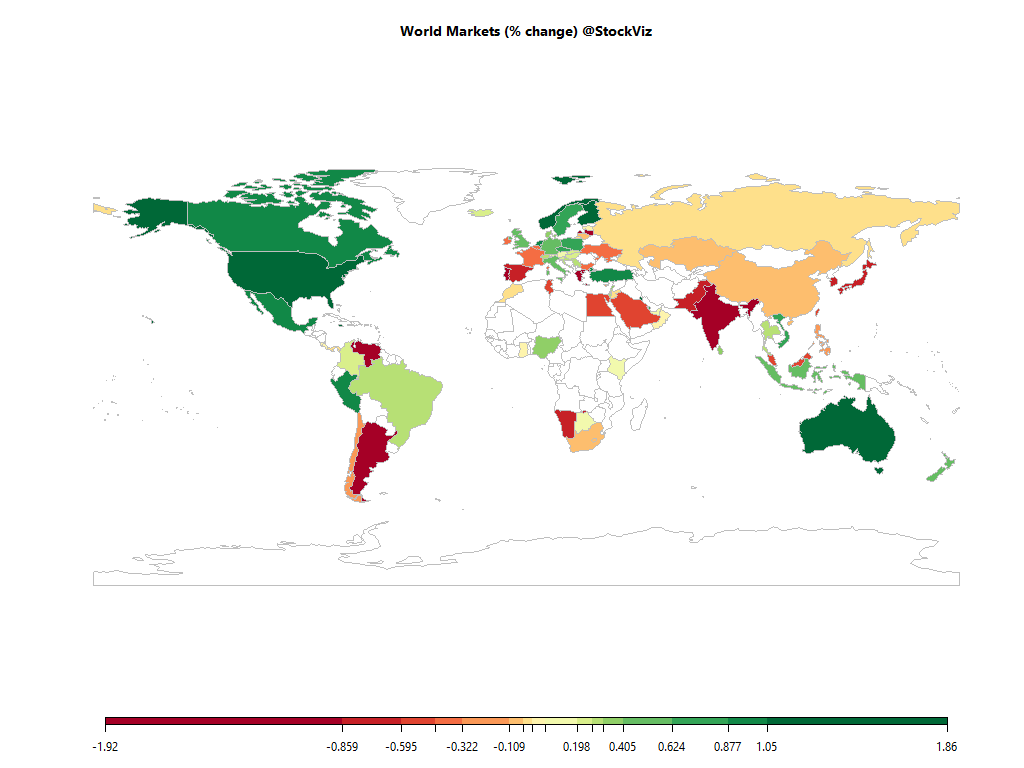 Equities
Commodities
Energy
Ethanol

+0.00%

Heating Oil

+0.30%

Natural Gas

+0.30%

WTI Crude Oil

-0.03%

Brent Crude Oil

-0.13%

RBOB Gasoline

+0.41%
Metals
Copper

+0.74%

Gold 100oz

+0.00%

Platinum

+1.19%

Silver 5000oz

+0.84%

Palladium

+1.16%
Agricultural
Cotton

+1.14%

Lean Hogs

+0.00%

Sugar #11

+0.00%

Cattle

+0.00%

Coffee (Robusta)

+0.00%

Corn

+0.99%

Soybean Meal

+0.21%

Soybeans

+0.43%

Wheat

+0.20%

White Sugar

+0.00%

Cocoa

+0.00%

Orange Juice

+0.00%

Coffee (Arabica)

+0.00%

Feeder Cattle

+0.00%

Lumber

+0.00%
Out of 43 world ETFs listed in NYSE that we track, 3 are trading above their 10-day SMA and 10 are trading above their 50-day SMA.
Must Reads
Consumer durable firms witness 12% to 50% spike in online sales amidst pandemic
The sales are led by strong replacement and pent up demand due to restricted supply owing to nationwide as well as state lockdowns Last month, local arm of Korean electronics company LG opened its own online store for shoppers in select cities India Consumer durable firms have witnessed a spike in o
India must fix its banks before time runs out
Viral Acharya and Raghuram Rajan have proposed wide-ranging reforms for a sector that's flashing danger signals. A retreat of the state in favour of private participation may be the key
Good Investors Make Decisions They Hope Will Cost Money
We tend to judge the outcomes of our investments in binary terms. We make money or lose money. We outperform or underperform. Our judgement was good or it was bad. This type of thinking is flawed because of the role of luck in financial markets.
No clamour or rush for restructuring of loan: SBI chief Rajnish Kumar
NEW DELHI : Contrary to market expectations, there was not too much demand or clamour for restructuring of loans as permitted by RBI recently to beat the COVID-19 related stress, SBI Chairman Rajnish Kumar said. He expects not more than ₹1.
Was "Value" Just a Hot Hand Thing?
In 1861, at the outset of the Civil War in the United States, Union Pacific issued 20 shares in its IPO[1].
Dilution without adequate deliberation
On September 19, the government withdrew three Bills related to labour laws and replaced them with new ones. These Bills make significant changes to regulation of labour and the employer-employee relationship in several ways.
Check out our Global Macro Dashboard for currency, commodity, bonds and credit charts.
Good luck!