Your world at 9am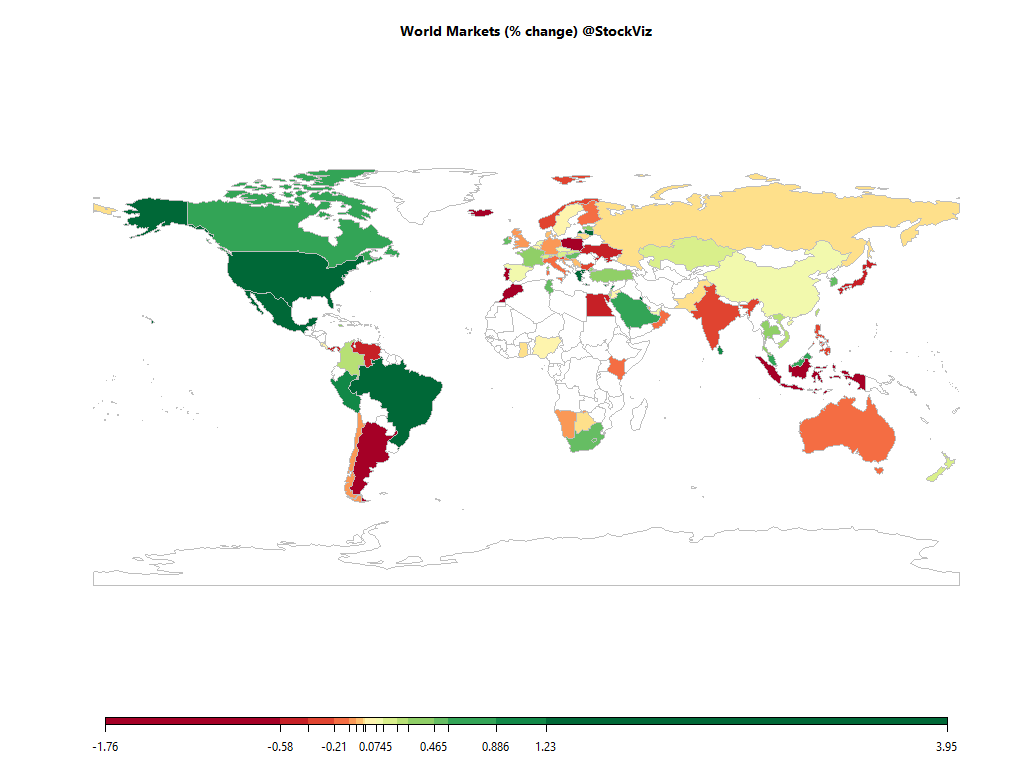 Equities
Commodities
Energy
Brent Crude Oil

-0.13%

Natural Gas

+0.30%

WTI Crude Oil

-0.03%

Ethanol

+0.00%

RBOB Gasoline

+0.41%

Heating Oil

+0.30%
Metals
Platinum

+1.19%

Copper

+0.74%

Gold 100oz

+0.00%

Palladium

+1.16%

Silver 5000oz

+0.84%
Agricultural
Cocoa

+0.00%

Cotton

+1.14%

Lumber

+0.00%

Soybean Meal

+0.21%

Soybeans

+0.43%

Coffee (Arabica)

+0.00%

Coffee (Robusta)

+0.00%

Corn

+0.99%

Feeder Cattle

+0.00%

Orange Juice

+0.00%

Sugar #11

+0.00%

Wheat

+0.20%

White Sugar

+0.00%

Cattle

+0.00%

Lean Hogs

+0.00%
Out of 43 world ETFs listed in NYSE that we track, 24 are trading above their 10-day SMA and 28 are trading above their 50-day SMA.
Must Reads
S&P further cuts India's FY21 GDP growth forecast to -9 percent from -5 percent
S&P Global Ratings has cut India's FY21 GDP forecast to -9 percent from -5 percent as it believes that rising COVID-19 cases in the country will keep private spending and investment lower for longer. It expects growth of 6.0 percent in fiscal 2022 and 6.2 percent in fiscal 2023.
"I Have Blood On My Hands": A Whistleblower Says Facebook Ignored Global Political Manipulation
A 6,600-word internal memo from a fired Facebook data scientist details how the social network knew about specific examples of global political manipulation — and failed to act.
US corporations continue sending jobs abroad during pandemic
Ahead of the 2020 election, Donald Trump and administration officials have claimed the era of offshoring American jobs and factories is "over", but even through the pandemic US corporations have continued to lay off employees and send their work abroad.
Can the Best Stock Pickers Still Beat the Market? An Out of Sample Test
Can mutual fund stars still pick stocks?: A replication and extension of Kosowski, Timmermann, Wermers, and White (2006) Timothy Riley and Sam Walton Critical Review of Finance, 2019 A version of this paper can be found here Want to read our summaries of academic finance papers? Check out our Academ
The policy conundrum that stagflation poses
RBI has seen inflation hover above its tolerance limit for three successive months now. Even if it's able to quell its imported component, India may not be able to escape difficult choices When India went into lockdown back in March, inflation was not even a blip on our anxiety radar.
Not regulating OTT services such as WhatsApp to hurt telcos: COAI chief
2 min read .
Brexit Is Back: The Endgame For Investors
The risk of a hard "no-deal" Brexit at the end of this year rose last week, weighing on U.K stocks and the British pound, and pushing U.K. monetary policy rate expectations into negative territory. But, as the Brexit battle moves to the endgame, there may be potential opportunity for investors.
Toyota halts India expansion, blaming 'we don't want you' taxes
4 min read .
Indians to continue ordering in food as they go easy on restaurant visits: Study
So far, only 2% of those surveyed by LocalCircles have visited restaurants, while 28% of those surveyed said they have consumed restaurant food but most opted for in-home ordering NEW DELHI : Consumers are likely to stay away from in-restaurant dining for the next two months, as concerns around infe
Small finance banks will require ₹5,000-6,000 cr equity infusion for 15-20% CAGR by 2023: Icra
2 min read . Updated: 14 Sep 2020, 05:41 PM IST PTI The industry is expected to report losses at consolidated level in the current fiscal driven by high operating costs and elevated credit costs of around 3.
What Backtests Hide
Investors crave certainty about future returns and historical backtests seem to provide that. This post shows some of their limitations and two strategies that haven't measured up to past performance. Backtests distort our perception of what's truly long term.
Relevance Versus Recognizability
Most of the products that were popular in your youth have faded into obscurity. But you still remember them. You might even have fond memories of shopping at Sam Goody music stores, firing up your first Gateway 2000 computer, or developing photos on Kodak film.
Fraud Prevention Startup NS8 Lays Off Hundreds, CEO Departs Amid SEC Fraud Investigation
Just months after raising over $100 million from venture capital investors, fraud prevention startup NS8 laid off hundreds of employees on Thursday after informing them it was under investigation for fraud.
The small issue of making a multi-cap true to label
Each time in the last 15 years, Sebi has taken investor-friendly steps–doing away with the front loads, upfronting of commission, scheme categorization and so on, there has been a huge push back from the industry.
Check out our Global Macro Dashboard for currency, commodity, bonds and credit charts.
Good luck!