Your world at 9am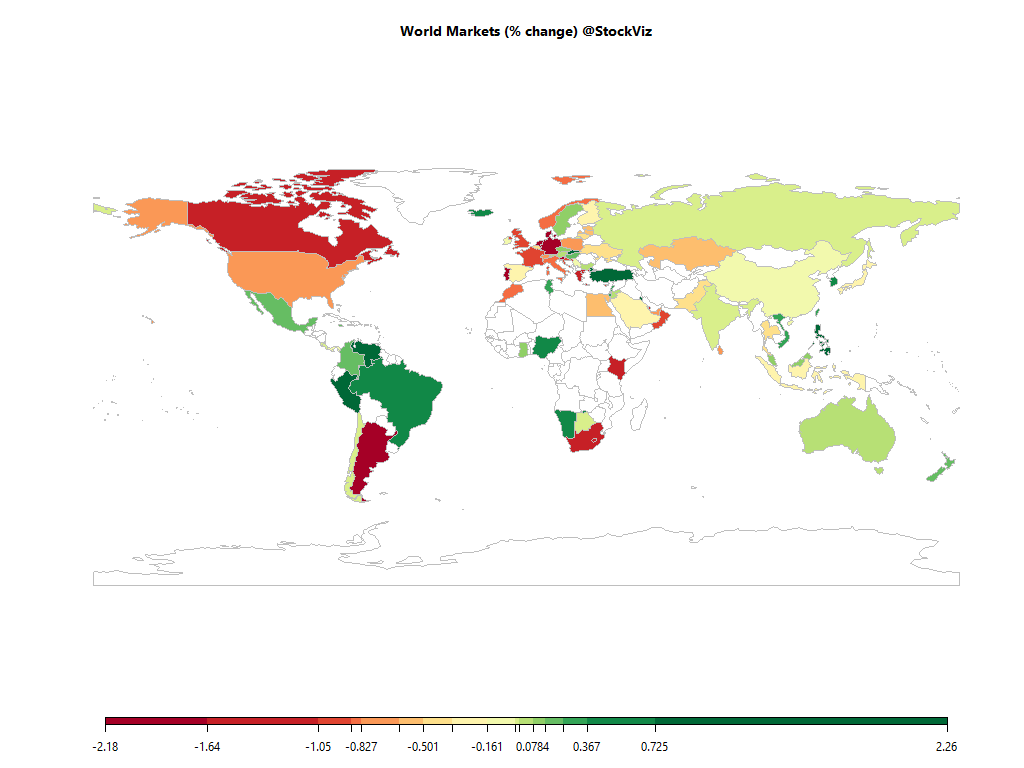 Equities
Commodities
Energy
Heating Oil

+0.30%

Brent Crude Oil

-0.13%

Ethanol

+0.00%

Natural Gas

+0.30%

RBOB Gasoline

+0.41%

WTI Crude Oil

-0.03%
Metals
Platinum

+1.19%

Copper

+0.74%

Gold 100oz

+0.00%

Palladium

+1.16%

Silver 5000oz

+0.84%
Agricultural
Coffee (Arabica)

+0.00%

Coffee (Robusta)

+0.00%

Feeder Cattle

+0.00%

Orange Juice

+0.00%

Soybean Meal

+0.21%

Soybeans

+0.43%

Cocoa

+0.00%

Cotton

+1.14%

Lumber

+0.00%

Corn

+0.99%

Lean Hogs

+0.00%

Sugar #11

+0.00%

Wheat

+0.20%

White Sugar

+0.00%

Cattle

+0.00%
Out of 43 world ETFs listed in NYSE that we track, 6 are trading above their 10-day SMA and 31 are trading above their 50-day SMA.
Must Reads
The Options-Enhanced Stock Market Money Machine Is Going Global
Back in January, a bunch of chat-room denizens got it in their heads that they could rev up returns in a stock portfolio by corralling options dealers to their side. It's starting to seem like they were on to something.
More than ₹10 trillion loans may avail restructuring benefit: Bankers
3 min read .
India's growth story has never seemed so endangered
We all knew it would be bad, but no one could have predicted just how bad. Then, on 31 August, we learned that India's gross domestic product (GDP) contracted by almost 24% in the first quarter of the current fiscal year. This means that approximately ₹8.
Govt asks auto industry to cut imports, raise exports
MUMBAI/NEW DELHI : Senior ministers of the Union government took Prime Minister Narendra Modi's clarion call of Atmanirbhar Bharat forward and urged automakers to reduce their dependence on imports, increase exports, and make India a global manufacturing hub for automobiles and auto components.
What Really Prevents Companies from Thriving in a Recession
In these difficult times, we've made a number of our coronavirus articles free for all readers. To get all of HBR's content delivered to your inbox, sign up for the Daily Alert newsletter.
The Glitch Equation
It's like Netflix for Mac apps: If you're the kind of person who likes trying out new programs to see what sticks, try SetApp, a Netflix-style "app store" for Mac programs. It's cheap—just $9.99 a month—and it'll be a huge boon to your productivity. Check it out!
Opinion | Indian banking – The Real Story of fraudulent loans
It is high time that the issue of problem loans do not become a part of politics and the country wakes up to work as a nation to reduce future occurrences Recently, the media reported many high-profile bank scandals involving fraudulent loans.
Bank deposit and credit remain on divergent paths
The growth in bank deposits has come despite lenders lowering interest rates on their term deposits as well as savings bank accounts MUMBAI : Bank deposits grew at its fastest in close to three years in the June quarter of FY21 even as credit growth continued its downward slide, shows data from the
Why the economy can't wait any more
The expected has come to be. Earlier this week, India was informed that the economy had contracted by 23.9 per cent in the April to June period of financial year 2020-21 – the worst contraction among major economies.
The Big Tech Extortion Racket
Traditionally, retailers operate by purchasing someone else's product and reselling it to consumers. Amazon calls this its first-party business, and it remains a large driver of revenue.
India's first bullet train project may face delay due to land acquisition, covid-19-Indian Railways
3 min read .
A Framework for Evaluating Momentum ETFs
While the academic definition of momentum is straightforward, the way it is defined and implemented by practitioners is often anything but. A lot happens when momentum descends from the ivory towers of academia and steps into the harsh reality of Wall Street.
Why the Bond Market Loves India's Tax Mess
Emerging markets will exit the coronavirus pandemic with a heavy fiscal load. Many will see their public debt balloon; some will also have to carry a bigger interest burden. A smaller group may need costly repairs to broken banks. 
How self-control can actually unleash your dark side
A few years ago, 80 Parisians were given the chance to take part in the pilot of a new gameshow, called La Zone Xtrême. The producer greeted each participant at the studio and told them that they would appear in pairs – one as a "questioner", and one as the "contestant".
Presidential Elections Don't Matter (for Investments)
History's Lesson Investment manager Howard Marks states that the stock market will "breathe a sigh of relief" if President Trump is re-elected. The Wall Street Journal opines "Get Ready for the Biden Stock Boom.
Australia faces down China in high-stakes strategy.
Australia is standing up to China. Watch closely: It may be a harbinger of things to come, as the world's smaller countries respond to the increasingly coercive Asian economic superpower.
Check out our Global Macro Dashboard for currency, commodity, bonds and credit charts.
Good luck!