Your world at 9am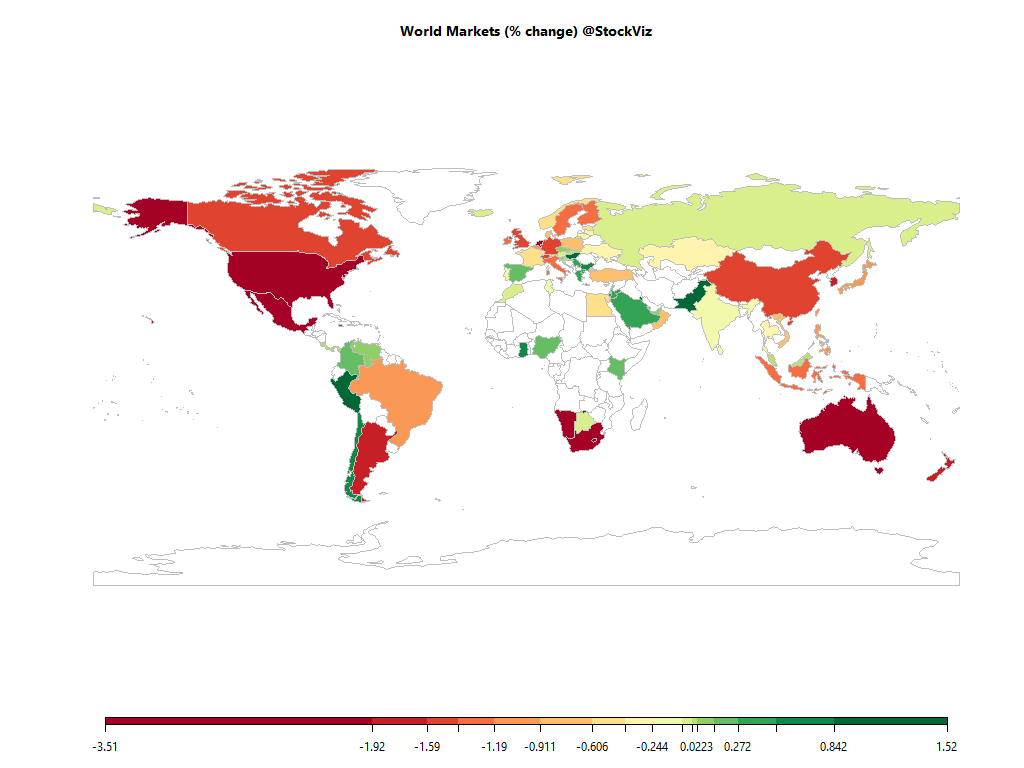 Equities
Commodities
Energy
Natural Gas

+0.30%

RBOB Gasoline

+0.41%

Ethanol

+0.00%

Heating Oil

+0.30%

WTI Crude Oil

-0.03%

Brent Crude Oil

-0.13%
Metals
Platinum

+1.19%

Palladium

+1.16%

Silver 5000oz

+0.84%

Copper

+0.74%

Gold 100oz

+0.00%
Agricultural
Cocoa

+0.00%

Coffee (Robusta)

+0.00%

Corn

+0.99%

Lean Hogs

+0.00%

Lumber

+0.00%

Soybean Meal

+0.21%

Soybeans

+0.43%

Wheat

+0.20%

White Sugar

+0.00%

Coffee (Arabica)

+0.00%

Feeder Cattle

+0.00%

Orange Juice

+0.00%

Cattle

+0.00%

Cotton

+1.14%

Sugar #11

+0.00%
Out of 43 world ETFs listed in NYSE that we track, 15 are trading above their 10-day SMA and 31 are trading above their 50-day SMA.
Must Reads
The Real Reason Nobody is Buying Your Startup's Product
A founder I was meeting for the first time was telling me about her startup. She spent the first 15-ish minutes of our meeting describing her project. Then, once she'd told me everything she wanted to explain, she asked a question that, to her, seemed simple.
How has humans' relationship with work changed over millennia?
THE STUDY of working life tends to be dominated by economists, management consultants and business-school professors. So it is nice to get a new perspective. James Suzman, an anthropologist, provides that fresh appraisal in an ambitious new book called "Work: A History of How We Spend Our Time".
India hopes farming can boost its economy. It may not be enough
3 min read .
Why Do Poor People Stay Poor?
Why do poor people stay poor? It's a question that everyone already seems to have an answer for.
A Little Bit of Friction Can Make Us Better Long-Term Investors
One of the most effective methods for changing our behaviour is to alter the level of friction we face when making a decision. If we want to encourage an action, make it simple. If we want to restrict it, put up obstacles.
Sitharaman asks banks to roll out resolution schemes by 15 September
Finance minister held a virtual review meeting with heads of banks and non-banking finance companies today for smooth and fast implementation of the one-time debt restructuring for resolution of covid-19 related stress in bank loans NEW DELHI: Finance minister Nirmala Sitharaman on Thursday called f
Property developers in Maharashtra to bear stamp duty charges
2 min read . Updated: 03 Sep 2020, 04:34 PM IST The move by real estate developers of Maharashtra's National Real Estate Development Council (Naredco) is supposed to result in substantial savings and reduction in transaction costs for homebuyers, and give a boost to the covid-hit real estate market.
Darkest Quant Fears Ring True in $1 Trillion World of Smart Beta
It's every quant's nightmare: Trades that look good on paper break down in the real world. And in the $1 trillion business of smart-beta investing, it's happening on an industrial scale.
Check out our Global Macro Dashboard for currency, commodity, bonds and credit charts.
Good luck!