Your world at 9am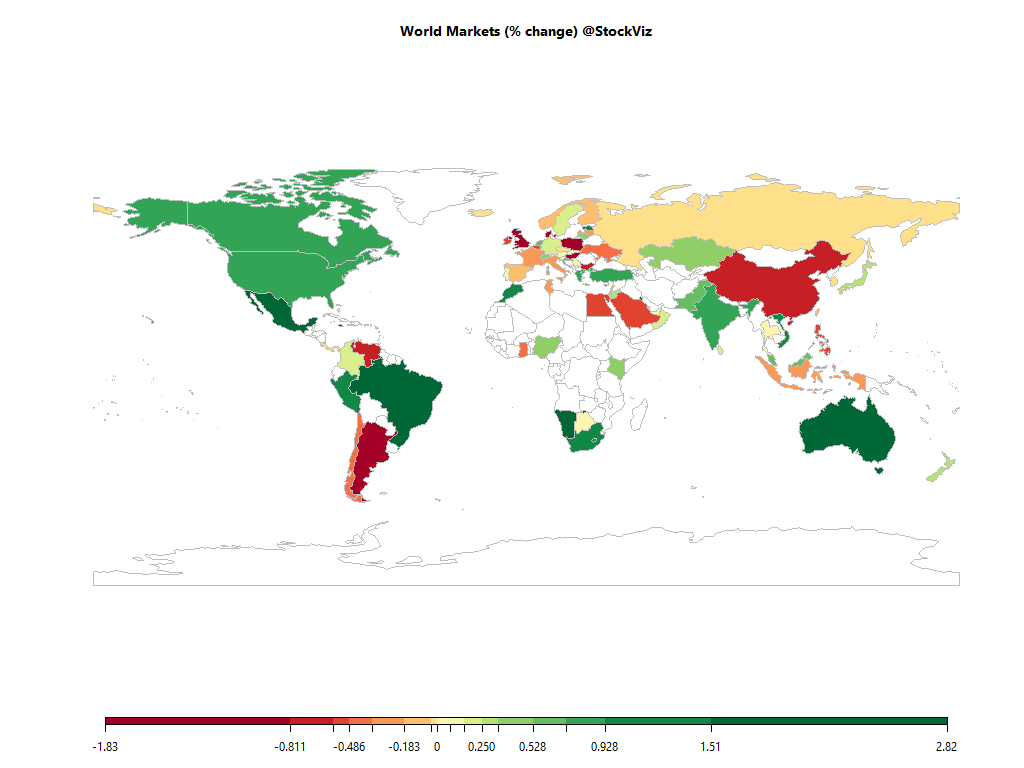 Equities
Commodities
Energy
Brent Crude Oil

-0.13%

Ethanol

+0.00%

Heating Oil

+0.30%

Natural Gas

+0.30%

RBOB Gasoline

+0.41%

WTI Crude Oil

-0.03%
Metals
Palladium

+1.16%

Copper

+0.74%

Gold 100oz

+0.00%

Platinum

+1.19%

Silver 5000oz

+0.84%
Agricultural
Cocoa

+0.00%

Orange Juice

+0.00%

Sugar #11

+0.00%

Wheat

+0.20%

Cattle

+0.00%

Corn

+0.99%

Cotton

+1.14%

Soybean Meal

+0.21%

Soybeans

+0.43%

Coffee (Arabica)

+0.00%

Feeder Cattle

+0.00%

Lumber

+0.00%

Coffee (Robusta)

+0.00%

Lean Hogs

+0.00%

White Sugar

+0.00%
Out of 43 world ETFs listed in NYSE that we track, 18 are trading above their 10-day SMA and 35 are trading above their 50-day SMA.
Must Reads
Amazon Drivers Are Hanging Smartphones in Trees to Get More Work
A strange phenomenon has emerged near Amazon.com Inc. delivery stations and Whole Foods stores in the Chicago suburbs: smartphones dangling from trees. Contract delivery drivers are putting them there to get a jump on rivals seeking orders, according to people familiar with the matter.
Tech Traders Say Options Hedging Is Firing Up Rally in Nasdaq
Wrinkles in the relationship between stock and options markets have a few Wall Street sleuths claiming to have unearthed clues to the storm raging in technology shares over the last few weeks.
Top-rated non-banks seek rate cuts
3 min read .
The 2 Variables That Drive Stock Prices
If investing was a cocktail, it would essentially boil down to one part fundamentals and one part emotions. Fundamentals are easier than ever to capture because we now have access to more data in a single day than our ancestors would see in a lifetime.
Further shocks will deliver a big blow to lending institutions
MUMBAI : The ability of borrowers to repay loans is expected to decline if the economy continues to contract in the coming quarters, casting a cloud over asset quality of banks which have seen little growth in new business.
India's Economy Faces Worst Quarterly Slump Ever After Lockdown
Once the world's fastest-growing major economy, India is set to post the steepest quarterly decline in gross domestic product in Asia as it quickly becomes the global hotspot for coronavirus infections.
Supreme Court grants telcos 10 years to pay AGR dues, tough road ahead for Vodafone Idea
The Supreme Court on Monday chose to allow telecom companies 10 years to pay their remaining AGR dues to the government, with 10 per cent of the total to be paid before March 31, 2021.
'I Can't Believe I'm Saying This, But I'm Passing on Seth Klarman'
Exclusivity is like fiat currency: It only works if everyone believes it's real. For decades that wasn't a problem for Seth Klarman's $29.5 billion Baupost Group. The only way to get money into its famed hedge funds was to already have some invested, and everyone knew it.
Check out our Global Macro Dashboard for currency, commodity, bonds and credit charts.
Good luck!