Your world at 9am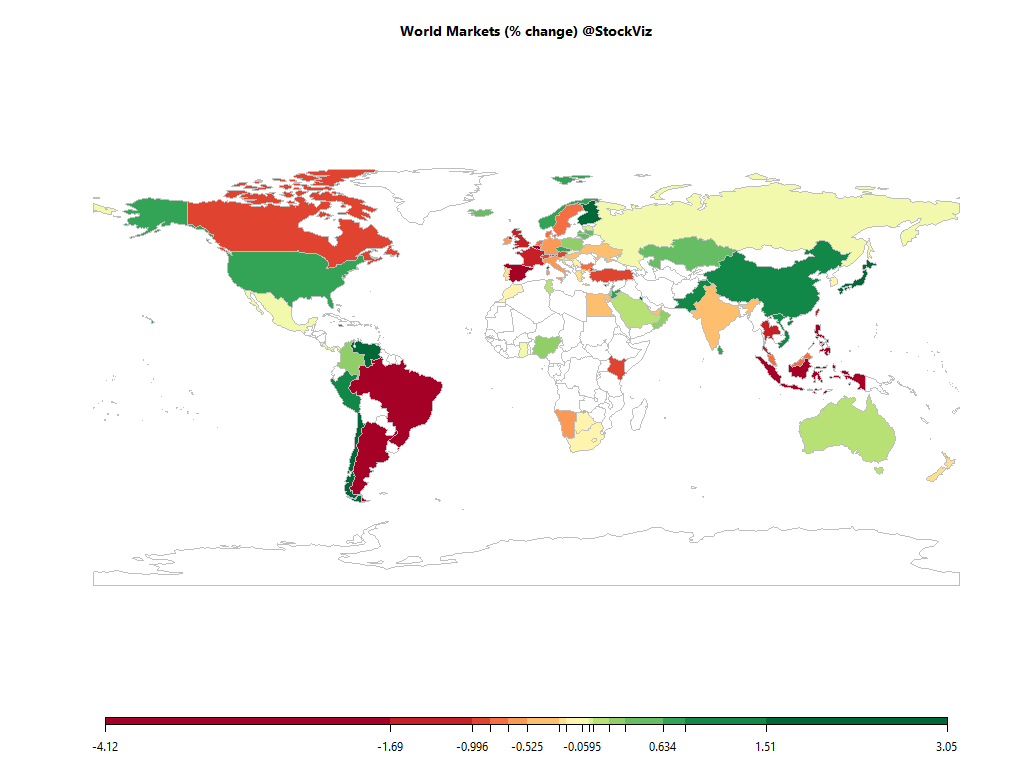 Equities
Commodities
Energy
Heating Oil

+0.30%

Natural Gas

+0.30%

RBOB Gasoline

+0.41%

Brent Crude Oil

-0.13%

Ethanol

+0.00%

WTI Crude Oil

-0.03%
Metals
Silver 5000oz

+0.84%

Copper

+0.74%

Platinum

+1.19%

Gold 100oz

+0.00%

Palladium

+1.16%
Agricultural
Cattle

+0.00%

Corn

+0.99%

Lumber

+0.00%

Coffee (Arabica)

+0.00%

Cotton

+1.14%

Soybean Meal

+0.21%

Soybeans

+0.43%

Sugar #11

+0.00%

White Sugar

+0.00%

Cocoa

+0.00%

Coffee (Robusta)

+0.00%

Wheat

+0.20%

Feeder Cattle

+0.00%

Lean Hogs

+0.00%

Orange Juice

+0.00%
Out of 43 world ETFs listed in NYSE that we track, 12 are trading above their 10-day SMA and 33 are trading above their 50-day SMA.
Must Reads
Japan's battery startups take the world beyond lithium ion
OSAKA — Companies racing to introduce the successor to the batteries that power everything from our smartphones to drones to electric cars are closing in on their goal. But they are not alone.
Opinion | Big words but little action for corporate bond markets
The Indian financial sector has many flaws, but you cannot fault it for tenacity. It has the ability to keep issues relevant for years as works-in-progress.
We Socialize Bailouts. We Should Socialize Successes, Too.
Governments have spent trillions in tough times without creating structures that turn short-term fixes into a more inclusive economy. When the economy is in crisis, who do we turn to for help? Not corporations — it's governments.
How Yogi Adityanath is beginning to recast UP as a business friendly destination
Last year, PepsiCo was scouting for a suitable location for its fourth plant in India. The $67 billion beverages and snack food giant would investRs 500 crore to set up a unit to make its popular Lay's and Doritos chips.
My Favorite Ponzi Scheme…
Let's set some ground rules here. As far as I'm concerned, Bitcoin is a Ponzi Scheme. If you think Bitcoin is the future of money, a store of value or any other nonsense, I'm not going to disagree with you. Every good scam needs vocal and loyal apostles.
Debt and Inflation Fears: Investing's Obsolete Dogmas?
One of the things I admire most in people is when they are able to change their opinions based on new evidence, take responsibility for past mistakes, and move on. Given that description, you can imagine what I think of politicians . . .
RBI likely to continue with rate cuts at next week's review: Crisil
1 min read . Updated: 31 Jul 2020, 06:40 PM IST PTI The Reserve Bank is likely to cut rates by 0.25% at next week's policy review even though inflation remains on the higher side, according to domestic ratings agency Crisil Topics CRISILRbI The Reserve Bank is likely to cut rates by 0.
Kiranas steal a march over large stores
NEW DELHI : Shoppers of fast-moving consumer goods moved away from large department stores to obliging neighbourhood kiranas and online sellers in June, as they stuck to social distancing norms in the first phase of the Indian unlock.
Wall Street's Crypto Cold War
In March 2018, Daniel Masters gave a talk at the Royal Yacht Hotel and Spa in Jersey, a U.K. tax shelter off the coast of France, attended by some of the island's oldest families and financial nobility.
Gold Traders Issue Largest Delivery Notice on Record at Comex
Traders on the main gold futures exchange in New York have issued the largest daily delivery notice on record. In the latest sign of how the market's norms have been upended by the price disconnect that struck in March, traders on Thursday declared their intent to deliver 3.
The Case for US Equities in Global Portfolios
1. The S&P 500® information technology sector GICS Level 1 Index return on capital in 2019 was 17% versus 5% for the S&P 500® Financial Sectors GICS Level 1 Index. Source: Bloomberg, February 24, 2020. The S&P 500® Index is a commonly used measure of the broad US.
On Inflection Points
"I'm here for one reason and one reason alone. I'm here to guess what the music might do a week, a month, a year from now. That's it. Nothing more."
Germany's Ritter Sport wins square chocolate battle against Milka
For decades, Ritter Sport has marketed its chocolate bars on their unique, square shape. So when Swiss brand Milka challenged its German monopoly on square chocolate, the battle lines were drawn.
Indian Billionaires Bet Big on Head Start in Coronavirus Vaccine Race
The world's largest vaccine producer, the Serum Institute, announced a plan to make hundreds of millions of doses of an unproven inoculation. It's a gamble with a huge upside. And huge risks.
Check out our Global Macro Dashboard for currency, commodity, bonds and credit charts.
Good luck!