Your world at 9am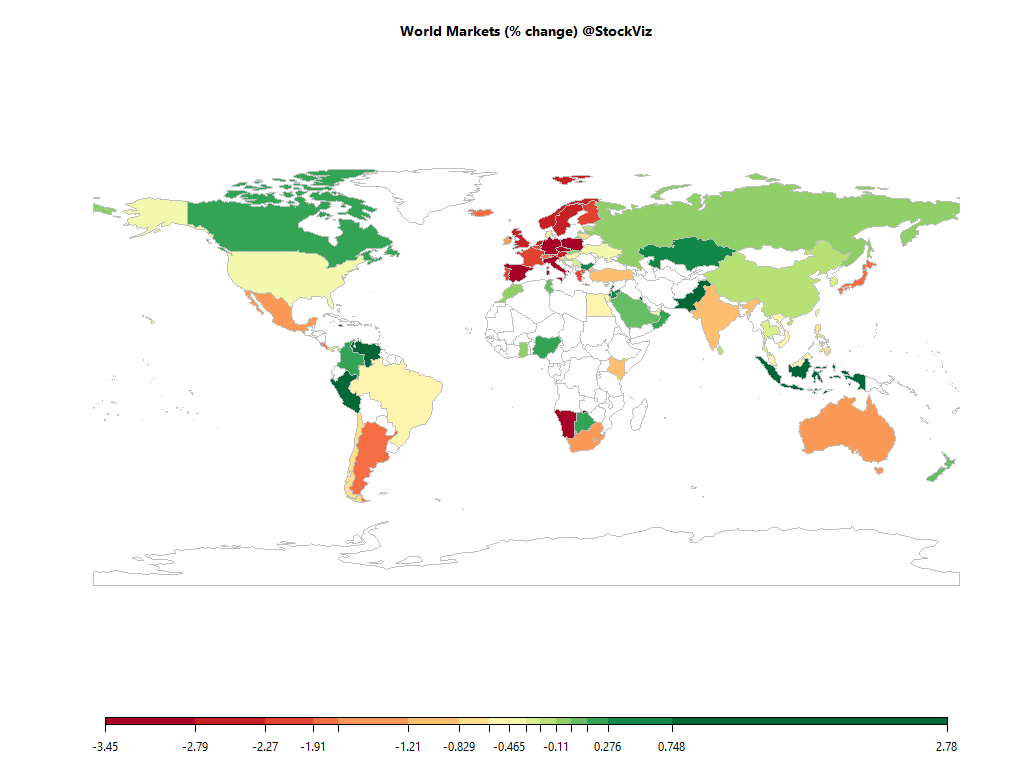 Equities
Commodities
Energy
RBOB Gasoline

+0.41%

Ethanol

+0.00%

Heating Oil

+0.30%

Natural Gas

+0.30%

Brent Crude Oil

-0.13%

WTI Crude Oil

-0.03%
Metals
Copper

+0.74%

Gold 100oz

+0.00%

Palladium

+1.16%

Platinum

+1.19%

Silver 5000oz

+0.84%
Agricultural
Orange Juice

+0.00%

Soybeans

+0.43%

Cocoa

+0.00%

Corn

+0.99%

Soybean Meal

+0.21%

White Sugar

+0.00%

Coffee (Arabica)

+0.00%

Cotton

+1.14%

Feeder Cattle

+0.00%

Lean Hogs

+0.00%

Cattle

+0.00%

Coffee (Robusta)

+0.00%

Lumber

+0.00%

Sugar #11

+0.00%

Wheat

+0.20%
Out of 43 world ETFs listed in NYSE that we track, 23 are trading above their 10-day SMA and 38 are trading above their 50-day SMA.
Must Reads
Risk-averse  lenders  put brakes on vehicle sales
3 min read .
Air travel's sudden collapse will reshape a trillion-dollar industry
LIKE MOST international jamborees these days the Farnborough air show wrapped up on July 24th as a virtual event. Webinars featuring grim-faced executives were not as entertaining as noisy acrobatic displays by fighter jets.
A GE whodunnit
ONE OF THE most intriguing questions in business is what happened to GE, a company once so dear in America that its near-collapse in 2018 beggared belief.
Americans Aren't Making Babies, and That's Bad for the Economy
Pandas and white rhinos aren't the only creatures that are unsuccessful at mating in captivity.
One of the Best Market Neutral Funds Is Run by a Robot
A market-neutral strategy powered by new artificial intelligence techniques has beaten its human peers by multiple return and risk measures in this year's market downturn, one of the most volatile environments ever for stocks. Castle Ridge Asset Management's market-neutral strategy is up 12.
RBI should go for further rate cut to aid growth: Experts
2 min read .
Why Is Gold Rising?
Gold just took out new all-time highs this week. It has now eclipsed the previous peak last seen in the summer of 2011. Following that previous high it fell more than 45% before a strong rebound over the past couple of years.
FMCG firms to stay in the slow lane this year
2 min read .
The Panopticon Is Already Here
Xi Jinping is using artificial intelligence to enhance his government's totalitarian control—and he's exporting this technology to regimes around the globe.
Check out our Global Macro Dashboard for currency, commodity, bonds and credit charts.
Good luck!