Your world at 9am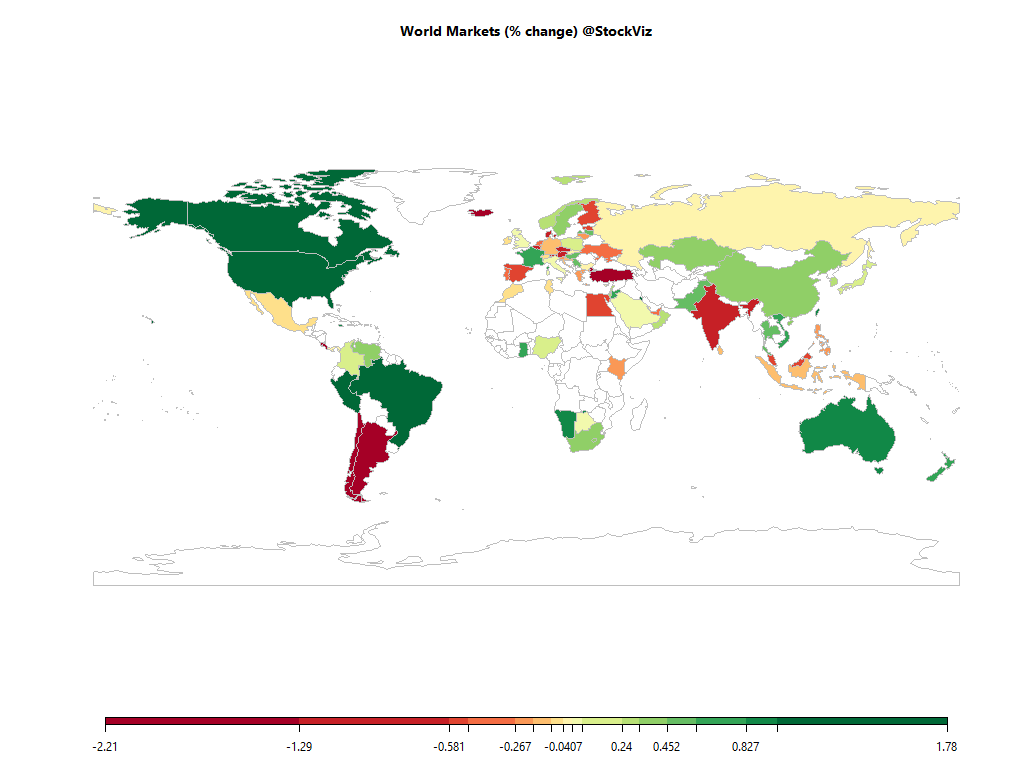 Equities
Commodities
Energy
Heating Oil

+0.30%

Natural Gas

+0.30%

RBOB Gasoline

+0.41%

Brent Crude Oil

-0.13%

WTI Crude Oil

-0.03%

Ethanol

+0.00%
Metals
Palladium

+1.16%

Silver 5000oz

+0.84%

Copper

+0.74%

Gold 100oz

+0.00%

Platinum

+1.19%
Agricultural
Coffee (Robusta)

+0.00%

Lean Hogs

+0.00%

Orange Juice

+0.00%

Soybeans

+0.43%

Wheat

+0.20%

Cocoa

+0.00%

Coffee (Arabica)

+0.00%

Corn

+0.99%

White Sugar

+0.00%

Cotton

+1.14%

Lumber

+0.00%

Cattle

+0.00%

Feeder Cattle

+0.00%

Soybean Meal

+0.21%

Sugar #11

+0.00%
Out of 43 world ETFs listed in NYSE that we track, 33 are trading above their 10-day SMA and 38 are trading above their 50-day SMA.
Must Reads
Deep sea microbes dormant for 100 million years are hungry and ready to multiply
Magnified image showing microbes revived from 101.5 million-year-old sediment. Credit: JAMSTEC For decades, scientists have gathered ancient sediment samples from below the seafloor to better understand past climates, plate tectonics and the deep marine ecosystem.
Statement by Jeff Bezos to the U.S. House Committee on the Judiciary
Thank you, Chairman Cicilline, Ranking Member Sensenbrenner, and members of the Subcommittee. I'm Jeff Bezos. I founded Amazon 26 years ago with the long-term mission of making it Earth's most customer-centric company.
Centre unable to pay GST dues to States: Union Finance Secretary
Finance Secretary Ajay Bhushan Pandey told the Parliamentary Standing Committee on Finance, headed by BJP MP Jayant Sinha, at a meeting on Tuesday that the government is in no position to pay the GST share of States as per the current revenue sharing formula, sources said.
Check out our Global Macro Dashboard for currency, commodity, bonds and credit charts.
Good luck!