Your world at 9am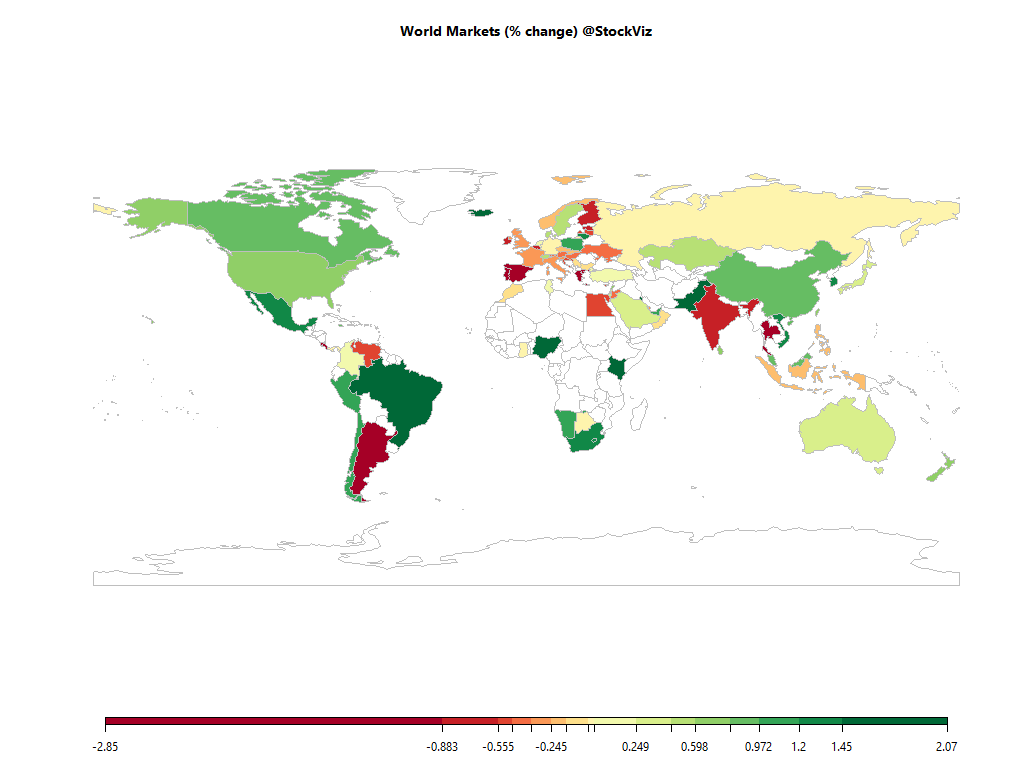 Equities
Commodities
Energy
Brent Crude Oil

-0.13%

Natural Gas

+0.30%

Ethanol

+0.00%

Heating Oil

+0.30%

RBOB Gasoline

+0.41%

WTI Crude Oil

-0.03%
Metals
Copper

+0.74%

Palladium

+1.16%

Platinum

+1.19%

Silver 5000oz

+0.84%

Gold 100oz

+0.00%
Agricultural
Cocoa

+0.00%

Cotton

+1.14%

Lean Hogs

+0.00%

Orange Juice

+0.00%

Soybean Meal

+0.21%

Wheat

+0.20%

Cattle

+0.00%

Corn

+0.99%

Lumber

+0.00%

Sugar #11

+0.00%

White Sugar

+0.00%

Coffee (Robusta)

+0.00%

Soybeans

+0.43%

Coffee (Arabica)

+0.00%

Feeder Cattle

+0.00%
Out of 43 world ETFs listed in NYSE that we track, 37 are trading above their 10-day SMA and 39 are trading above their 50-day SMA.
Must Reads
Moderna's COVID-19 Vaccine Candidate Moves Into Late-Stage Trial
News of the study, which will test the response to the vaccine in 30,000 adults who do not have the respiratory illness, pushed shares in Cambridge, Massachusetts-based Moderna up more than 8% before the bell.
Domestic steel demand is coming back strong, says JSW Steel's Rao
3 min read .
India steps up efforts for setting up one solar city in every state and UT
As firms look to move production lines out of China, the Centre has asked all states and Union territories (UTs) to identify one city each out of a national list of 60 cities, whose entire electricity needs would be met through rooftop solar power, said two people aware of the development.
Opinion | We must not hesitate to spend on a revival
Concerns of runaway inflation caused by a big fiscal stimulus programme are overblown in our current economic circumstances. The covid crisis is unlike any India has had before
Start-up thrives as Netflix generation embraces car subscriptions
An Australian start-up enabling drivers to subscribe to cars, rather than buy them, has rebranded ahead of a global expansion, after a COVID-19-era slowdown in car sales saw a surge in demand from car dealerships.
Check out our Global Macro Dashboard for currency, commodity, bonds and credit charts.
Good luck!